Last Updated on February 8, 2023
This article may contain affiliate links. This means that at no extra cost to you, I may earn a commission if you use one of these links to make a purchase.
Read the full disclosure
.
If you've been going to pole dancing classes for a few weeks now, you may well be considering buying your first portable dance pole. You'll probably have a bunch of questions about having a dance pole in your house, and we've tried our best to answer them all in this article.
If you're not sure which portable dance pole is right for you, then you're in the right place!
Static or spin? 40mm, 45mm, or 50mm? Freestanding or fixed in place? X Pole or Lupit Pole? In this guide, we will have all of your questions answered and if not, leave a comment below and we'll be sure to get back to you!
In the last 12 years, I've used all of these different types of dance poles, so have got plenty of experience in choosing poles. I currently have two poles up at home, one in the bedroom and one in the garage.
I've used poles in clubs, on stages in large concert venues, in gyms, studios, at home and outdoors. I've helped countless friends and pole students put up their poles in their homes so I have so much information to share with you all!
Portable Dance Poles that are designed for home use are extremely safe. Modern dance poles use the strongest materials and heavy-duty joints, as long as it's been installed correctly then it will be good to use for years to come.
A guide on Portable Dance Poles and Rented Apartments
If you find this useful, don't forget to share this on social media with your friends and fellow pole enthusiasts 🙂
Which Portable Dance Pole Is Right For You?
---
Types of Portable Dance Poles
When it comes to buying a portable dance pole for home use, there are generally 3 main options:
A pole that's held in place by pressure
A pole that's held in place with a permanent ceiling mount
If you already know all this and want to know which pole to buy, click here to see the best dance poles for sale at the moment Let's go into more detail about these different types of dance poles:
Portable Poles Held In Place By Pressure
This is our top recommendation for your first dance pole due to their safety and ease of use. This type of portable dance pole is held in place by pressure between a joist (beam) in the ceiling and the floorboards. They require no ladders, drills or screws and cause minimal damage.
Once it's been installed correctly, it's an incredibly safe piece of equipment. We've been using this style of pole for 10+ years and have almost never seen one come down!
Read our safety guide on pole dancing at home
X Pole Branded Dance Poles
X Pole is the industry leader when it comes to vertical and aerial fitness equipment. Their innovative technology means that portable dance poles at home are now more accessible to anyone.
Both the X Pole Sport and X Pole Xpert are completely removable. They're very easy to put up, take down and
maintain. We highly recommend choosing an X Pole brand of portable dance pole.
Shop X Poles directly from X Pole US!
Shop X Pole directly from X Pole UK!
---
A Dance Pole With A Permanent Ceiling Mount
If you know you're going to keep your pole in-place for a longer period of time, then getting a ceiling mount is a good idea.
You can get ceiling mounts to work with your X Pole. This is especially useful if you have a vaulted ceiling in the room where you want to pole.
Shop X Pole US Permanent Mounts for Your X Pole
---
Freestanding Dance Poles
A freestanding pole is a good option if you want to use your pole outdoors.
We've written an entirely separate guide to freestanding dance poles, and you can read it here! (Links open in a new tab)
We have even used pieces of scaffolding cemented into the concrete before, but specialist pole stages are available.
These freestanding dance poles use a large and heavy round base and the top of the pole is completely detached.
IOn our experience, these poles are extremely stable but you can definitely feel the motion of the pole 'swaying slightly' – this is perfectly safe.
Shop X Pole Stages (Static & Spin) Here
---
About Pole Thicknesses (Diameter)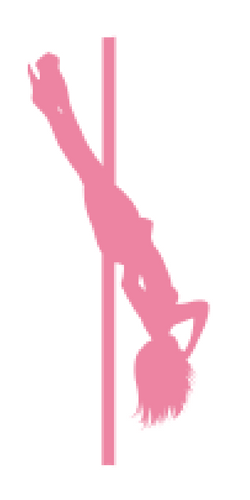 When it comes to pole thickness, you're also greeted by 4 main choices.
These are:
Read: Which Pole width is right for me? 50mm, 45mm or 40mm?
Let's briefly look at the pros and cons of different pole widths…
50mm Pole
The 50mm pole was the original industry standard width for a dance pole. Almost no commercial pole studios had different thicknesses available until recent years.
Pros of 50mm
Good for leg grip
Used worldwide
Easy to switch to other poles after learning on a 50mm
Cons of 50mm
Grip can be challenging for beginners or pole dancers with small hands
45mm poles have become the industry standard
45mm Pole
The 45mm pole has been available for many years. It is preferred by beginners who find it easier to grip when they start to learn.
Pros of 45mm
Industry standard
Easier to grip for beginners
A better choice for those will small hands
Cons of 45mm
Leg, elbow or armpit grip is more challenging
Pole can 'pinch' your skin more than a 50mm pole
If you learn on a 45mm, it can be quite difficult to switch to a 50mm
40mm Poles
40mm poles are relatively new and were introduced by X Pole due to high demand. We recently got new 40mm poles in our studio and the students love them!
Pros of 40mm pole
Newest pole by X Pole
Very easy to grip for beginners and those with small hands
Cons of 40mm pole
Like the 45mm dance poles, this can feel pinchier than a wider pole, especially with moves where you grip with your body and not your hands
It can be very difficult to switch to a wider pole after learning on a 40mm
This is a very brief overview of different pole widths.
---
Static or Spin?
Portable dance poles for use at home can be static only or be both static and spin. The static only poles have no option to spin whereas the static and spin poles can be changed using the hex key provided.
Spinning poles are used for performing advanced combos with more flow and it is much harder to invert while spinning at high speeds. Spinning poles require a different technique to static poles. 
The X Pole Sport is X Pole's static only pole and the X Pole X Pert is their Static/Spin Pole.
Which one is Right for me?
Most beginners will usually start on a static pole, but there are plenty of tricks and moves a beginner can learn on a spinning pole too. As an instructor, I feel that beginners should learn 50% on static and 50% on spin.
I personally learned on a static-only pole for 3 years before I had an opportunity to use a spinning pole. It was certainly a very different technique to 'spin' on a spinning pole, as on a static pole most spins need more effort and momentum, whereas on a spinning pole you just, well, spin! 
I wish I had learned using a mixture of static and spin to really nail the different techniques earlier in my pole journey.
That is why we fully recommend the X Pole XPert to pole dancers of all levels. Read our full and detailed review of the X Pole XPERT here.

X Pole Sport Vs. Xpert
Besides the X Pert being static/spin and the X Pole being static only, the X Pert can be quickly changed between spin and static modes at the bottom of the pole using the hex key that comes with the pole itself. The X Pole Sport has a screw adjuster cover made of foam, which you cut to size and the X Pole X Pert has a metal adjuster cover (at the bottom of the pole)
The other difference between the X Pole Sport and XPert is that the X Pert has a ceiling dome and the X Pole uses a smaller ceiling plate. These are both designed to sit directly beneath a ceiling joist. The base of the X Pole Sport is also slightly larger than the base of the static/spin X Pert.
Read our full review of the X Pole Sport here.
Both of these X Poles are solid, top quality poles and we've used them both at home and in the studio.
Did you know that the X Pole Sport is now less than $150?! Click here for a list of quality portable dance poles for under $200.
---
Different Pole Finishes
There are a variety of different pole finishes available for your portable dance pole.
These are
Chrome
Brass
Titanium Gold (Often called TG, not to be confused with the grip 'Twisted Grip')
Stainless steel
Silicone
Powder coated
Let's have a quick look at the pros and cons of each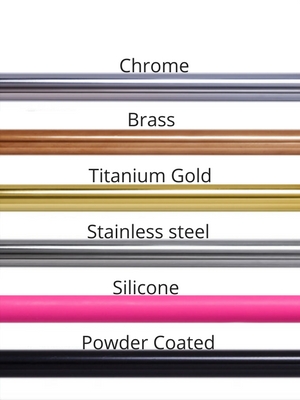 Chrome Coated Poles
These are the most common dance poles you'll come across, they're used in studios worldwide and are the most affordable option when choosing a pole for your home.
Pros of Chrome
Good for all weathers and climates
The most common dance pole
Easy to clean and maintain
Cons of Chrome
Can get worn over time (although this is minimal)
Can become rusty if not maintained
Brass Coated Poles
Brass poles use the highest quality metal available, and these are more common in hot countries. These are an excellent choice for your home and recommended if you want to take your grip to the next level.
Pros of Brass
Superior finish for better grip
Excellent in hot weather
Does not rust
Suitable for those with metal allergies
Cons of Brass
More susceptible to damage than chrome or steel
More expensive
Slippery in humid weather conditions
Titanium Gold Coated Poles
Titanium Gold also offers superior grip. These are less common, although those who use Titanium Gold Poles swear by them.
Pros of Titanium Gold (TG)
Cons of Titanium Gold
The gold finish, which is electronically done over the chrome, can wear over time
The color of the pole will change as it wears off
More expensive
Stainless Steel Coated Poles
Stainless Steel dance poles are extremely durable and have a polished finish. It's more common to find these in studios rather than at home due to their durability.
Pros of Stainless Steel
Great for humid weather conditions
Suitable for those with metal allergies
Does not rust
Extremely durable
Cons of Stainless Steel
More expensive than Chrome
Silicone Coated Poles
Silicone coated poles are used on a Chinese Pole and are a soft/spongy material. Unlike Chrome and Stainless Steel, you don't need your skin out to use a silicone coated pole. Chinese Pole is done with clothes on and does not rely on skin-on-metal contact.
Pros of Silicone
Allows you to incorporate Chinese Pole tricks into your routines
Silicone coated tubes can be added to an additional X-Pole!
Very good for getting a strong grip, even with clothes on
Cons of Silicone
Expensive to upgrade
Not great for performing spins
Powder Coated Poles
X Pole now sell Powder Coated Poles! These are new to the market and offer enhanced grip-ability.
Pros of Powder Coating
Very easy to grip
Choice of colors (black or pink)
Smooth textured
Cons of Powder Coating
Uncommon to find in studios
The powder-coating is not the most durable.
Read more about different dance pole finishes here
---
Pole Dancing and Climate
The weather affects everything else in our lives, why shouldn't it affect our pole buying decisions too?!
Here's a handy chart to help you out:
| | | | | | | |
| --- | --- | --- | --- | --- | --- | --- |
|   | Chrome | Brass | Titanium Gold | Stainless Steel | Silicone | Powder coated |
| Hot, Wet and Humid | Likely to rust | May be slippery | Likely to rust | ✔ Best choice | ✔ | ✔ |
| Hot and dry | May be slippery | ✔ Best choice | ✔ | ✔ | ✔ | ✔ |
| Temperate | ✔ Best choice | ✔ | ✔ | ✔ | ✔ | ✔ |
---
What Else Do I Need To Know?
Unless you've chosen a freestanding pole, you need to know your ceiling height and where the joists/beams are.
How to find out the height of your ceiling
You'll need a straight tape measure (we have this one, from Amazon) and a ladder, depending on whether you can reach the ceiling without one.
The easiest way to do this is to measure from the top of the door frame down to the floor, then measure from the top of the door frame to the ceiling and add them together.
X Poles can be anywhere from 7'4″ to 9'0″ out of the box without the need to buy extra extensions. If your ceiling is any higher than this, you'll need to buy an additional extension for your pole. If your ceiling is any lower than this, you'll need to contact X Pole directly to purchase your pole.
X Pole created this handy chart for you to find out which extensions you'll need to use.
How To Find Out Where The Joists Are
To find your ceiling joists, you'll probably need a stud detector. You don't need to buy a fancy one, we use this one, which is under $20 and it does the job perfectly well.
You can also find out the location of your ceiling joists by tapping on the ceiling, listening for a 'hollow' sound – that means there's no joist above that area of the ceiling.
If it sounds 'solid' then keep knocking along in the straight line in each direction in order to determine the direction of the joists.
Once you have found a suitable location, use a pencil to put a dot on the ceiling and there you have it! 🙂
---
Want to become an amazing pole dancer?
Open Dance Academy has over 450 online lessons, by some world famous pole dancing champions! Join now to get:
***GET 10% OFF OPEN DANCE ACADEMY***
Use the code polefitfreedom to get 10% off Pole Dancing Lessons with Open Dance Academy. This is an exclusive offer for readers of this blog!
Pin This Guide
Pin this image to save this guide:
Happy poling!
This post contains affiliate links. That means that, at no extra cost to you, we may receive a small commission if you buy a product using one of the links on this page. Read our full disclosure here.