If you're considering buying yourself a new dance pole, then you've probably come across Lil Mynx products during your searches. Lil Mynx has been making and selling stripper poles for over 15 years, they're one of the most well-known brands when it comes to pole dancing equipment.
The Lil Mynx Fully Portable Pro Pole is their only fully removable dance pole that comes with the option of having it fixed into place with a ceiling hook OR held in place with friction.
The means, the Lil Mynx Portable Pro Pole is fully portable and removable, but can still be a permanent fixture in your home or gym, if you want it to be.
We frequently review products at Pole Fit Freedom so that you can make the most of the various products out there for pole dancers!
Portable dance poles, such as the Lil Mynx Portable Pro Dance Pole just so happen to be something were experts on (even if we do say so ourselves!) 
This is a detailed review of the Lil Mynx Polished Stainless Steel Removable 2-piece dance pole, made and distribute by Lil Mynx/Pacific International Marketing & Promotions.
Lil Mynx Fully Portable Pro Stainless Steel Dance Pole Review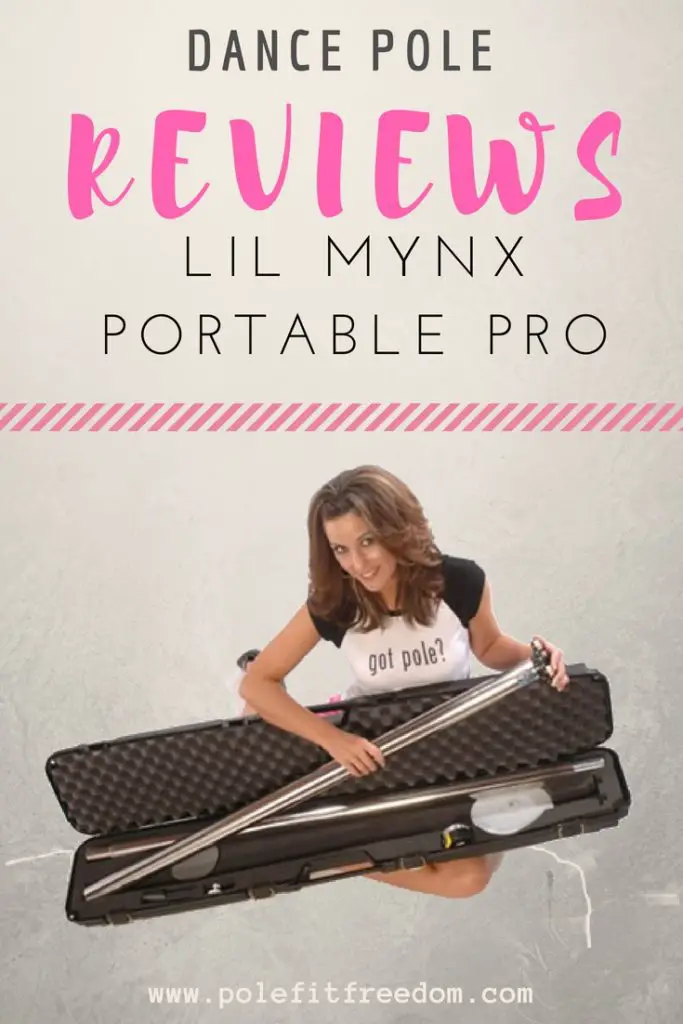 If you're new to Pole Dancing then you'll probably have heard of Lil Mynx by now! As I've already mentioned, they are the industry leader in manufacturing pole dancing equipment.
Lil Mynx manufacture and sell several different types of portable dance poles, including the Classic One-piece poles which are cut-to-size according to your ceiling height and the Rotator Pole, which is also a one-piece pole but has the option of spinning.
This removable version of the Lil Mynx Pole is only available in static. If you want a Lil Mynx pole that spins, then the only option is the Rotator Pole, which is sadly not removable.
What is the Lil Mynx Removable Pro Dance Pole Suitable For?
The Lil Mynx Removable Pro Dance Pole is suitable for home and professional use by pole dancers of all levels. It's suitable for brand new beginners and experienced experts. It's great if you want a portable pole, that doesn't need any drilling or attachments, but still has the option to be permanently fixed to the ceiling, if you want to,
You will find the Lil Mynx Removable Pro Dance Pole in gyms, dance studios, clubs and performance venues around the world.
You can use this pole for:
All pole tricks, from beginner to professional
Doubles and acrobatic tricks
Performance and competitions
Home or professional use
Many pole dancers use Lil Mynx Poles in their homes, this removable pole is more popular than their 'Classic' and 'Rotator' models as this comes in two pieces, rather than one long piece. These poles are also popular with polers who have vaulted ceilings in their homes, as Lil Mynx used to be the only option for using with vaulted ceilings (X Pole now make mounts for angled ceilings too).
The pole itself is extremely stable, so it's definitely suitable for athletic tricks and spins. It's a functional piece of sports equipment, not an ornament that's just for posing with!
---
Main Features of the Lil Mynx Removable Pro Dance Pole
Fully removable, the pole is held in place with either a fixed ceiling mount (drill needed) or a friction plate
Easy installation and removal, the pole can be installed in about 15 minutes and then easily taken down in about 10 minutes
Completely portable and breaks down into pieces for easy transportation
Comes with a 2-piece carry case for the pole and all its pieces
Minimum ceiling height: 8′
Maximum ceiling height: 10′ (if your ceiling is between 9-10ft, then you will need an extra extension piece, available as an extra when you buy from their website)
Anti-slip floor pad for use on tiles or wooden floor surfaces
Completely smooth from top to bottom, you cannot feel the transition between pole pieces
Available in a Stainless Steel Finish, a popular and durable finish for dance poles
Different widths available are either 45mm or 50mm
Comes with a stylish and handy storage/carry-case
---
What You Need To Know Before Buying
There are several things you will need to know before buying a Lil Mynx Removable Pro Dance Pole (or any portable dance pole).
Find out your Ceiling Height
The Lil Mynx Removable Pro Dance Pole sits in place between the floor and the ceiling. So, you'll obviously need to know your ceiling height beforehand, as if you have a ceiling that's higher than 9ft then you will need to purchase an extension at the point of purchase.
To find out your ceiling height, measure the height of the door frame using a straight tape measure, then measure from the top of the door frame to the ceiling and add the two together (unless you have a super long measuring tape…)
If you have carpet, add 2 inches (give or take) for the carpet and underlay. If your ceiling height is below 9 foot (2745mm), then you won't need to buy any additional extensions!
Choose Your Preferred Width
The Lil Mynx Pro Removable Pole is available in a choice of 45mm, and 50mm. 50mm was the original size of dance poles, but 45mm poles are now the most popular option.
A smaller pole is easier to grip with your hands but pinches more on the rest of your body than a 50mm will.
Ultimately, the choice is yours, as it's going to be your preference. Check what poles you have in your local studio to see what you're most familiar with,
Find a Suitable Location For Your Pole
Your pole will need to go somewhere with enough space around it to perform spins and tricks.
Whether you're using the fixed mount or friction plate, the pole will also need to go directly underneath a ceiling joist, so you'll need to locate a joist in a suitable place that gives you enough space to practice.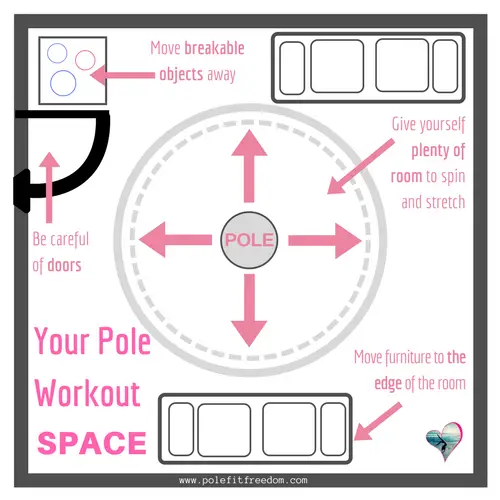 You can either get a cheap stud detector from Amazon or use the cowboy method of knocking on the ceiling!
---
What's Inside the Lil Mynx Pro Removable Pole Box?
2x long pole pieces
1x extension pole piece (for the 8-10ft model only)
Ceiling Mount
Friction Pads
Carry/Storage Case
All tools needed for installation
You should make sure that all of the pieces are inside the box before you start to assemble the pole
---
How Do You Assemble the Lil Mynx Portable Pro Pole?
The Lil Mynx Portable Pro Pole is very easy to assemble. It can be done alone, but it's much easier if two people do it together!
After checking that everything that should be in the box is present and correct, you know your ceiling height and where the joists are, you're ready to go!
This helpful Youtuber, DancePole Queen has made a handy video demonstrating just how simple it is to install the pole.
As you can see, it's not a difficult process and it's very easy to follow.
Remember, use of the pole hook is optional with the Lil Mynx Fully Portable Pro pole, it can be held in place by pressure (tension-fit) and the hook is there for extra stability.
This is Lil Mynx's only fully portable pole, as all the other poles they manufacture are 1-piece poles with ceiling mounts.
Pro Tip:
It's very useful to have a magnetic spirit level to ensure the pole is completely straight. If you don't have one, then visually align the pole with a door frame, it should be completely parallel. It's worth noting that your door frame may not be 100% straight!
---
Using the Pole
This pole is perfectly suitable for all pole dancers at all levels. When the pole is up and in place then it will stay up for a very long time. But, if you need to take it down in-between workouts then it doesn't lose integrity over time. The parts are incredibly strong and well-made, so it's a very sturdy pole that can handle a lot.
---
Pros and Cons
Like with any product, the Lil Mynx fully portable pro pole has both good and bad points.
Pros
Quick and easy to install
Made with high quality materials
Extremely portable
Very easy to remove, storage case provides convenient storage
Pole is very safe and secure
Stainless steel is a durable, professional material, very suitable for pole dancing
Does no damage to the ceiling (unless you use the hook mount)
Option of 45mm or 50mm to suit your preferences
Very good value
Cons
Static-only pole, no option to switch to spin (this is only a con if you love to spin!)
After being put up and removed several times, the central joint does not feel as secure as when it's new
You need to re-tighten the central joint if the pole is up for long periods of time.
---
Where To Buy the Lil Mynx Fully Portable Pro Pole
The best place to buy Lil Mynx dance poles is directly from Lil Mynx themselves. 
Price
Prices start at $299.
---
Conclusion
Should you buy the Lil Mynx Portable Pro Pole?
This is a very sturdy dance pole suitable for pole dancers at all levels. If you're absolutely convinced that you won't want to use a spinning pole during your workout, then this is an excellent choice for a portable dance pole. The benefit that Lil Mynx have over their competitors is that their removable pole comes with a permanent mount in the box, and doesn't need to be purchased separately. That means you have the option to have a permanent or removable pole in one!
Visit Lil Mynx's Official Online Store (beware of fakes – always buy from the manufacturer)
---
Happy poling!
This post contains affiliate links. That means that, at no extra cost to you, we may receive a small commission if you buy a product using one of the links on this page. Read our full disclosure here.