Last Updated on February 21, 2023
This article may contain affiliate links. This means that at no extra cost to you, I may earn a commission if you use one of these links to make a purchase.
Read the full disclosure
.
Learning with pole dancing DVDs
 is ideal if you don't have anywhere local offering pole fitness lessons. Or, you may lack the confidence to attend lessons and would prefer to learn in a more private environment.
Learning anything at home is the best way to learn at your own pace, without any pressure from others. If you have a busy lifestyle, then it can be difficult to find the time to commit to attending classes. By choosing to learn at home with a DVD, you can do so in your own time. You can take as long as you need to practice and review moves. If you're in a class, you may not have enough time to spend practising a particular move or feel under pressure to progress at the same rate as everyone else. By learning at home, you control what you do during a practice session.
Pole dancing DVDs are much less expensive than private lessons, especially when you consider how much you learn for the price. Pole fitness lessons may cost $25+ for each lesson, and you should attend for continuous weeks to feel the benefit. In The Art Of Pole DVD, for example, you learn well over 50 tricks for around $120, whereas a $120 spent at a pole class would teach you much fewer moves. It's extremely good value to purchase online lessons too.
This article is a list of the best pole dancing DVDs for sale at the moment. It goes without saying that you'll need your own dance pole at home in order to follow the DVDs, but there are a few DVDs on this list that have conditioning moves that you can do without a pole.
So, let's get started…
The Art Of Pole by Jamilla Deville
This was one of the very first Pole Dancing DVDs I ever owned, and it's absolutely incredible, guys, and I still refer to it very often. This DVD set contains five DVDs, each one getting more difficult. There is even a beautiful routine at the end of each DVD featuring all of the moves covered.
These really are excellent instructional videos by a world-famous pole dancer, Jamilla Deville, and there are some warm-up and cooldown routines too. This even includes a series of imaginative routines performed beautifully by Jamilla wearing some beautiful costumes for inspiration.
---
Felix Cane Pole Dance Mastery
Now, this is the DVD for when it's time to really step-up your pole fitness game! Felix Cane is a world champion pole dancer. Her name is synonymous with moves such as the 'Spatchcock' and anything that involves advanced flexibility training.
Advanced Pole Mastery does not disappoint in the respect. Felix is an excellent instructor, she explains everything very well and this DVD gives you the chance to see the tricks performed from different angles, allowing you to nail every trick taught by Felix.
---
The Pole Fitness Series
This Pole Fitness Series DVD Set is a set of 3 separate DVDs. These are pole conditioning DVDs, with each one focusing on cardio, toning and flexibility. That means you don't need your own personal dance pole to follow these DVDs. You can use the Pole Fitness Series to build your muscles, improve your flexibility and your general overall fitness.
This set of DVDs is suitable for all levels and will help build/maintain your overall fitness as well as condition your body for pole dancing. If you use this link below, you'll get $10 off – how great is that?!
---
A Beginner's Guide to Pole Dancing
This DVD is a great introduction to pole dancing for beginners. It is presented in such a way that it allows you to see the tricks performed at normal speed and in slow motion, to help you nail each move. The tricks are broken down for you , explained very well and there is space for you to pause the dvd in order to practice. This DVD will give you a great workout and it's a lot of fun!
---
BeSpun's Leigh Ann Orsi's Pole Dance (Beginner)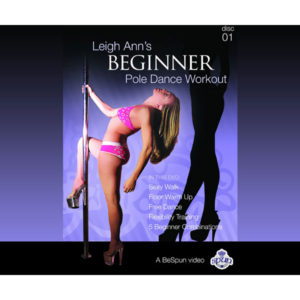 This is Leigh Ann Orsi's (of BeSpun Studios) first instructional Pole Dance Workout DVD, which is aimed at beginners. Leigh Ann's Pole Dance Workout takes you seamlessly through a warm-up, five beginner pole dance combinations, freestyle dance techniques, and flexibility training. This DVD focuses on basic footwork, elementary spins, and introductory sits.
---
BeSpun's Leigh Ann Orsi's Pole Dance (Intermediate)
Leigh Ann Orsi's Intermediate Pole Dance Workout DVD takes you through a sexy warm up, five different pole dance/trick combinations, freestyle dancing technique, and flexibility training. This DVD features Leigh Ann's extensive industry experience, you've probably seen some of her YouTube videos and she is incredible. Students will learn the correct technique for creating beautiful pole dancing tricks, seductive movement, and added confidence.
This DVD is for intermediate pole dancers. The type of tricks covered by Leigh Ann in this DVD include pole inverts, handstands, and leg holds. It covered routines which you can actually follow, step-by-step.
---
BeSpun's Leigh Ann Orsi's Pole Dance (Advanced)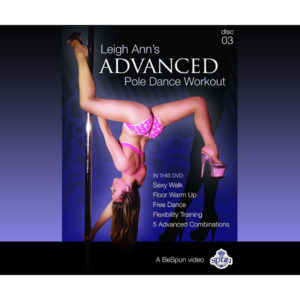 Leigh Ann Orsi's third and final instructional Pole Dance Workout DVD in the series for advanced pole dancers. Like the other two DVDs for beginner and intermediate dancers, you get a warm-up, five different pole dance combinations, freestyle dance moves, and flexibility training. The Advanced DVD teaches more complex spins and a variety of expert tricks focusing on creative mounts and multiple combinations. The DVD is concluded with the renowned "extended butterfly".
---
Pole Dance 101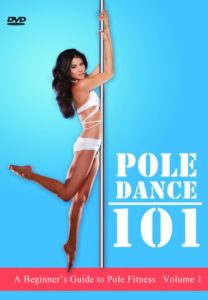 Learn the basics. If you are a total newbie to pole fitness, this DVD is perfect for you. Pole Dance 101 covers general topics such as pole installation before starting your workout, including appropriate clothing and how to use grip aids. You will also be guided through a proper warm-up session, simple floorwork exercises, and a fun follow-along pole dance routine that incorporates basic spins and dance moves. This DVD also includes strength training/conditioning exercises and a final cool down session.
Get started as a pole dancer with this fun, challenging and sensual new workout at home!
Get this DVD directly from X Pole 
---
Alethea Austin's Sexy Fundamentals & Floorwork DVD Box Set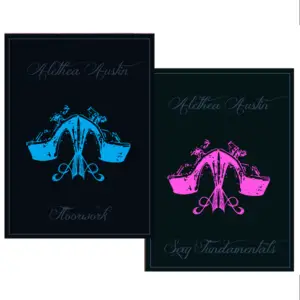 Alethea Austin is widely recognized as one of the top Pole Dance instructors and elite competition performers around the world. Her style very much consists of slow, controlled and flexible body waves and beautiful lines. Alethea previously won the title of US Pole Dance Federation Champion in the year 2010, as well as Miss Sexy in 2009. She is also a renowned instructor, having taught pole fitness and flexibility workshops all around the globe.
This box set consists of 2 separate DVDs; Sexy fundamentals and Floorwork, each DVD is about 1 hour long. 'Sexy Fundamentals starts by teaching you how to walk around the pole in heels, what to do with your arms and the basics of sexy movement. You will learn kicks and poses to help your flexibility, this workout will make sure you master the basics of flow in Pole Dance within the comfort of your own home.
The instructional Floorwork DVD will teach you tricks and transitions performed on the floor, designed to help both beginner and advanced dancers develop raw flow in their movement. Whatever your style of pole dance, this Floorwork program will help you gain core strength, flexibility and controlled flow. Suitable for all fitness levels.
Get this DVD Box Set directly from X POLE
---
Consider Online Pole Fitness Lessons
Another great way to learn pole dancing at home is with Online Pole Fitness Lessons.
There are some extremely high-quality online pole dancing lessons available right now, where the amazing instructors go over each move in great detail, talk you through the technique and points of contact, explain common problems with different tricks, and provide you with continuous motivation.
Like with DVDs, you can complete these lessons on your own time and at your own pace. Learning pole dancing online does also lack real-time instruction and advice. You may not realize that your technique may be completely wrong, but there's no one there to correct you. Repeatedly performing a move incorrectly can also lead to injuries and muscle strain over time, so try to seek advice from a professional instructor where ever possible and don't attempt anything that doesn't feel right.
Here are some online pole fitness lessons available at the moment:
Open Dance Academy Online Pole Dancing Lessons
Open Dance Academy has over 450 online lessons, by some world class pole dancing champions, such as Evgeny Greshilov, Yvonne Smink, Jamilla Deville, Maddie Sparkle and more!
They currently offer:
Access to more than 450 high-quality video lessons with the lifetime access option ($350)
Excellent value for money when compared to the price of local pole dancing classes
Suitable for beginner, intermediate, advanced & expert pole dancers
Their website works on mobiles, tablets and laptops
A stress-free training environment that you can do in your own time. No driving, parking or stress.
***GET 10% OFF OPEN DANCE ACADEMY***
Use the code polefitfreedom to get 10% off ALL Pole Dancing Lessons with Open Dance Academy. This is an exclusive offer for readers of this blog!
---
Danna's Online Pole Dancing Course
This course has over 130 online lessons, it's currently on sale at just $47 and that includes lifetime access to all lessons, so check it out it now before the price goes up again!
---
X Pole TV
X Pole themselves have also launched their own online pole fitness portal, which includes The Art Of Pole by Jamilla Deville DVD but available as online videos.
Find out more about X Pole TV here
---
Happy poling!
This post contains affiliate links. That means that, at no extra cost to you, we may receive a small commission if you buy a product using one of the links on this page. Read our full disclosure here.