Are you considering buying yourself an X Pole Sport? It's definitely one of the best and most popular portable dance poles on the market due to its durability, stability and design. X Pole continues to be the industry leader in pole dancing and aerial fitness equipment.
We frequently review products at Pole Fit Freedom so that you can make the most of the various products out there for pole dancers!
Portable dance poles, such as the X Pole Sport, just so happen to be something we're experts on (even if we do say so ourselves!) I've now had the X Pole Sport for 12+ years, alongside an XPERT Pole which is able to spin. I'm very familiar with X Pole Products!
This is a review of the X Pole Sport 2014 model. Previous models of the Sport had the same features but had a slightly different design. The 2014 model of the Sport had a number of improvements made to it, which we will discuss later on in this review.
This is a Professional Grade Stationary Dance Pole, so, let's find out if it lives up to its reputation…
X Pole Sport – Portable Dance Pole Review
If you're new to Pole Dancing then you'll probably have heard of X Pole by now, there's a good chance that your pole dancing studio uses X Poles! As I've already mentioned, they are the industry leader in manufacturing pole dancing equipment.
X Pole manufacture and sell several different types of portable dance poles, including this X Pole Sport (static only pole), the X Pole X Pert (static and spinning pole) and the X Pole Stages (freestanding static and spinning poles with podiums).
Read the lowdown on freestanding dance poles here
Who is the X Pole Sport Suitable For?
The X Pole Sport is suitable for home and professional use by pole dancers of all levels. It's a perfect pole for brand new beginners and experienced experts to perform static moves.
You will find the X Pole Sport in gyms, dance studios, clubs and performance venues around the world.
All pole tricks, from beginner to professional
Doubles and acrobatic tricks
Performance and competitions
Home or professional use
Many pole dancers use X Poles in their homes, with the Sport being the younger sister to the XPERT. The main difference between the Sport Pole & XPERT Pole is that the XPERT can spin by itself. The Sport Pole has a flat ceiling plate, compared to the larger dome of the XPERT. It also has a slightly larger floor plate and the height adjuster screw is different.
The X Pole Sport is absolutely perfect for home use as it doesn't require any permanent fixtures or mounts to keep it in place as it's held in place by pressure. It is extremely stable, so it's definitely suitable for doubles training, as well as advanced tricks and spins.
---
Main Features of the X Pole Sport Portable Dance Pole
Fully removable, the pole is held in place with no need for fixtures on the ceiling
Easy installation and removal, the pole can be installed in about 15 minutes and then taken down in 5 minutes
Bottom loading, so no need for ladders to install
Completely portable and breaks down into pieces for easy transportation
Comes with a complete carry case for the pole and all its pieces
Minimum ceiling height: 7'4″
Maximum ceiling height: 9′ (extensions are available separately for taller ceilings)
Micro-articulating base for use on uneven floor surfaces
Stationary, static-only dance pole
Completely smooth from top to bottom, you cannot feel the transition between pole pieces
Available in Chrome, Brass, Stainless Steel, Titanium Gold, Silicone, or Powder-Coated Finishes
Different widths available are 40mm, 45mm, 50mm
---
What You Need To Know Before Buying
There are several things you will need to know before buying an X Pole Sport (or any other portable dance pole).
Find Out Your Ceiling Height
The X Pole Sport sits tightly in place between the floor and the ceiling. So, you'll obviously need to know your ceiling height beforehand, as if you have a particularly high ceiling you may need to purchase additional extensions.
To find out your ceiling height, measure the height of the door frame using a straight tape measure, then measure from the top of the door frame to the ceiling and add the two together (unless you have a super long tape measure…)
If you have carpet, add 2 inches (give or take) for the carpet and underlay. If your ceiling height is below 9 foot (2745mm), then you won't need to buy any additional extensions! However, if it's taller than 9 foot, then you can use a larger extension in place of the 250mm extension piece that comes in the box.
Choose a Pole Finish
The X Pole Sport comes in several different finishes:
Chrome
Brass
Titanium Gold
Stainless Steel
Silicone Coated
Powder Coated
The Chrome Sport is the most common and least expensive, although there are some disadvantages to using chrome.
Read our guide to different finishes used on dance poles here
Choose Your Preferred Width
Standard X Pole Sports come in 40mm, 45mm, and 50mm, whereas the silicone coated poles come in 48mm and 53mm. This is due to the added width of the silicone.
Read our guide to different pole widths here (opens in a new tab)
Find a Suitable Location For Your Pole
Your pole will need to go somewhere with enough space around it to perform spins and tricks. It will also need to go directly underneath a joist, so you'll need to locate a joist in a suitable place.
You can either purchase a stud detector from Amazon or use the cowboy method of knocking on the ceiling!
---
What's Inside the X Pole Sport Box?
2x long pole pieces (A pole and B pole)
1x 250mm extension pole piece
1x 125mm extension pole piece
3x 'X' joints (to hold the pole pieces together – the type of X joint depends on the width of your pole…)
Base
Ceiling Plate
1x hex key
1x straight adjuster rod
Small case for the hex keys
2-Piece carry/storage case
Foam cover for the height adjuster
Photobook
You should make sure that all of the pieces are inside the box before you start assembling the pole.
---
How Do You Assemble the X Pole Sport?
The X Pole Sport is very easy to assemble. It can be done alone, but it's much easier if two people do it together!
After checking that everything that should be in the box is present and correct, you know your ceiling height and where the joists are, you're ready to go!
The X Pole Manual is incredibly detailed and there's a great step-by-step video on X Pole's YouTube Channel to demonstrate how to assemble the X Pole Sport:
As you can see, it's not a difficult process and it's very easy to follow.
I've now put up and taken down hundreds of Sport Poles, both inside houses and at pole dancing studios. The first time took the longest, as I was figuring everything out but after that, it literally takes me 10 minutes to put it up and even quicker to pack it away.
Pro Tip:
It's very useful to have a magnetic spirit level to ensure the pole is completely straight. If you don't have one, then visually align the pole with a door frame, it should be completely parallel. It's worth noting that your door frame may not be 100% straight!
---
Using the X Pole Sport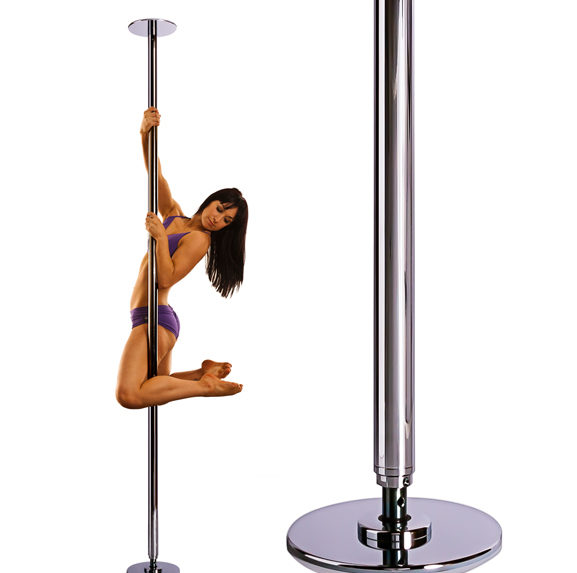 The height adjuster is one large screw at the bottom of the pole that gets used to adjust the pole's height. There will be some of the screw exposed, making the bottom 2-6″ of the pole essentially unusable.
There is a foam cover that comes with the pole, it can be cut to size to cover the height adjuster to avoid injury but it's not quite the same as the XPERT Pole which is smooth right the way down to the floor.
I've been using this pole for many years. Mine is Chrome, 50mm and, after years of use, it has barely any signs of wear at all. I use the pole several times per week.
I have never encountered any problems with the most recent X Pole Sport (2014 model), but I have had problems with their previous models of Sport and XPERT Poles (Pre-2013). See below for the difference between this new pole and the previous versions.
There have been no issues whatsoever and the pole is as sturdy and usable as ever. I've not encountered any of the chrome finish becoming tarnished, which is a common complaint about Chrome Poles.
In the last 7 years, the X Pole Sport has not caused any damage to my ceilings but it did leave an imprint on the carpet.
---
2014 Sport Vs. Older Versions
As I mentioned earlier, in 2014, X Pole released this new version of the X Pole Sport. I've had two previous versions of the Sport; the first one (in 2009) had the height adjuster at the top and needed a ladder to install it, and the second one was nearly exactly the same as this newest version in design and features, but I have noticed some minor improvements:
The X-Joints are stronger, and the groove that holds them in place when inside the pole is a better fit and the X-Joints are less likely to rotate when inside the pole.
The hex keys have a rubber handle so it's easier to tighten the pole.
The carry case has a holder for the 2 long pole pieces, this used to be velcro and this is a vast improvement.
The surface of the chrome pole has a slightly improved grip.
The packaging now uses less plastic and foam, and more recyclable paper.
Improved instruction manual and video.
These improvements here are not as drastic as when they released the first bottom-loading pole, but it seems that X Pole has the design and technology pretty perfect as it is!
---
Bad Things About the X Pole Sport
I have almost nothing bad to say about the 2014 Sport pole, however, over the past 3 years of using this pole at home, I have some observations:
The chrome version is very slippery at first.
When you first start using your new X Pole Sport, it will probably be much more slippery than poles you've been using at your pole studio. If this is the case with your new chrome pole, then it does get better with time and the more you use it. In the meantime, make sure you're fully warmed-up before your workouts and you'll be able to grip with more ease.
There are versions of this pole in other materials such as stainless steel.
Need to re-tighten if the pole if up for long periods of time.
It's a good idea to re-tighten the X-Joints every so often if the pole will be in the same place for a long time.
This 2014 Sport does not have the problem where the X-Joints become twisted inside the pole, meaning the holes are misaligned and the hex key won't fit in the disassemble the pole. At least, I've never encountered this problem with my X Pole Sport.
The height adjuster screw needs to be covered.
The large height adjuster screw at the bottom that we mentioned earlier is really annoying. During the time of owning this Sport Pole, I've moved house several times and each place had a different ceiling height meaning that I had to cut the foam cover for the adjuster to the correct size. After this, I basically ran out of foam and couldn't find anywhere on their website to buy any! In Hindsight, I should have contacted X Pole Customer Services as they're usually fantastic!
If you don't cover the height adjuster screw, then you're at risk of knocking or scraping your hands and ankles on the adjuster itself.
---
Where To Buy The X Pole Sport
The best place to buy the X Pole Sport is directly from X Pole, or Amazon. Amazon is an authorized reseller of X Pole Products. It's important to be aware of fake X Poles being sold on eBay and Craigslist!
Only buy your X Pole from an authorized re-seller, if you're unsure then X Pole or Amazon are your safest bets.
Price
When it comes to price, it all depends on which pole finish you want, brass and titanium gold will cost more than chrome.
Click on the images to find out the current prices – buy the pole directly from X Pole here.
---
Conclusion
Should you buy the X Pole Sport 2014 version?
If you're looking for a portable dance pole that will last you for many years, then yes! I would 100% recommend this product to any pole dancer of any level. X Pole also has excellent customer service.
---
Happy poling!