This article may contain affiliate links. This means that at no extra cost to you, I may earn a commission if you use one of these links to make a purchase.
Read the full disclosure
.
This page contains some of the prettiest and most visually stunning aerialist leggings, perfect fo aerial hoops, lyra, silks, trapeze & more!
When it comes to aerialist and pole fitness fashion, you're spoiled for choice these days. Many years ago, it was very difficult to find interest and unique styles of aerialist fashion but due to its increase in popularity, aerialist clothes are now everywhere!
You'll also notice that many aerialist leggings and other types of fitness fashion are now suitable for all shapes and sizes, rather than being exclusively reserved for the athletic and the skinny.
This page focuses on lovely leggings! Leggings are perfect for performing aerial sports, they're not so great for pole fitness unless you have a silicone pole (chinese pole) as you usually need bare legs to grip the pole. You can also wear leggings during your warm-up, cool down or floorwork sessions!
So here are some of the hottest pole fitness and aerialist leggings for sale at the moment. This page will be kept updated with the latest styles of leggings as time goes on, so make sure you bookmark this page and subscribe to our mailing list to be the first to know!
Queen of Hearts Leggings
You hold all the cards when you wear these sassy Queen of Hearts leggings. It is a flawless foundation for your printed tees, breezy blouses, and everything in between.
---
Sugar Skull Leggings
Everything's coming up roses when you're in a pair of these floral-themed and ultra-functional leggings. All-way stretch and recovery moves as you do, never inhibiting your stretches, leaps, pirouettes, or any other contortions you put them through.
---
Hamlet Leggings
These silky smooth leggings add boldness to nearly any outfit. Beautifully designed with passages from Shakespeare's tragedy, Hamlet.
---
Unicorn Leggings
If you believe magic, you will love these mystically whimsical Unicorn Leggings!
---
Disney Lady Villains Leggings
These Disney leggings featuring the Lady Villains will charm your wardrobe with each memorable story and wonderful blend of humor and adventure. Couple these legging with wedged heels and one of our black tops for a look that is sure to be a hit!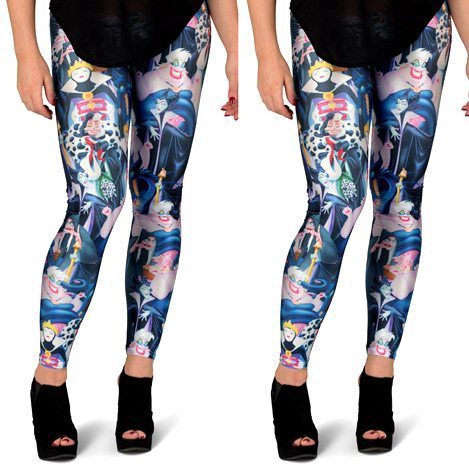 ---
Galaxy Leggings
Soar with unexpected style in these Galaxy Leggings! Swirling stars and planets decorate these silky-soft leggings, giving your look a blast of edgy charm. These leggings go well with both dressier and more casual tops, making this a versatile staple that will come in handy season after season.
If you love galaxy leggings, we've got a whole separate list of them – read it here! (Link opens in a new tab)
---
Mermaid Leggings
Embrace your inner mermaid! These mermaid leggings are attention grabbing and perfect for your aerial photo shoots. You can pair these shiny mermaid leggings beautifully with our crop tops and tank tops.
---
Cleo's Sonic Siren High-Waisted Leggings
Cleo's Sonic Siren high waisted leggings are designed for Rock N' Roll Mermaids to shine like sparkly fish tails. From human to mythical Mermaid, your legs will be transformed!
If you have ever worn Cleo's hot pants, you already know the quality and durability of her brand. We are so excited to offer our aerialists a mermaid style legging that is intended for even the most intense workouts!
---
Circus Stripe Leggings
Run away and join the circus with these amazingly soft striped leggings. They are sexy, slimming and chic! The vertical stripes will elongate your legs and enhance your sexy curves. These leggings are a versatile look you can wear either day or night! Pair these with one of these Circus Freak tops!
---
Skeleton Leggings
These spooky skeleton print leggings are the perfect thing to add edge to any outfit. Team these up with any of our loose fitting t-shirts or crop tops. Perfect for Halloween and every other day of the year!
---
Batman Leggings
The Caped Crusader is here! Reveal your inner superhero and take to the night to rescue the citizens of your town from distress when you rock these sleek and sexy Batman Leggings!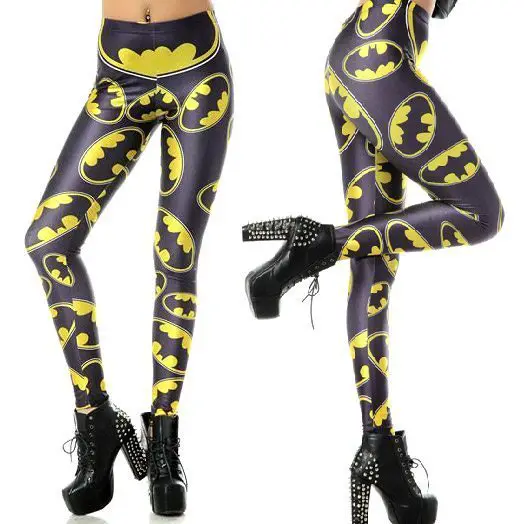 ---
Pole Dance Leggings
Wow! These pole dance leggings are exactly what I need in my life! However, these are the only leggings on this list without a discount code – I'm sorry!
Which pair are your favorite aerialist leggings on this list? Leave a comment below to let us know!
Happy poling!
This post contains affiliate links. That means that, at no extra cost to you, we may receive a small commission if you buy a product using one of the links on this page. Read our full disclosure here.