If you're a pole dance enthusiast, then you've probably heard of Lupit Pole by now! Lupit Pole are a European company (based in Slovenia, to be specific!) who manufacture portable dance poles, freestanding dancing poles (pole stages), and a range of other pole dancing products such as crash mats and grip aids.
This article is about Lupit Pole, the company, and the products they make and sell. Lupit Pole are actually fairly new to the US market, competing with companies like X Pole, yet they seem to be doing very well in the international market.
So, you're probably looking for more detail about this relatively new company and what their dance poles are like compared to the well-established competition. This is where we're here to help you!
You will learn:
About Lupit Pole, its brand history and ambassadors
An overview of the different portable and freestanding dance poles sold by Lupit Pole
The general quality of Lupit Pole products and their customer service
Where to buy Lupit Pole products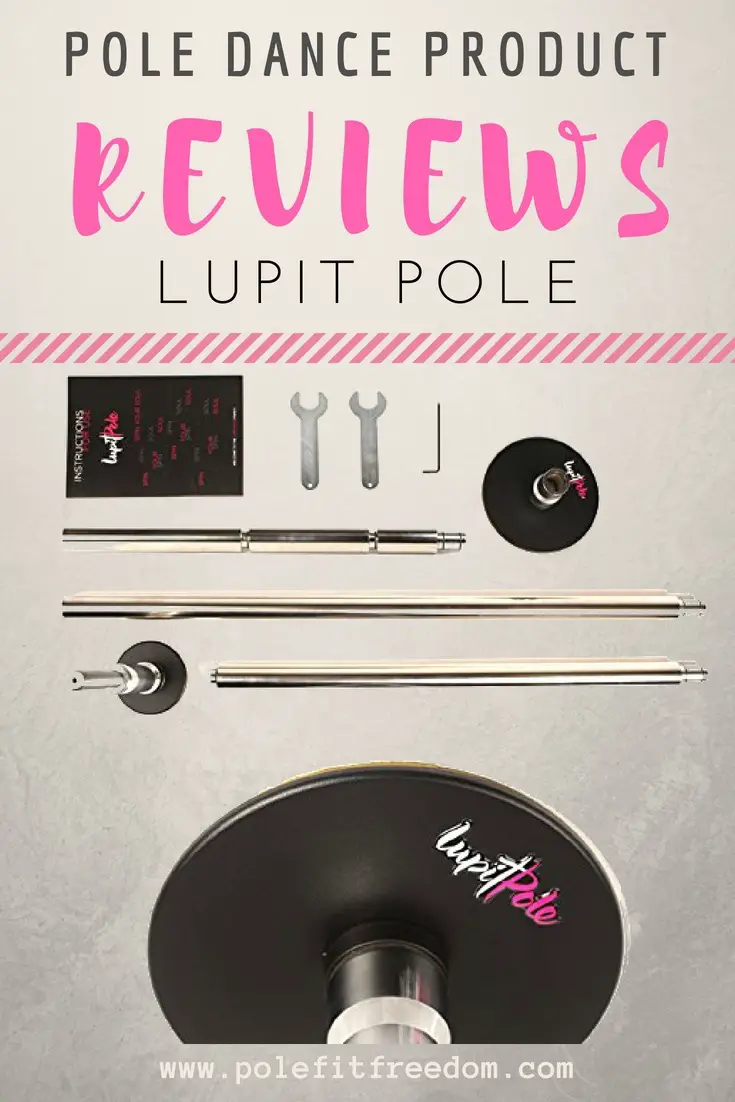 Lupit Pole: A Complete Company Overview
Lupit Pole have been making and selling professional dance poles since 2009. Their vision (according to their website) is to is:
To offer a wide range of pole dance related products and services under the brand LUPIT POLE, to put forward endless options in the pole dance industry and with that enrich people's lives with the possibility to realize their right to choose.

Source: Lupit Pole
They have positioned themselves as a premium brand, focussing on quality and customer service. The company operate under 6 core principles:
Full service – They focus on developing long-term and meaningful relationships with their customers.
Extra mile – Customer satisfaction goes far beyond the point of sale. They provide plenty of after-sale support for as long as you own the product.
Realize potentials – They also focus a lot on continuous improvement and innovation, constantly making improvement and enhancements to their products.
Value staff – As with any company, the staff are what makes it successful. By choosing to purchase from Lupit Pole, you can be sure that their staff and valued and enjoy a fulfilling work environment.
Ensure supply – They are very quick and efficient at processing and shipping orders out around the world.
Commitment – Lupit Pole are committed to quality, reliability and complete customer satisfaction.
Lupit Pole Family: Brand Ambassadors and Angels
"The bond that links our family is made of respect and support"
Lupit Pole have added credibility due to the support from big names within in pole fitness industry. This may not mean anything to you if you're new to pole dancing, but some seriously professional athletes have endorsed Lupit Pole. There are brand ambassadors, who are generally professional athletes, but also Pole Angels. Pole Angels are dancers aged 10-14, part of an established special Young Athletes Program.
Let's learn a little bit more about who the brand ambassadors and Pole Angels are:
Brand Ambassador: Marion Crampe
Marion is a contortionist performer who believes that "Pole Dance is expressed by the movement and the expression of a body in motion." Her style of dance embraced her flexibility and her routines are full of emotion.
Brand Ambassador: Phoenix Kazree
Phoenix is a former gymnast and is trained in multiple different styles of dance. Having been a dancer and performer for most of her working life, she now has a world-class career as an international pole champion, instructor, competitive coach, and choreographer.
Pole Angel: Paige Olsen
Despite her young age, Paige won in her category at the IPSF World Championships in London 2016! She is one of Lupit Pole's proudest pole angels! Well done Paige!
Pole Angel: Dana Castillo Zarazúa
Another incredibly talented young woman! Dana is 13 years old, she is a gymnastic who fell in love with pole two years ago.
Learn more about the Lupit Pole Family, Brand Ambassadors and Pole Angels here
---
Lupit Pole Products
Here is an overview of the different products made and sold by Lupit Pole:
Lupit Pole Classic
Lupit Pole make a range of different portable dance poles for use at home, in clubs or in dance studios. The first, and most popular is the Lupit Pole Classic.
This is a fully removable, portable dance pole that's held in place between the floor and the ceiling. Like most portable dance poles available, there's no drilling required! Everything you need to install the pole comes inside the box and it can be easily installed within 10-15 minutes.
Features
The main features of this sturdy dance pole are:
Multi-piece pole
Quick and easy to install and remove
Switch between static and spin
Extendable from 2100mm to 2800mm (7″ – 9.2″) with extra extensions available for taller ceilings
Quality rubber surface
Unique upper disc flex system
Patented safety block nut
Options
When buying a Lupit Pole Classic, you also have several options:
42mm or 45mm width
Stainless steel or chrome finish
45mm is the standard width for a dance pole, the 42mm option is slightly smaller and better suits dancers with smaller hands. Smaller poles are easier to grip with your hands, but harder to grip with other parts of the body, such as your thighs or armpit!
For more information on different pole finishes, read our detailed guide here
Click here for full specification, features and the latest price
---
Lupit Pole Diamond
The Lupit Pole Diamond is exactly the same as the Classic pole, but with Swarovski crystals decorating the ceiling and base plates. This may seem unnecessary, but the genuine Swarovski crystals really do sparkle and spin, making a great effect during your pole dance routines.
All of the product features, specifications and options are all exactly the same as the 'Classic' option, so click here for the latest price!
---
Lupit Pole Stage
This is a brand new product for 2018, and the first freestanding dance pole sold by Lupit Pole! A freestanding dance pole (or dance pole stage) has a large, heavy base and a pole that's not attached to anything at the top.
Learn more about freestanding dance poles here
It can be used indoors or outdoors and can be installed in about 5 minutes.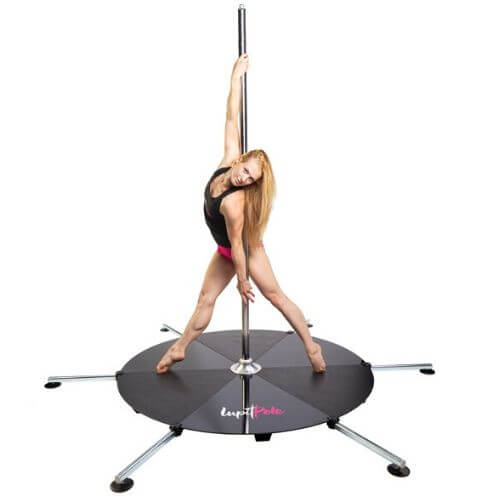 Features
The brand new Lupit Pole Stage has several innovative features to be excited about!
Integrated Lupit Pole Quick Lock™ to switch between static and spin in seconds
Easy to install and remove
Extendable legs at the base for extra stability
Has a mount at the top of the pole for optional aerial silks
2810mm (9'4″) height
Made from high quality stainless steel
Unlike the portable dance poles sold by Lupit Pole, the pole stage is only available in 45mm (industry-standard pole width) and stainless steel. However, there are some options available:
Options
With or without carry-case (bag for all the pieces)
Short legs or long legs at the base.
The long leg option means that the pole itself has extra stability for performing tricks with a lot of sidewards pressure on the pole. It also allows for more advanced tricks to be performed at height with added safety features in place.
Click here for full specification, features and the latest price
Studio Poles
As well as an extensive range of home pole dance equipment, Lupit Pole also sell professional pole dancing equipment for studios and clubs.
Features
Here are the features of the custom-made studio poles:
One-piece pole which is cut-to-size
Totally smooth from top-to-bottom)
Tailor made professional dance pole
Customized height (up to 4.3m / 14 feet!)
Options
The options available to you are:
Brass or Stainless steel
42mm or 45mm width
Removable or permanent (with fixed ceiling mount)
Click here to learn more about Lupit Studio Poles
---
Pole Dancing Crash Mats
In addition to dance poles themselves, Lupit Pole are one of the world's leading manufacturers of pole dancing crash mats.
Lupit Pole is a very well known brand when it comes to Pole Dancing equipment and products. Their dance poles are very high quality and their crash mat is no exception!
The Lupit Pole Crash Mat is made from high-quality materials. The foam inside is a high-grade EPE (Expanded Polyethylene Foam) so it is strong, very hard-wearing and has high impact/shock resistance. The outside of the crash mat is made using high-quality elastic leather.
It is available in 3 different thicknesses and 4 different colors:
4cm (1.57 inches),
8cm (3.14 inches)
12cm (4.72 inches)
Colors (Black, Gold, Silver, Black)
The mat has a very wide diameter – 1500mm (4ft 11inches) which allows for floorwork exercises and stretches to be done without the need for a second mat/larger landing area.
The underside of the mat is anti-slip – stops the mat moving when in use, it really does stay in place and doesn't move at all, whether it's installed on carpet or on a hard floor.
It folds away for easy storage, allowing for quick set up and storage. It has stitched-in handles to carry around as well.
The Lupit Pole Crash Mats are compatible with all different pole sizes, so no matter if your pole is 40mm, 45mm or 50mm. It also comes in a beautiful storage box!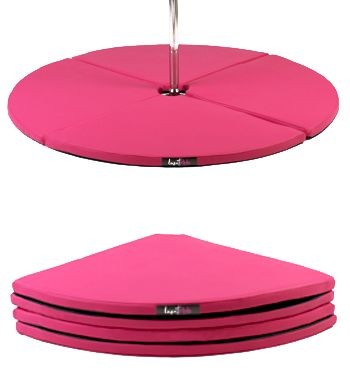 As you can see, the mat folds away for easy storage when it's not in use.
Find out more about the Lupit Pole Dancing Crash Mats here
---
Lupit Pole Grip
The Lupit Pole Grip is a small square pillow approximately 4.7 inches x 4.7 inches. It weighs absolutely nothing and takes up very little space in your gym bag.
Use the pink side of the pillow to apply added grip to the pole's surface. Simply run the pillow along the length of the pole for it to take effect.
Then, use the black side of the pillow to run it across your skin. The two sides of the pillow work together to provide an extra layer of grip to make sure that you ain't going anywhere!
Lupit Pole Grip will also work with sweaty skin, but it won't dry up the sweat in the same way that chalk or Dry Hands will. If you have sweaty hands, then the Lupit Grip will give you some additional grip, but you may need to use it in combination with another product if you find that sweat is still a problem with using the pole.
However, by using both sides of the Lupit Grip pillow, one side for the pole and the other for your skin, you should find that the hydrophobic technology works well to adapt to the situation. So, stick with it for your workout to see how it works for you.
Read our full review of Lupit Pole Grip here, or click here to buy directly from Lupit Pole now!
---
Summary
In conclusion, if you're considering buying yourself a new dance pole, you can be sure to expect exceptional quality with Lupit Pole!
They can ship your pole worldwide! It will arrive well-packaged and with detailed instructions.
They will also provide after-sales support by email and phone, if you need it.
Finally, if you have a Lupit Pole that you love, leave a comment below to share your experience with our readers!
This post may contain affiliate links. That means that, at no extra cost to you, we may receive a small commission if you buy a product. Read our full disclosure here.