This article may contain affiliate links. This means that at no extra cost to you, I may earn a commission if you use one of these links to make a purchase.
Read the full disclosure
.
This article contains a comprehensive list of the best aerial hoops (aka Lyra Hoops) available at the moment. Lyra Hoop is an incredible workout and artform with some many creative possibilities.
Pole and aerial go together like Peanut Butter & Jelly – it's common for pole dancers to transition into aerial and vice versa. Both pole and aerial sports complement each other and make use of similar physical skills.
It's no wonder that so many pole dancers are drawn to aerial hoop as an additional form of exercise. As a pole dancer, it's an excellent idea to vary your workouts to include other sports too.
If you want to dabble with aerial sports, then aerial hoop is a great place to start!
What Sort Of Aerial Hoop Should You Start With?
There are several different types of aerial hoop:
Single-point hoops – suspended from a single point of contact at the top central area of the hoop. Single-point hoops are great for spinning and gaining momentum without any restrictions.
Double-point hoops – suspended from two points at the top of the hoop. Double-point hoops do not spin as fast and they are more 'tippy' as in, they tilt forward and backward as you perform tricks. These hoops still spin, just not as fast as their single-point counterparts.
Tab-less (zero-tab) hoops – hoops with no points of contact at all. Tab-less Lyra hoops can be connected to rigging equipment by attaching a span set or carabiner. A tab-less hoop will spin laterally and vertically and is better suited for advanced users.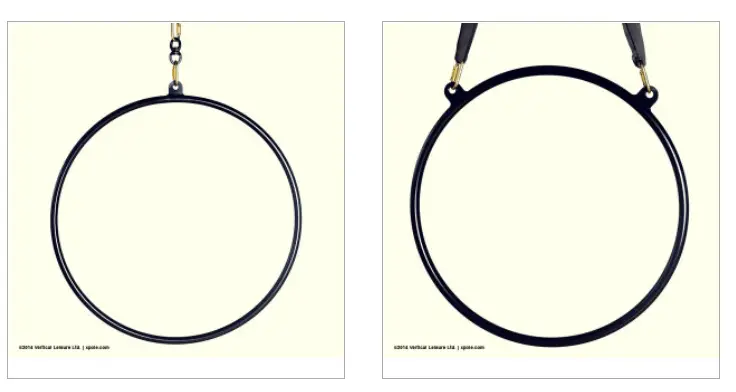 All aerial hoops are available in a variety of different sizes to suit different body types, including children. They are all extremely lightweight to allow for ease of movement and comfort during use.
Without further delay, let's explore the best aerial hoops available at the moment. We only include professional-grade aerial equipment in this list.
Our philosophy is that if you're trusting this piece of apparatus to support your body weight, it's not worth the risk of ending up with inferior equipment.
Best Aerial Hoop – Recommended for Beginners
Why Choose the X Pole Single Point Hoop?
Just like X Pole Dance Poles, you know you're getting the best quality when purchasing an X Pole product. X Pole are the original manufacturers of home pole and aerial equipment and they still continue to create new innovative products.
X Pole has the best customer service, with pole lines and email support available for all their customers.
Professionals and amateur aerialists choose X-Pole at their go-to brand for all things pole and aerial-related.
The hoop itself is pre-coated in powder, so there's no need to bother getting additional tape to wrap your new Lyra hoop. The powder-coating offers a superior level of grip and allows you to use the hoop wearing leggings and long sleeves.
The rigging and fixtures included are exceptionally strong and rated for aerial, circus and climbing use. X Pole's single-point aerial Lyra hoop was designed for replicating tricks performed on aerial silks with ease.
It's the perfect choice if you want to get started with Lyra hoop at home.
Another Great Aerial Hoop for Home Use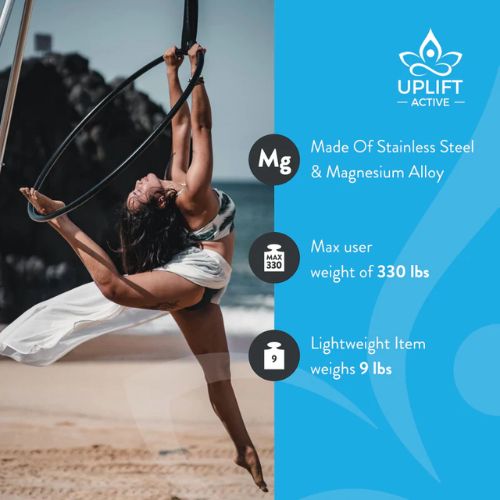 Get 10% off your Uplift Active order with the code POLEFIT10
Why Choose the Uplift Active Aerial Hoop Lyra set?
The Uplift Active Aerial Hoop was designed for home use. However, it's still constructed with professional grade materials that are rated for indoor aerial and climbing use.
Uplift Active are one of the leading retailers of aerial equipment around the world. They are also an official stockist of X Pole products.
The swivels and carabiners are included so all you need is a fixed rigging point or freestanding aerial rig.
Unlike the X Pole single-point hoop, this one is not powder-coated so you'll probably need some additional aerial hoop tape to help you grip and to customize the look of the hoop.
This Lyra hoop is a great choice for home-based aerialists.
Why Choose the X Pole Two Point Hoop?
Just like X Pole's single-point hoop, this double-point version is the superior choice if you've chosen a double-point hoop.
Double-point hoops do feel significantly different, especially if they're rigged to two points instead of one. When a double-pointed hoop is rigged to two points, it cannot spin freely.
With the hoops ability to spin restricted, it provides a more 'tippy' experience for the performer. The Lyra will 'tip' back and forth as you shift your weight from one side to the other.
A double-pointed hoop is like acrobatic, but it's great for strength building, doubles performances and a perfect choice if you want to try aerial but suffer with motion sickness.
It's also possible to connect the two point of your double-point hoop to a single spanset or extension strap, meaning the hoop will spin from its swivel point.
Why Choose the DASKING Aerial Hoop?
This is a smaller-sized hoop so it's great if you plan to share your new Lyra with younger members of your family.
Just because this is for sale on Amazon – don't be fooled by its quality. Read the reviews if you don't believe us! This is a professional-grade Lyra hoop that's designed for home use.
The fact that all the rigging is included (minus a rigging point) makes is an excellent choice for beginners.
Single-Point, Double-Point OR Tab-less Hoop
Why Choose the Runner Deer Aerial Hoop?
There are both pros and cons to the Runner Dear Aerial Hoop – the thickness of the hoop (32mm) is great for beginners. Thicker hoops are easier to grip or hang using your legs, whereas thinner hoops (preferred by professionals) are harder for beginners to grip.
There are single-point, double-point and tab-less variations of this hoop (make your choice at checkout) so make sure you choose the correct one for your needs.
If you opt for the double-point version, be aware that the tabs are slightly further apart than other double-point hoops (like the X Pole Lyra) so it tips more than other hoops you may be used to.
Single-Point, Double-Point OR Tab-less Hoop IN ONE!
Why Choose the Firetoys Prodigy Multi-Point Aerial Hoop?
Shackled hoops, like this FireToys Prodigy Hoop are the most versatile choice because their use of shackles means that they can be used in different configurations.
If you want an all-round Lyra hoop that will allow you to fulfil your aerial workout potential then this is the choice for you. It's only available in a smaller width, which can make it harder and more painful to grip, but as a professional you need to get desensitized to that!
FireToys are a globally recognised retailer of aerial and circus equipment. Their aerial equipment is highly rated for circus and climbing use.
---
Best Aerial Hoops: What You Need To Know Before Buying
If you're completely new to the world of aerial hoop, then you may need more information and equipment before you can get started installing an aerial hoop at home.
You need a freestanding aerial rig or fixed ceiling rigging point for your hoop to hang from.
For ceiling rigging points, we recommend you speak to a structural engineer or experienced aerial rigger before going ahead an installing a Lyra Hoop from your ceiling.
Aerial sports use dynamic forces. Lets say your weight is 120lbs. When you perform spins and drops, you can create forces 4-5 greater than your body weight. So your rigging needs to support ~600lbs to support you safely.
It's extremely important that your rigging points are truly safe and inspected regularly.
The best choice for getting started with aerial at home is to get a portable aerial frame, aerial rig or yoga frame. The number one choice for this is an X Pole A Frame (pictured below)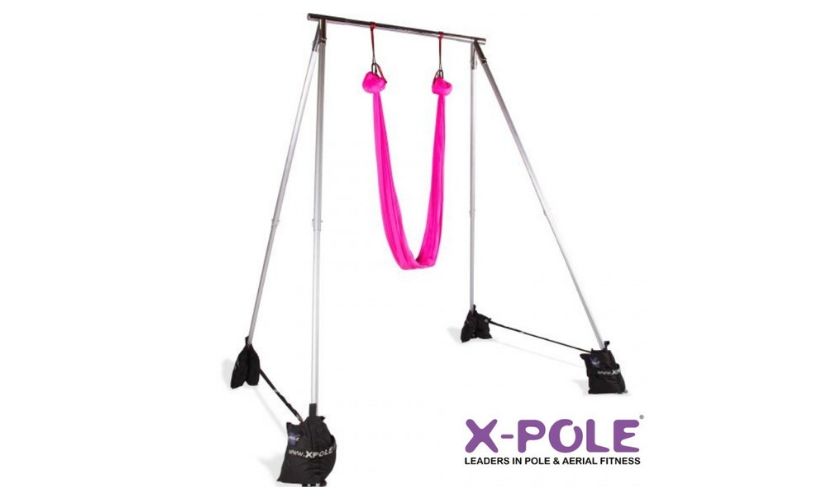 The X Pole A Frame is perfect for a wide range of aerial sports, such as aerial yoga, aerial silks, lyra hoop and flying pole.

Aerial Hoop FAQs
If you have any questions about aerial or Lyra hoop, it'll be answered below!
Summary: Using an Aerial Hoop At Home
There are many different ways to add aerial hoop just about anywhere in your home.
Safety is extremely important when using an aerial hoop at home, whether indoors or outdoors – make sure you get a suitable crash mat and always check your rigging points.
You will appreciate its small footprint, light weight, and portability. It is also easy to set up in a pinch (assuming you've got aerial rigging in place)
In addition, the flexibility of installing an aerial hoop at home makes it perfect for anyone with a busy schedule or limited mobility. You can even use the hoop for a little extra bit of exercise or stretching after class or work.
If you're looking for new ways to get moving and stay fit, then the aerial hoop is a great place to start. Using an aerial hoop at home can be just as fun and challenging as using one at a gym, if not more so.
So what are you waiting for? Get yours today and find out for yourself!
We hope you enjoyed our guide to the best aerial hoops that can be installed at home! Check out some of our other useful articles below ?
Further Reading
Want to become an amazing pole dancer?
Open Dance Academy has over 450 online lessons, by some world famous pole dancing champions! Join now to get:
***GET 10% OFF OPEN DANCE ACADEMY***
Use the code polefitfreedom to get 10% off Pole Dancing Lessons with Open Dance Academy. This is an exclusive offer for readers of this blog!