Last Updated on May 21, 2023
This article may contain affiliate links. This means that at no extra cost to you, I may earn a commission if you use one of these links to make a purchase.
Read the full disclosure
.
learn pole dancing at home
, but aren't sure where to start? 
Learning to pole dance at home
is ideal if you don't have anywhere local offering pole fitness lessons. Or, you may lack the confidence to attend lessons and would prefer to learn in a more private environment.
Poling at home is the most convenient way to learn at your own pace. If you have a busy lifestyle, job, or family then it can be hard to find the time to commit to a series of pole dancing classes. By choosing to learn at home, you can do so in your own time and without social anxiety.
You can take as much time as you want to practice and review moves. If you're in a gym or a public class, you may not have enough time to spend practising a particular move as the instructor may have a lesson plan to stick to. By learning at home, you control what you do during a practice session.
Learning at home is actually less expensive than classes consider how much you learn for the price if you choose to purchase DVDs or online lessons.
Pole fitness lessons may cost $20-$30 per time, and you should attend once a week to really feel the benefit.
The instructor will set the pace of the lessons and choose which tricks to teach you and in what order. In The Art Of Pole DVD, for example, you learn well over 50 moves for around $120, whereas a $120 spent at a pole class would teach you fewer moves.
It can be extremely good value to purchase online lessons too.
Learn Pole Dancing at Home
Here is our complete guide on how to learn pole dancing at home. If you find this guide useful, don't forget to share it with your friends on social media!
Is Learning Pole Dancing at Home right for you?
First of all, you need to decide whether learning pole dancing at home is right for you.
Consider all your previous fitness experience, if you're completely new to this form of exercise then you may benefit from attending few beginner classes, even if it's just to learn the basics first.
In just a few lessons you can learn the basics with a qualified instructor by your side. It's hugely beneficial if you can get a grasp of the basics, such as:
Climbing the pole
Different types of grip
Sitting on the pole
Spinning to the floor
Basic invert techniques
Once you learn these techniques, then learning pole dancing at home is a great idea for you to save money on regular pole dance lessons. You don't have to completely nail all of these tricks, but you should have a good understanding of how to safely perform these techniques.
Also, what about your living situation? Is your home suitable for you to install a portable dance pole easily?
You'll need to make sure that you have enough floor and ceiling space to get the most from your workouts and to adequately performs certain tricks and spins that need more space than others.
Other Ways To Learn Pole Dancing
Attending a pole dancing class
Arranging a 1-2-1 private pole dancing lesson
Attending a pole dancing party
Being taught by a pole dancing friend
Choose a Dance Pole Suitable for Home Use
Once you've decided that learning pole dancing from home is right for you, then the next thing you'll need is a pole to dance on! We've written multiple guides on this topic so to avoid repeating ourselves…
If you don't yet know about portable dance poles, X Poles, and Freestanding dance poles then you can learn all you need to know from these articles ?
Best Dance Poles (read this first)
Portable Dance Pole Buyer's Guide (read this if you have more questions)
All You Need to Know About Freestanding Dance Poles (read this if you're renting and can't install a pole)
Chrome, Brass, Titanium Gold, Stainless Steel, Silicone or Powder-Coated: Which Pole Finish is Right for you?
X Pole XPERT "The Ultimate Dance Pole" Review (best spinning/static pole)
X Pole Sport Review (best static only pole)
If you don't have time to read all of that information right now, then what's most important to know is that you choose a professional dance pole manufacturer such as X Pole or Lupit Pole and that you buy directly from them or from an authorized re-seller, such as Amazon.
Be very wary of fake X Poles being sold on eBay and Craigslist.

You'll probably also want to get these totally optional, but hugely popular accessories for pole dancers. Click on the links to learn more about these items .
Always Put Safety First
Safety is the most important thing when you're trying a new form of exercise. Pole dancing is no exception.
You should make sure that you have plenty of space around your pole, to ensure that you won't knock or kick anything during your workout session.
If you stand between the pole and the nearest wall, you should be able to stretch your arms out as wide as they go without touching the pole or the wall.
During a pole fitness session, you can literally be swinging around the pole! So, you need to be confident that you can do so safely at home!
Assess Your Space
Many pole dancers manage to use a dance pole at home without the ideal amount of space, and they do so successfully.
However, some moves and combos cannot be performed in smaller spaces, although it is possible to adapt your routines according to the space around you. As a beginner, it is better to be able to move as freely as possible so try your best to make space around you.
This could mean pushing your furniture up against the wall or moving any delicate objects out of the way.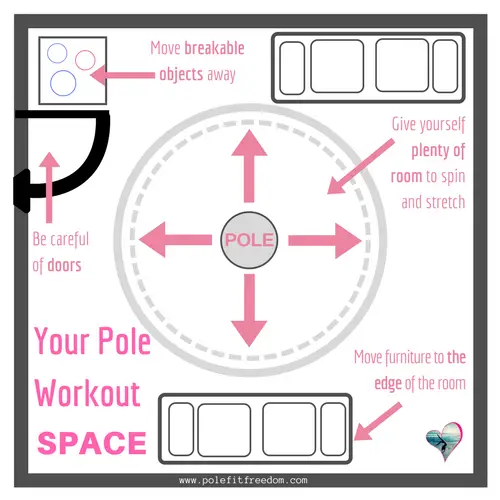 If possible, always have a spotter with you when you attempt moves for the first time
Always use a crash mat designed for pole dancing as they can protect you from some nasty falls and injuries.
As you'll be learning pole dancing at home, and not in a studio, it's important that you take these extra precautions as there will be no one to blame but yourself if the unthinkable happens.
Read our safety guide for pole dancing at home.
Find the Right Clothes
If you're learning to pole dance at home, there's no one to impress apart from yourself! There's no need to spend hundreds of dollars on new pole dancing clothes right away.
You will need shorts, a tank top and a sports bra at least. Shoes are optional, many people pole dance barefoot while others wear huge stripper heels every time! Yoga shoes are also perfect for pole dancing, especially for beginners.
As you progress with your pole dancing, you'll likely want to buy yourself new clothes, fancy shorts, legwarmers, and beautiful new outfits! But, as a brand new beginner, you can stick to shorts and a tank top – but the choice is yours!
Try Online Pole Fitness Lessons
Believe it or not, one of the best ways to learn pole dancing at home is with Online Pole Fitness Lessons.
Learning pole dancing at home using online lessons is perfect if you don't have time to commit to a full course of pole dancing classes, or if there are no classes available in your local area.
Obviously, learning pole dancing online has a lack of real-time instruction and advice. 
You may not realize that your technique may be completely wrong, but there's no one there to correct you. 
Repeatedly performing a move incorrectly can also lead to injuries and muscle strain over time, so try to seek advice from a professional instructor where ever possible and don't attempt anything that doesn't feel right.
There are some very high-quality online pole dancing lessons available right now, where the instructors go over each move in great detail, talk through technique and points of contact, explain common problems with different tricks and provide motivation through their instructions.
Here are some of the range of online pole fitness lessons available at the moment:
Open Dance Academy Online Pole Dancing Lessons
Open Dance Academy has over 450 online lessons, by some world famous pole dancing champions, such as Evgeny Greshilov, Yvonne Smink, Jamilla Deville, Maddie Sparkle and more!
They currently offer:
Access to more than 450 high-quality video lessons with the lifetime access option ($350)
Excellent value for money when compared to the price of local pole dancing classes
Suitable for beginner, intermediate, advanced & expert pole dancers
Their website works on mobiles, tablets, and laptops
A stress-free training environment that you can do in your own time. No driving, parking or stress.
***GET 10% OFF OPEN DANCE ACADEMY***
Use the code polefitfreedom to get 10% off Pole Dancing Lessons with Open Dance Academy. This is an exclusive offer for readers of this blog!
Danna's Online Pole Dancing Course
This course has over 130 online lessons, it's currently on sale at $47 and that includes lifetime access to all lessons, so check it out it now before the price goes up again!
Studio Veena Online Pole Dancing Lessons
Studio Veena is one of the original and best online pole dancing lesson providers. Not only are the top-notch and detailed lessons available for members, there's a huge and active community too. You can join the community without paying, use the link below for a 3-day free trial and see what Studio Veena has to offer.
X Pole TV
X Pole themselves have launched their own online pole fitness lessons, including The Art Of Pole by Jamilla Deville! (Keep reading to learn more about The Art of Pole DVD Collection – a personal favorite!)
Find out more about X Pole TV here
Pole Fitness DVDs
Using DVDs to Learning Pole Dancing is another great way to learn pole dancing at home. As with online pole dancing lessons, you should follow safety precautions, always use a spotter and a crash mat, and listen to the instructions carefully. You can pause and re-watch if necessary. Don't take any unnecessary risks!
The Pole Fitness DVDs currently on sale can teach you pole dancing to a very high standard. Here are a few of our favourites:
The Art Of Pole by Jamilla Deville
This was the first Pole Dancing DVD I ever used, and it's absolutely brilliant – I still refer to it very often.
This DVD set contains five disks, each one increasing in difficulty.
There is even a routine at the end of each DVD featuring all of the moves covered, which is a really nice touch.
These really are excellent instructional videos by Jamilla Deville, and there are some warm-up and cooldown routines too.
This even includes routines performed beautifully by Jamilla wearing some beautiful costumes for inspiration.
Felix Cane Pole Dance Mastery
Now, this is the DVD for when it's time to really level-up your pole game! Felix Cane's name is synonymous with moves such as the 'Spatchcock' and advanced flexibility training. Advanced Pole Mastery does not disappoint in the respect.
Check out our full list of the Best Pole Dancing DVDs!
The Ultimate Pole Tricks Handbook
This is the only step-by-step ebook on the market for real pole dancing moves. The guide is extremely detailed in getting your hands placed correctly for performing moves of all levels.
Frequently Asked Questions About Pole Dancing At Home
Get Involved With the Community
Don't be a poler in solitude!
Speak to others who are learning at home too! The online Pole Dancing Community is incredibly active, check out Studio Veena's Forums and our Pole Dancers of Pinterest Group Board to start with!
There's also a bunch of of Facebook Groups, Twitter feeds, and blogs about pole dancing to follow. You could even start your own blog to document your pole journey and inspire others to do the same!
Further Reading for Learning Pole Dancing At Home
For more information about learning how to pole dance at home, check out some of our other posts and articles. Here are just a few that you may be interested in:
Want to become an amazing pole dancer?
Open Dance Academy has over 450 online lessons, by some world famous pole dancing champions! Join now to get:
***GET 10% OFF OPEN DANCE ACADEMY***
Use the code polefitfreedom to get 10% off Pole Dancing Lessons with Open Dance Academy. This is an exclusive offer for readers of this blog!
Learn Pole Dancing At Home: Final Thoughts
Congratulations, you've made it to the end of our comprehensive guide on everything you need to know about learning pole dancing at home!
By now, you should have a solid understanding of the benefits of pole dancing for fitness, the equipment and space requirements, and the different types of online resources available to help you learn.
Remember, pole dancing is a fun and empowering way to stay fit and build confidence, and it's never too late to start learning. Whether you're a beginner or an experienced dancer, practicing at home can help you take your skills to the next level.
So, what are you waiting for? Let's get started on your pole dancing journey!
Good luck and have fun!
Pin This Guide
Pin this to your Pinterest boards to save this guide. What are your tips for learning pole dancing at home? Leave a comment below to share them with our readers!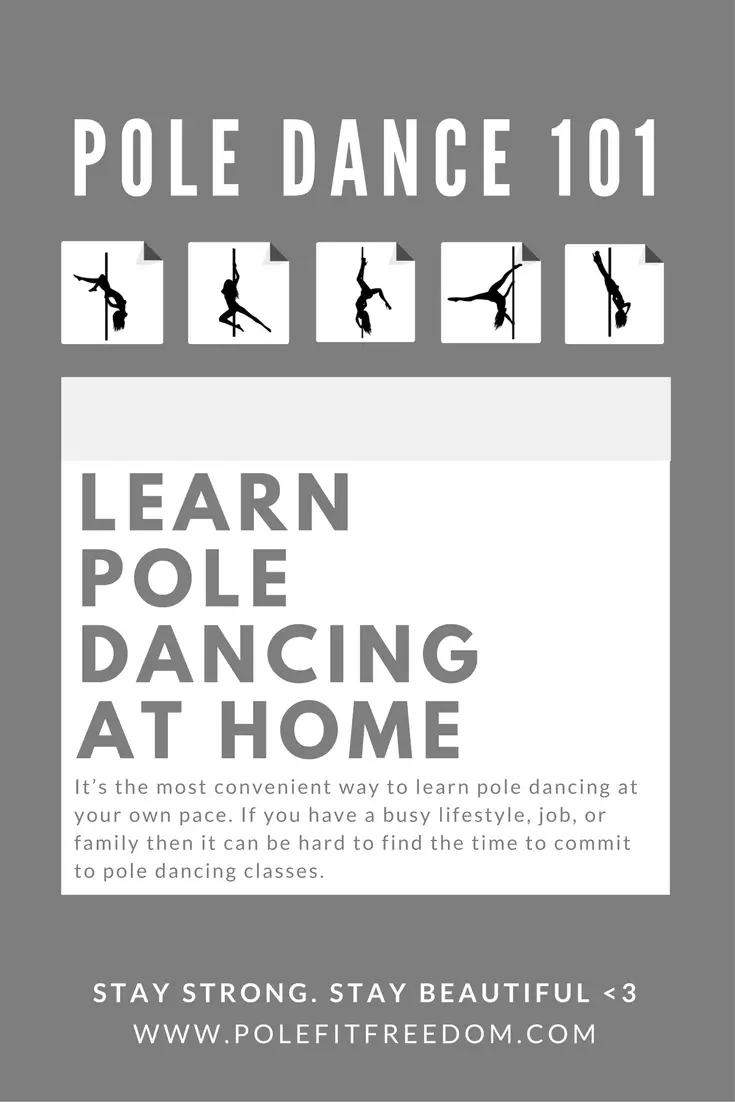 Happy poling!