Last Updated on February 21, 2023
This article may contain affiliate links. This means that at no extra cost to you, I may earn a commission if you use one of these links to make a purchase.
Read the full disclosure
.
You will learn about the different brands and manufacturers of freestanding dance poles, as well as the different materials, finishes and thicknesses available. There's also a handy table at the very end of this article so you can easily find the right freestanding dance pole to suit your needs.
If you're looking for portable dance poles that are held in place by tension between the floor and the ceiling then read our guide on portable dance poles here.
Quick Overview of Freestanding Pole Dancing Poles
Unlike a regular portable dance pole, the top of a freestanding pole does not touch the ceiling. Freestanding dance poles have large, round, and heavy bases that hold the pole firmly in place for you to dance to your heart's desire.
This type of pole is a portable dance pole with a base and does not required to be secured at the top.
They are also known as:
Stage poles
Podium poles
Free standing dance poles
Portable stage poles
Dancing pole with a base
Freestanding dance poles are extremely popular with people who rent their homes, as they're often concerned with causing damage with a removable dance pole that's held in place by pressure.
They're also great if you have exceptionally high ceilings, and don't want to buy loads of extensions, or if you have a false/suspended ceiling.
Pole dance performers and instructors favor these poles as they can be set up anywhere without the need for looking around for a joist and hoping that you have the right size extensions with you to fit the ceiling height – with a freestanding pole you just set it up and go!
---
Best Freestanding Dance Poles
There are several manufacturers who currently sell high-quality freestanding dance poles. These are X Pole, Lupit Pole, Platinum Stages and R Pole.
The best freestanding dance poles for sale are:
Platinum Stages (an X-Pole Reseller)
Each of these poles is available in a different set of specifications for material and width, so you'll need to know your requirements before you buy.
Best Freestanding Dance Pole Comparison Table
Here's a handy table to help you figure out which freestanding pole is best for you and whether it's available in your prefered size and finish. More information about each pole is below.
Click on the links within the table for a closer look at the products (scroll horizontally if you're on a mobile)
Let's have a look at the different brands of freestanding dance poles, and what options you have when deciding which one best suits your needs.
1. X Pole X-Stage / X-Stage Lite
X Pole is by far the best manufacturer of freestanding dance poles and portable dance poles. In the pole dancing community, the name X Pole is synonymous with aerial and vertical fitness equipment. They have been innovators of pole dancing products for many years, and they continue to be the market leader in this area.
They currently sell two freestanding dance poles called the X-Stage and X-Stage Lite.
Both of these stages are available in different materials and diameters. Both the X-Stage and X-Stage Lite has a round podium/base.
They can also be used in 'static' mode or 'spin' mode and you can easily change the static/spin depending on your needs.
Both the X-Stage and X-Stage Lite are freestanding dance poles supported by a round metal base. The podium pieces are 6 large wedges that slot together over the base, and the pole stands tall in the middle. It is the large, heavy base that gives the pole its stability.
The main difference between the X Pole X-Stage and X-Stage Lite is the podium height. The X-Stage has a podium height of 320mm whereas the X-Stage Lite is just 110mm. The overall height of the product is about 10 feet.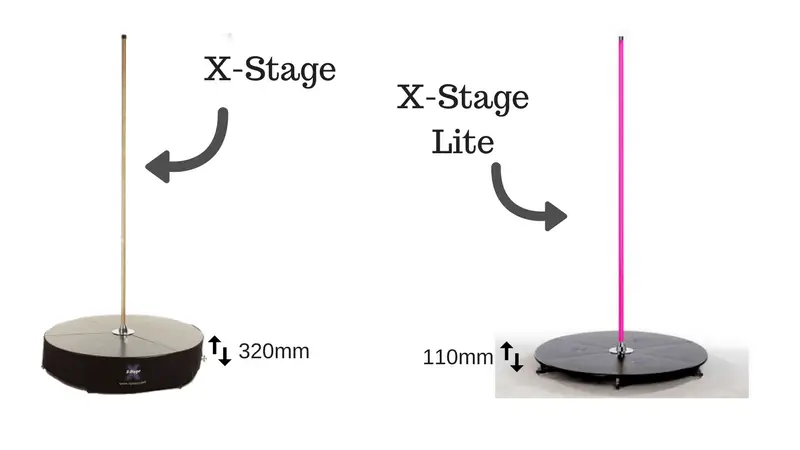 As the X-Stage Lite has a much lower podium, it's less suitable for use on rough/uneven surfaces (if you're planning to use your pole outdoors). The lower podium means slightly less stability on uneven surfaces, but greater portability.
Both are perfectly suited to indoor use, but the X-Stage is the preferred option if you're planning to use your freestanding dance pole outdoors at a music festival, events, photo shoots or just for fun!
Extension pieces are also sold separately if you want to make your pole taller.
X Pole Stages are available in a range of different materials, including chrome, brass, stainless steel, powder-coated and silicone.
Visit X Pole's Shop (US & Canada)
Visit X Pole's Shop (UK)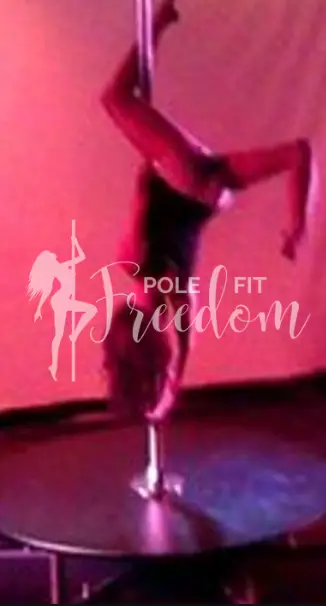 2. Lupit Pole Stages
Lupit Pole Stages were new in 2018, as Lupit have not sold freestanding dance poles before then.
However, Lupit Pole are one of the leading manufacturers of professional portable dance poles and their pole stage is the latest edition to a long line of quality dance poles and aerial equipment.
These brand new pole stages have a few buying options, but no choice of material or width. All of the Lupit Pole Stages are available in 45mm and in stainless steel only.
They can also be easily switched between static and spin modes.
The pole comes in a choice of short legs or long legs (these are horizontal bars that extend from the base of the pole for extra stability).
The longer leg option gives additional stability for spinning at height or performing tricks that put a lot of sideways pressure on the pole.
3. Platinum Stages
Platinum Stages are another manufacturer of freestanding dance poles. They have their own Platinum Stages branded poles, but they also sell X Pole Stages on their website as an official X Pole Reseller.
The Platinum Stages freestanding dance poles are performance/display poles as opposed to fitness equipment. The base, which is square and not round, is completely customizable.
You can choose different colors, lights and surface patterns for the base, which makes it ideal for nightclubs or performance venues. The pole itself is stable enough to support you, yet it lacks the professional quality and durability of X Pole branded poles.
Platinum Stages only sell freestanding dance poles in stainless steel or brass, and the stage can be static or spin with it being simple to switch between modes.
4. R Pole 'Strada' & 'Studio Fit' Poles
R Pole is a British manufacturer of freestanding dance poles and they're lesser-known than the other main brands of pole dancing equipment.
Both of the R Pole Freestanding dance poles do not have a solid base. Instead, they have metal arms expanding from the pole's base in a 'star' shape, meaning it has no solid base for landing or floor work.
Therefore, you need to buy a separate crash mat or foam padding to make it more usable. R Pole sells the safety mats as an optional extra on their website that they actually promote and sell as entirely different pole: The R Pole Studio Fit. It even says you can add a crash mat to the 'Strada' Pole to make it a 'Studio Fit' Pole.
Although it might sound silly to have a 'star' base with metals arms stretching across your floor space as opposed to a solid base, this makes the R Pole considerably lighter than its competitors.
It's only available with a thickness of 38mm or 42mm making them much thinner than other poles on the market. 38mm is incredibly thin for a dance pole, that's just under 4cm! Crazy!
It feels very different from most other poles you'll use, so be aware if you opt for the super skinny British pole!
They are static-only and only available in stainless steel, with no other choice of pole finish. Stainless steel is, however, an incredibly high-quality metal to use for a freestanding dance pole.
I would not choose an R Pole over an X Pole branded dance pole.
The only use for the R Pole would be for occasional outdoor photoshoots and it's not suitable for everyday use. Their FAQ section on their website also states that it's not suitable for doubles training or competitions.
---
Why Choose A Freestanding Dance Pole?
You can use a freestanding pole in rooms with extra high ceilings, without needing to buy any extra extensions
A Freestanding pole can be set up in a room with a vaulted ceiling, without the need to buy mounts or fixtures
You can also use freestanding poles in rooms with false/suspended ceilings that you can't use a regular portable pole with
They're completely portable and can be set up almost anywhere
It's a great way to take pole fitness into nature by taking your freestanding pole outdoors
They're excellent for photo shoots, as you can bring it where ever you can carry it!
For performers and instructors – no need to worry about measuring ceilings or carrying a stud detector to find the joists, just set up the freestanding pole instead and get to work!
Great for pole dancing parties too!
Downsides To Freestanding Dance Poles
Despite being portable, they're incredibly heavy. The base pieces alone are very heavy and awkward to carry.
A freestanding dance pole needs to be packed away into multiple purpose-made carry cases if you want to transport it.
The base of these poles will take up a lot of floor space in your room. You will need an area large enough for the base to fit comfortably in the room.
Pole Thickness (Diameter)
Which one is right for you?
Freestanding dance poles and pole stages are available in slightly different thicknesses to portable dance poles that are held in place by pressure.
Available thicknesses of freestanding dance poles are:
That's right – some of the freestanding dance poles featured on this page are 53mm! That's different, right?!
The general guide is that a thicker pole will be harder to grip with your hands, and a slimmer pole will be easier to grip with your hands, but pinchier on your legs (or anywhere else on your body).
So why is there a 53mm pole available?
Well, it's only available with the X-Stage Lite that's made of silicone-coated material and is 3mm thicker than a standard dance pole. X Pole originally trialed this product with a 55mm width, because you can also buy silicone sleeves for existing X poles made from Chrome, Brass etc. The added width of the silicone sleeve made it 55mm diameter.
Not all pole thicknesses are available in all materials. 
---
Materials & Finishes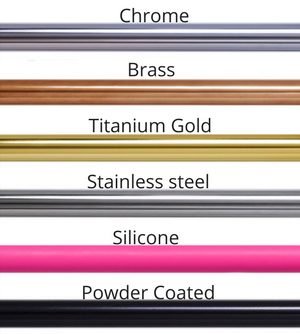 Just like Portable Dance Poles, Freestanding poles also come in a variety of different finishes, each one has its own pros and cons.
The types of different materials available are:
Chrome
Brass
Stainless steel
Silicone
Powder coated
For some reason, only regular portable dance poles, and not freestanding ones, are available in Titanium Gold. 
Chrome Freestanding Dance Poles
Chrome dance poles are very common as they are the least expensive type of material. It is a very high-quality material for a dance pole. You'll find chrome poles in pole studios, clubs and in homes worldwide – this is the most affordable option for choosing a freestanding pole.
✔ Good to use in all weathers and climates.
✔ Very easy to clean and maintain.
❌ Over time, the chrome coating will become worn. In extreme cases it can chip off, leaving the pole surface rough to the touch. However, this is rare for those who use their poles regularly at home.
❌ If you have allergies to chrome or nickel, you may have a bad reaction to poles made of this material.
❌ Chrome can become rusty if it's not looked after.
Buy your Chrome Dance Pole directly from X Pole
Brass Coated Poles
Brass is the highest quality metal available for a freestanding dance pole. They're commonly found in areas with warmer climates. Brass poles are also known for being easier to grip with, as they're much less slippery that chrome poles, making brass an excellent choice for a beginner – although, they are a bit more expensive.
✔ Brass poles are a superior finish and have a better grip.
✔ They are also excellent to use in hot weather.
✔ Unlike chrome, a brass pole will not rust as brass is a rust-resistant material.
✔ Suitable for those with metal allergies.
❌ Brass is quite a weak metal, so a brass pole is more susceptible to damage than chrome or stainless steel
❌ Expect to pay a higher price for a brass freestanding dance pole
❌ Brass can also be quite slippery in humid weather conditions
Buy your Brass Dance Pole directly from X Pole
Stainless Steel Coated Poles
Stainless Steel is another very high-quality materials for a dance pole. Freestanding dance poles made from stainless steel are extremely durable and have a polished finish. It's more common to find these in studios rather than at home, as studio poles take a lot more abuse than home poles do!
✔ Stainless steel will hold up well in humid weather conditions.
✔ If you find excess sweating a problem, then stainless steel is for you!
✔ If you suffer from metal allergies, then stainless steel is unlikely to give you a reaction.
✔Stainless steel is resistant to rust.
❌ This is an extremely durable material, but it obviously comes with a higher price tag.
❌ Expect to pay more for a steel freestanding pole than you would for a chrome pole.
❌ Stainless steel can become scratched and may require polishing.
You can buy your Stainless Steel Pole directly from X Pole
Silicone-Coated Poles
Silicone-coated dance poles are unlike all of the other materials discussed so far. The pole itself is made of metal but it is coated with medical grade silicone.
You will be able to use this pole fully-clothed and still be able to grip because it's not a slippery metal surface. These poles were designed to work like a Chinese Pole, which is often performed with long pants and sleeves.
Currently, X Pole is the only brand to make a silicone-coated freestanding dance pole.
✔ A unique surface to use for pole dancing.
✔ With a silicone-coated pole, you will be able to grip even if you're fully-clothed.
✔ Available in a choice of black or pink.
✔ Suitable if you have metal allergies.
✔ You can also get silicone sleeves to fit over your existing dance pole.
❌ Not suitable if you have an allergy to silicone.
❌ More expensive than other freestanding poles on the market.
❌ Only available in 45mm and 53mm thickness.
You can buy Silicone-Coated Poles Directly From X Pole
Powder-Coated Freestanding Poles
Powder-coated dance poles are the newest type of finish you'll find in the industry. They were designed to be ultra-sticky for pole dancers who really struggle with gripping all different types of metal poles.
Despite being powder-coated, they actually have a very smooth texture.
✔ A new and novel surface to use on a dance pole
✔ Extremely easy to grip using your hands and skin
✔ Available in a choice of colors: black or pink
❌ Not suitable if you have a metal allergy
❌ More expensive than other types of pole
❌ Only available in 45mm
Currently, X Pole is the only brand to make a powder-coated freestanding dance pole.
Shop Powder Coated Poles (directly from X Pole)
---
Frequently Asked Questions
Do you still have questions? No problem!
Here are some commonly asked questions by people who are considering buying a freestanding dance pole. If your question isn't answered here, then leave a comment on this post and we'll answer your question 🙂
Are freestanding dance poles safe?
Yes, they're perfectly safe. Freestanding dance poles are just as safe as the regular style of dance pole that is held in place either by pressure or with a permanent mount. As long as it's been assembled correctly and according to the manufacturer's instructions, then your freestanding dance pole is a very safe piece of equipment.
If you're familiar with dancing on a fixed pole, then you will notice a slight difference. It's normal for a freestanding pole to move slightly when you perform a spin or trick with sideways pressures. This is nothing to worry about – watch professionals performing routines on freestanding poles on YouTube and you will see the poles move and 'sway' slightly.
Can you use them outdoors?
Yes! Providing that they're on a relatively flat surface so that the pole itself doesn't tip over, then go right ahead! As previously mentioned, only the X Pole or, to a lesser extent, R Pole branded freestanding dance poles are suitable for outdoor use. The reason is that X Poles were designed with fitness in mind, whereas Platinum Stages' Poles were designed for performance use.
The X Pole X-Stage is the best choice for using outdoors, as it's more stable than the X-Stage Lite.
Will the base of the pole damage the floor?
No. Like any furniture, it will leave an imprint on your carpet (if you have one). This is nothing to worry about. The extendable arms in the metal base of the pole will be what leaves the imprint, it won't be large, round and podium shaped as the base of the X Pole and R Pole freestanding dance poles have metal-framed bases.
Freestanding Dance Pole Vs. Regular Dance Pole
This really does come down to preference. Both are professional pieces of equipment that are perfectly safe. Many pole dancers opt for a freestanding dance pole, despite the higher price tag because their ceilings are not suitable for a portable pole. Also, people who rent their home and are concerned about causing any damage with a dance pole putting pressure on the ceiling joists.
---
Conclusion
If you're looking for the absolute best quality, then you need an X Pole or a Lupit Pole. They have both been the industry leaders for the last 10 years and they continue to create the best pole dancing and aerial equipment.
If you're less interested in quality and just want to start poling quickly, then R Pole may be right for you. Although, I have owned lesser-quality poles in the past and regretted not saving up for the X Pole as they really are made to a much higher standard than most other dance poles on the market.
If you enjoyed this guide, then please share it with all of your pole dancing friends! I hope you found this useful, but if you still have unanswered questions then please do leave a comment below and I'll be happy to answer your questions!
Happy Poling!
Pin This Guide
Want to become an amazing pole dancer?
Open Dance Academy has over 450 online lessons, by some world famous pole dancing champions! Join now to get:
***GET 10% OFF OPEN DANCE ACADEMY***
Use the code polefitfreedom to get 10% off Pole Dancing Lessons with Open Dance Academy. This is an exclusive offer for readers of this blog!