Last Updated on February 21, 2023
This article may contain affiliate links. This means that at no extra cost to you, I may earn a commission if you use one of these links to make a purchase.
Read the full disclosure
.
learn pole dancing online
, but aren't sure where to start?
Online pole dancing lessons are ideal
if you don't have anywhere local offering pole fitness lessons. Or, you may lack the self-confidence to attend classes and would prefer to learn in a more private environment.
Signing up for online pole dancing classes is probably the most convenient way to learn at your own pace. If you have a busy lifestyle, job, or family then it can be hard to find the time to commit to a series of pole dancing classes. By choosing to learn at home, you can do so in your own time.
All you need is a reliable WiFi connection and you're good to go!
You can take as much time as you want to practice and review moves. If you're in a gym or a public class, you may not have enough time to spend practising a particular move as the instructor may have a lesson plan to stick to. By learning at home, you control what you do during a practice session.
Learning pole dancing at home is less expensive than classes consider how much you learn for the price if you choose to purchase DVDs or online lessons.
Also consider the fact that many of the online pole dancing lessons on this list actually offer lifetime access to their lessons.
That means that you can always repeat the lessons as many times as you need to, you can't do that with real life classes!
---
---
Best Online Pole Dancing Lessons in 2023
So here are our picks for the best online pole dancing lessons available at the moment.
1. Open Dance Academy
Open Dance Academy has over 450 online pole dancing lessons for you to enjoy, by some world famous pole dancing champions, such as Evgeny Greshilov, Yvonne Smink, Jamilla Deville, Maddie Sparkle and more!
OpenDance Academy is the go-to platform for anyone looking to enhance their dancing skills. Whether you're a beginner or an experienced dancer, this website has everything you need to take your skills to the next level.
One of the standout offerings on OpenDance Academy is their lifetime access pole dancing course.
This comprehensive course covers everything from the basics to advanced techniques and is designed to help you achieve your pole dancing goals.
With hundreds of lessons and hours of content, you'll have all the resources you need to become a pole dancing pro. The lessons are available on any device, so you can learn anytime, anywhere.
Start your dance journey today with OpenDance Academy. They'll provide you with the knowledge, skills, and resources you need to achieve your goals and become the dancer you've always wanted to be.
They currently offer:
Access to more than 450 high-quality video lessons with the lifetime access option ($350)
Trial classes available from $40
Excellent value for money when compared to the price of local pole dancing classes
Suitable for beginner, intermediate, advanced & expert pole dancers
Their website works on mobiles, tablets and laptops
A stress-free training environment that you can do in your own time. No driving, parking or stress.
***GET 10% OFF OPEN DANCE ACADEMY***
Use the code polefitfreedom to get 10% off Pole Dancing Lessons with Open Dance Academy. This is an exclusive offer for readers of this blog!
2. X Pole TV
X Pole themselves have launched their very own online pole dancing lessons, including The Art Of Pole by Jamilla Deville which is an amazing course taught by a true professional.
The Art of Pole was one of the very first Pole Dancing DVDs I ever owned, and it's absolutely incredible, guys, and I still refer to it very often. The DVD set contains five DVDs, each one getting more difficult. There is even a beautiful routine at the end of each DVD featuring all of the moves covered. They're all available online with X Pole TV.
These really are excellent instructional videos by a world-famous pole dancer, Jamilla Deville, and there are some warm-up and cooldown routines too.
This even includes a series of imaginative routines performed beautifully by Jamilla wearing some beautiful costumes for inspiration.
3. Studio Veena
Studio Veena is one of the original and best online pole dancing lesson providers. Not only are the top-notch and detailed lessons available for members, there's a huge and active community too.
This was the first pole dancing community that I found when I started to learn pole dancing over 14 years ago.
The forums are very active within the pole community and the lessons are extremely comprehensive.
4. Danna's Online Pole Dancing Course
This course has lifetime access to over 130 online lessons for you to enjoy.
Learners who are completely new to pole dancing love that they can take these lessons in their own space and in the comfort of their own home.
The videos are easy to follow, clear, and give beginners loads of options. You can also email Danna herself and ask her questions which she will respond to personally. It really is a great deal for a beginner dancer.
This online course is the most affordable option. It's currently on sale at $47 and that includes lifetime access to all lessons, so check it out it now before the price goes up again!
---
5. 123Poling
123poling.com is a source of knowledge for student, instructors, and also studio owners. They want to help pole dancers grow in strength to improve their pole skills, as well as inspire creativity for performers.
6. PoleFreaks
PoleFreaks is an online pole dancing community funded by a British pole dance instructor Holly Munson.
This community has been around for a long time and is one the 'OG' pole fitness online tutorial providers!
PoleFreaks is an online platform that offers pole dancing lessons and tutorials. It aims to provide users with all the resources they need to learn pole dancing effectively.
The website features a comprehensive 12-week program that covers everything from the basics to advanced level pole dancing.
With PoleFreaks, you'll learn exclusive lessons for spins, seats, climbs, strength workouts, acrobatics, and other pole dancing skills through video tutorials.
The platform constantly updates its content and adds new tutorials each week, giving you access to hundreds of lessons.
---
Choosing a Pole for Online Pole Dancing Classes
Always choose a high quality dance pole, such as X Pole or Lupit Pole. NEVER buy one of those cheap poles from Amazon that are like $80, these are actually toy poles and not suitable for proper pole fitness.
Your dance pole should be installed to the letter of the manufacturer's instructions and tested for safety before use. If it's installed correctly it is perfectly safe to use!
If you don't have your pole yet, these articles are for you – otherwise, read on!
Other Resources
Here are some other resources, which can compliment your online pole dancing classes and help you along your pole journey.
Pole Dancing Books
If you're new to pole dancing and you love books, then you'll be pleased to know there are loads of pole dancing books available. Many people find it easier to learn by reading or looking at pictures, or they need a bit more time to digest the information before giving it a go.
Pole Dancing DVDs
Using DVDs to Learning Pole Dancing is another great way to learn pole dancing at home. As with online pole dancing lessons, you should follow safety precautions, always use a spotter and a crash mat, and listen to the instructions carefully. You can pause and re-watch if necessary. Don't take any unnecessary risks!
The Pole Fitness DVDs currently on sale can teach you pole dancing to a very high standard.
The Pole Tricks Handbook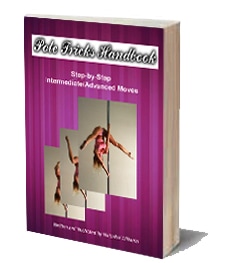 This is the only step-by-step e-book on the market for real pole dancing moves. The guide is extremely detailed in getting your hands placed correctly for performing moves of all levels.
---
Cons of Online Pole Dancing Lessons
If you're choosing to learn solely at home or with online pole dancing lessons, DVDs, etc, you will lack real-time support and interaction with an experienced instructor.
A proper instructor is invaluable as you're quite likely to pick up bad habits or poor form when learning pole dancing at home.
However, the instructors in these courses are professionals and know what they're talking about.
So, make sure you follow their instructions closely and observe their technique carefully. Invite a friend to join you or video yourself practising as it's impossible to tell if you're doing it properly otherwise!
Remember, videos and guides are great but they don't replace human teaching!
Safety First!
Safety is the most important thing when you're trying a new form of exercise!
Pole dancing is no exception.
Remember, you're learning in your own home so you need to take extra care. Some of the tricks you'll be performing carry the risk of injury if don't take additional safety precautions.
Assessing your space
Many pole dancers manage to use a dance pole at home without the ideal amount of space, and they do so successfully. However, some moves and combos cannot be performed in smaller spaces, although it is possible to adapt your routines according to the space around you.
As a beginner, it is better to be able to move as freely as possible so try your best to make space around you.
This could mean pushing your furniture up against the wall or moving any delicate objects out of the way.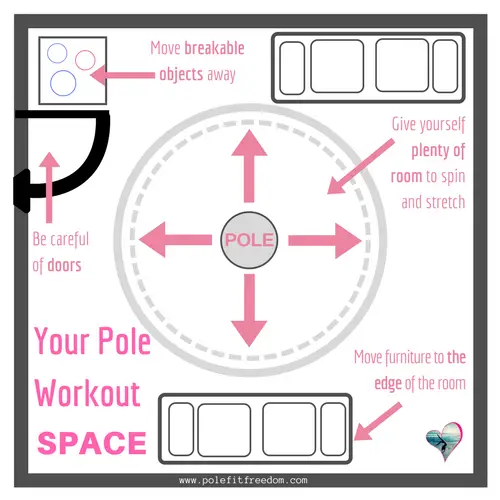 Use a Crash Mat
Always use a crash mat designed for pole dancing as they can protect you from some nasty falls and injuries. As you'll be learning pole dancing at home, and not in a studio, it's important that you take these extra precautions as there will be no one to blame but yourself if the unthinkable happens.
If possible, always have a spotter with you when you attempt moves for the first time, as well as a crash mat!
Read our safety guide for pole dancing at home.
Our Final Thoughts on Online Pole Dancing Lessons
In conclusion, online pole dancing lessons have revolutionized the way people learn this beautiful art form.
With the convenience of having a professional instructor right at your fingertips, you can take your pole dancing skills to the next level without ever leaving your home.
On the positive side, online pole dancing lessons offer a high degree of flexibility, allowing you to learn at your own pace and in your own time.
Additionally, you have access to a vast array of courses and instructors from all over the world, so you can find the perfect fit for your learning style and preferences.
The cost is also often more affordable than in-person lessons, making it an accessible option for a wider range of people.
However, one potential drawback of online pole dancing lessons is that you don't have the same level of interaction with your instructor as you would in a traditional in-person setting.
It can also be challenging to receive real-time feedback on your technique and performance, which can be essential for developing your skills.
Additionally, if you don't have access to a pole at home, then you won't be able to practice.
So, if you're looking to add some excitement to your workout routine, give pole dancing a try and find the perfect online course that meets your needs. Happy dancing!
Happy poling!
This post contains affiliate links. That means that, at no extra cost to you, we may receive a small commission if you buy a product using one of the links on this page. Read our full disclosure here.