Last Updated on December 16, 2022
This article may contain affiliate links. This means that at no extra cost to you, I may earn a commission if you use one of these links to make a purchase.
Read the full disclosure
.
We love reviewing products at Pole Fit Freedom so that you can make the most of the various products out there for pole dancers!
Crash mats are an essential part of pole dancing safety, especially for beginners learning new tricks. It's common to find crash mats in pole studios everywhere, so it's best practice to use a crash mat when pole dancing at home too.
Most pole dancing crash mats are specifically designed to work with a dance pole. They are usually round, with a hole in the middle and will fold away in segments.
If you're wondering whether the Lupit Pole Dance Crash Mat is right for you, here is our detailed and honest review which gives a full overview of the product features, it's pros, cons and whether it's worth the investment.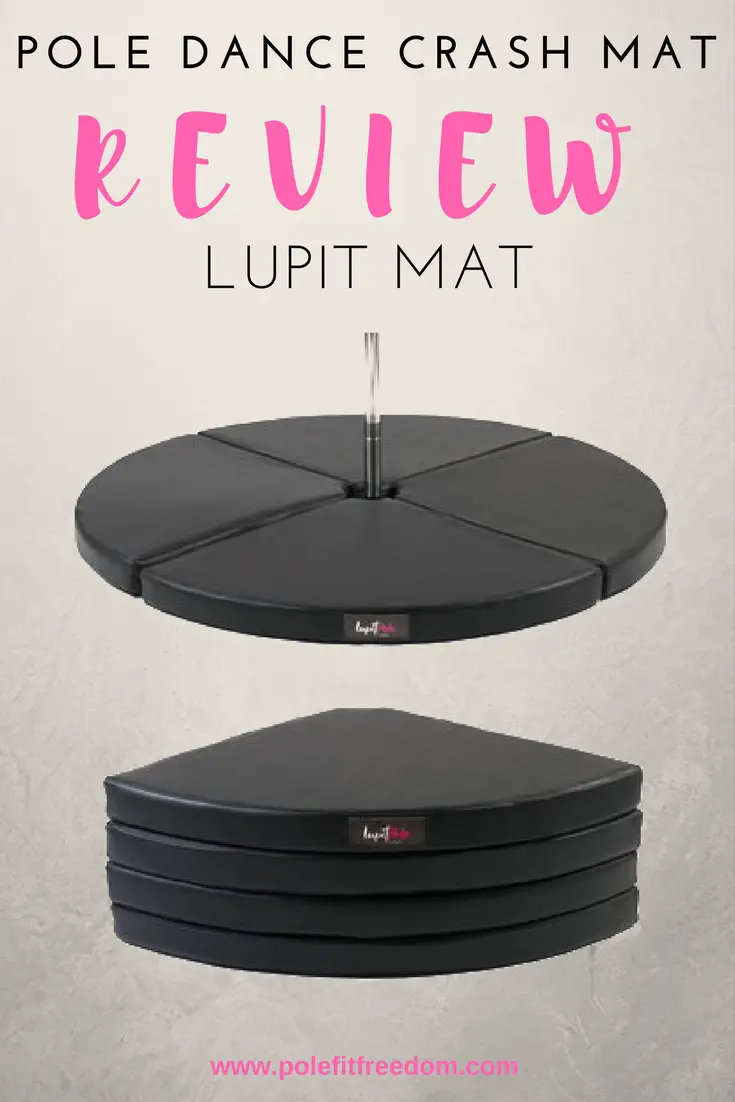 Why do you need a crash mat for pole dancing?
Safety! For beginners and pros alike, falls will happen better safe than sorry.
Performing pole exercises without the need to get off the mat.
Confidence, having a crash mat will allow you to pole dance with confidence in case of a slip or fall.
What Should You Look For When Buying A Pole Dance Crash Mat?
When buying a crash mat for pole dancing, you should definitely buy one specifically designed for pole dancing.
Lupit is obviously a well-known brand when it comes to portable dance poles and related products, so that's a good sign!
Lupit Pole Dance Crash Mat – Features
High-quality materials – The Foam is a high-grade EPE (Expanded Polyethylene Foam) is strong, hard wearing and has a high impact and shock resistance.
Exterior made using high-quality elastic leather.
Available in 3 different thicknesses:

4cm (1.57 inches),
8cm (3.14 inches)
12cm (4.72 inches)

Available in 4 different colors (Black, Gold, Silver or Pink)
Wide Diameter – 1500mm diameter (4ft 11inch) – Allows for floor exercises and stretches to be done without the need for a second mat and a larger landing area.
Anti-slip underside – stops the mat moving when in use.
Folding design – allowing for quick set up and storage, with stitched in handles for easy transport.
Compatible with all pole sizes, so no matter if your pole is 40mm, 45mm or 50mm.
Comes in a beautiful storage box!
Using The Mat
The Lupit Pole Dance Mat is very easy to install, as shown in their installation video here:
Once the mat is in place, you simply start poling as usual, with the added benefit of safety and confidence 🙂
Pros of the Lupit Pole Dance Crash Mat
Lupit is a well-known brand who already make pole dancing equipment, so you know you can trust them.
It is made from very high-quality materials that will last for a long time.
It does not slip when it's in place.
You're able to choose a color and thickness that's right for you!
Its storage box is strong and well-designed.
Cons of the Lupit Pole Dance Crash Mat
Hardly any. If cost is an issue, then this does come with a high price tag, but it will last forever! The Lupit range of Crash Mats is costly compared to other brands, but the cost directly reflects the quality of materials used in the production of their Crash Mats.
Is it recommended?
Yes.
Lupit is a well know and experienced company in producing high-quality poles and pole related accessories, the Lupit Crash Mats follow this trend and are made of the best materials and designed by experts and professionals, they are already used and loved by many pole dancers and their studios.
We recommend their mats for all levels from beginners to experts to ensure you're safe during your pole dancing sessions. If you can handle the price tag you are looking at the top quality option for a new crash mat.
Product Rating
5/5
Where to Buy
Buy the crash mat directly from Lupit Pole here
---
Happy poling!
This post contains affiliate links. That means that, at no extra cost to you, we may receive a small commission if you buy a product using one of the links on this page. Read our full disclosure here.
Lupit Pole Premium Crash Mat