Last Updated on February 15, 2023
This article may contain affiliate links. This means that at no extra cost to you, I may earn a commission if you use one of these links to make a purchase.
Read the full disclosure
.
If you're new to Pole Dancing or Aerial Sports then you'll probably have heard of X Pole by now. As I've already mentioned, they are the industry leader in manufacturing pole dancing and aerial fitness equipment.
They are a very well-known company who originally made pole dancing poles for home and professional use. They've now expanded their product range to include aerial equipment.
This is a brand new, innovative A-Frame, which is suitable for aerial yoga, aerial hoop (Lyra hoop) and low aerial silks.
It is a freestanding aerial rig, which means that you can use it without the need for ceiling fixtures, and it can be used both indoors and outdoors.
If you're wanting to practice aerial yoga, hoop, or silks at home, but don't want to fix permanent fixtures to your ceiling, then let's find out if X Pole's A Frame is right for you.
Who can use the X Pole A Frame?
This product is suitable for aerialists of all levels, from total beginner to professional. It's designed for people who want the freedom of practicing aerial sports from the safety of their own homes or outdoors in the fresh air.
It's perfect if you want a portable/removable frame for practicing aerial sports without any permanent fixtures or hooks in your ceiling.
The frame can support an aerial hoop, low aerial silks or a yoga hammock. It is not suitable for swinging sports such as swinging trapeze.
X Pole A Frame Features
Here are the main features of the X Pole A-Frame:
Adjustable height from 8ft – 11.42ft (2450mm-2480mm) using telescopic legs that expand to allow extra height.
Suitable for both indoor and outdoor use
Perfect for both beginner and professional aerialists, and everything in-between!
Suitable for use with aerial silks, yoga hammocks or Lyra hoop, which are sold separately
Very quick and simple to assemble
Comes with storage bags for when it's not in use
Also comes with optional sandbags (sand not included) for extra stability at the base of the legs
Lightweight and portable
330lbs/150kg is the maximum weight limit
Here's a video demonstration of how to use the frame when it's fully assembled:
Remember – Safety first! You should make sure you will have enough floor space in your room to safety use the frame. It's very simple to put it up and take it down again, taking 2 people about 10-15 minutes each way.
This next video shows you how to assemble the frame for use:
For extra stability, use the weighted sandbags provided around the base of the frame. They come without sand, so you'll have to get a hold of some builder's sand for this purpose.
Advantages
The main advantages of the X Pole A Frame are:
This is a purpose-built aerial frame, not a re-purposed swing set like many other frames on the market
Extremely well-made and sturdy, but the original aerial and pole fitness innovators
Height-adjustable legs make it suitable for use even in rooms with very low ceilings
Incredibly safe to use when assembled properly
Takes just 15-minutes to assemble with the detailed instructions provided
Can be adjusted to suit your environment and how much height you desire/have available to use
Stores away neatly with the storage bags provided
Fairly portable for putting it in the car and taking it to different locations
A very versatile product, with the option to use silks, hammocks, or Lyra hoops with this frame.
Disadvantages
As for the disadvantages;
Despite its sturdiness, the frame does have some movement during use, which makes it unsuitable for swinging disciplines, such as swinging trapeze
It is portable, but obviously not 'put it in a bag and throw it over your shoulder' portable. The frame takes up a fair amount of space in the trunk of a car
If you're used to permanent aerial hooks on the ceiling, using a freestanding frame takes some getting used to
It needs two people to put the frame up and take it down, so you'll always need to have a helpful person there to help you
Does not come with any additional equipment, no silks, hammock or hoop is included with the frame and must be purchased separately.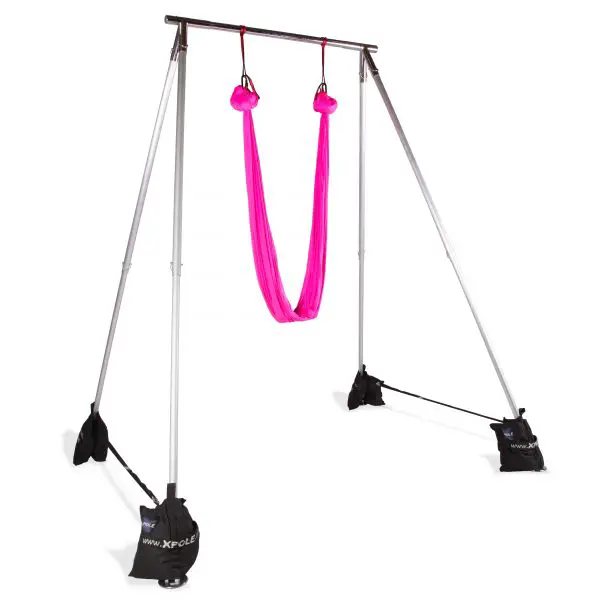 Frequently Asked Questions
Conclusion
X Pole has really excelled themselves with this innovative aerial frame. Remember, this is aerial equipment, you're relying on it to support your weight during your flying adventures.
This isn't like buying a set of weights or a stationary bicycle, you want something reliable and safe. This is exactly what you get with the X Pole A Frame.
By investing in a high-quality option, you're maximizing your true potential with any aerial sport. You should not be limited by inferior equipment. With your own freestanding frame, you'll be able to practice your passion anywhere, in your bedroom, home gym, backyard or even at the beach!
With the security and sturdiness of this frame, you can fly and invert with the ultimate confidence that X Pole literally has your back. If you're brand new to aerial sports, or if you've been learning for a while, this innovative A-Frame by X Pole is perfect for you!
It's affordable and makes aerial yoga accessible to more people, therefore, we highly recommend this product.
Overall Rating
4/5
Where to Buy
Depending on where you live, you may need to check a different stockist for the X Pole A Frame.
These stores currently stock the frame:
---
Happy poling!
This post contains affiliate links. That means that, at no extra cost to you, we may receive a small commission if you buy a product using one of the links on this page. Read our full disclosure here.
Pros
Quick & easy to install
Extremely sturdy for multiple aerial sports
Can be packed away, stored and transported
Cons
Two people are required to install and take apart the frame
You cannot use this for swinging aerial sports
Expect the frame to rock slightly during use - this is perfectly normal but may feel unsettling