Last Updated on December 15, 2022
This article may contain affiliate links. This means that at no extra cost to you, I may earn a commission if you use one of these links to make a purchase.
Read the full disclosure
.
This post is for anyone who is considering buying or upgrading a portable or freestanding dance pole and is unsure of what material/finish to choose. Dance poles are now available in a choice of 6 different materials, each one has advantages and disadvantages. If you want to learn more about the different dance pole materials & finishes, then this guide is for you!
Most of this information is also available across our two guides, The Portable Dance Pole Buyer's Guide and The Complete Guide to Freestanding Dance Poles. However, the topic of dance pole materials and finishes is discussed so often that it needs a post all to itself!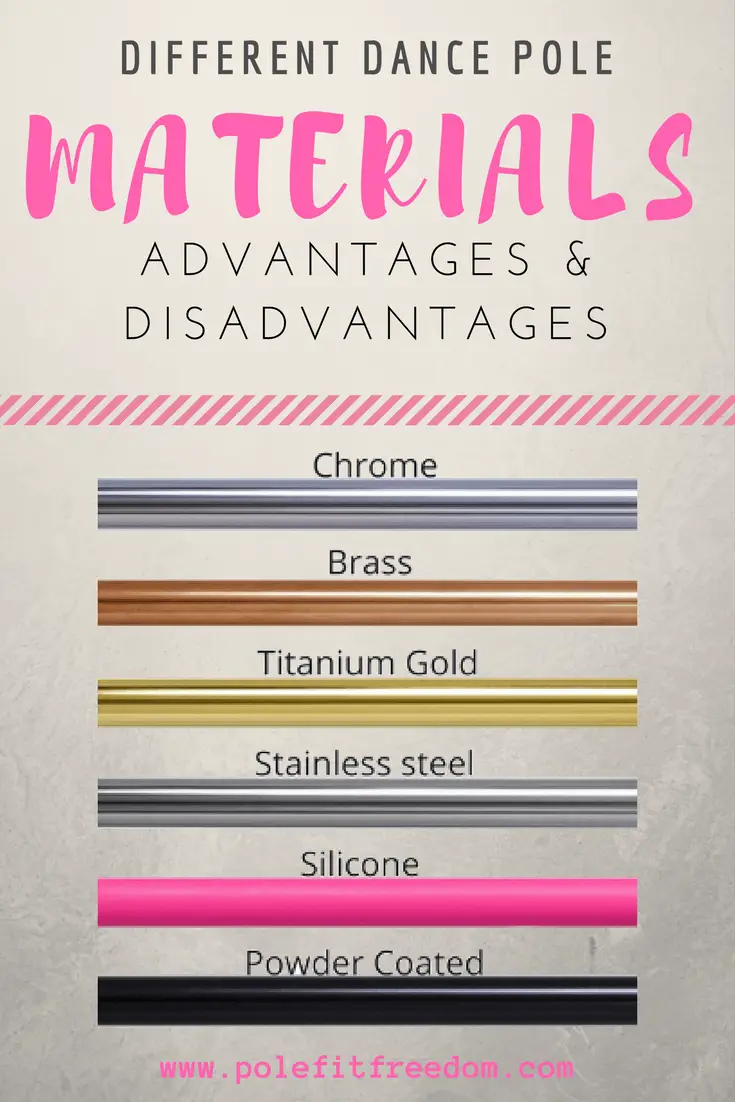 About the Various Dance Pole Materials & Finishes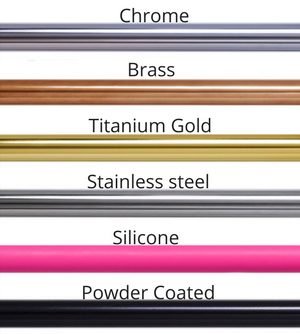 Portable, fixed and freestanding dance poles are available in a range of different materials and finishes.
The types of different materials available are:
Chrome
Brass
Titanium Gold
Stainless steel
Silicone
Powder coated
Each finish has its own pros and cons, but the climate is also an important factor to consider. Some materials are more suitbale for hot or humid climates than others. For example, brass does well in hot countries, and chrome is a safe bet if you have a temperate or changable climate (for example, the United Kingdom).
Where you live will be a factor in choosing which material is best for you, but also your workout and dance style will be important too.
---
Chrome Dance Poles
Chrome dance poles are very common as they are the least expensive type of material. It is a very high-quality material for a dance pole. You'll find chrome poles in pole studios, clubs and in homes worldwide – this is the most affordable option for choosing a freestanding pole.
✔️ Good to use in all weathers and climates.
✔️ Very easy to clean and maintain.
❌ Over time, the chrome coating will become worn. In extreme cases it can chip off, leaving the pole surface rough to the touch. However, this is rare for those who use their poles regularly at home.
❌ If you have allergies to chrome or nickel, you may have a bad reaction to poles made of this material.
❌ Chrome can become rusty if it's not looked after.
Buy your Chrome Dance Pole directly from X Pole
Lupit Pole or X Pole sell the highest quality Chrome Dance Poles.
---
Brass Dance Poles
Brass is the highest quality metal available for a dance pole. They're commonly found in areas with warmer climates. Brass poles are also known for being easier to grip with, as they're much less slippery that chrome poles, making brass an excellent choice for a beginner – although, they are a bit more expensive.
✔️ Brass poles are a superior finish and have a better grip.
✔️ They are also excellent to use in hot weather.
✔️ Unlike chrome, a brass pole will not rust as brass is a rust-resistant material.
✔️ Suitable for those with metal allergies.
❌ Brass is quite a weak metal, so a brass pole is more susceptible to damage than chrome or stainless steel
❌ Expect to pay a higher price for a brass dance pole
❌ Brass can also be quite slippery in humid weather conditions
Lupit Pole or X Pole sell the highest quality Brass Dance Poles.
---
Titanium Gold Dance Poles
Titanium Gold poles also offer a superior grip. These are less common, although those who use Titanium Gold Poles swear that they are the best! The gold finish is added by a machine on top of a standard chrome pole, which is why they're much more expensive.
✔️ Titanium Gold Poles have a noticeably superior grip.
❌ The gold finish can wear off over time.
❌ The color of the pole will also change over time as the titanium coating wears off.
❌ Much more expensive than chrome or brass finishes.
❌ Freestanding poles are not available in Titanium Gold.
Only X Pole sell the best quality Titanium Gold (TG) Dance Poles.
---
Stainless Steel Dance Poles
Stainless Steel is another very high-quality materials for a dance pole. Freestanding dance poles made from stainless steel are extremely durable and have a polished finish. It's more common to find these in studios rather than at home, as studio poles take a lot more abuse than home poles do!
✔️ Stainless steel will hold up well in humid weather conditions.
✔️ If you find excess sweating a problem, then stainless steel is for you!
✔️ If you suffer from metal allergies, then stainless steel is unlikely to give you a reaction.
✔️Stainless steel is resistant to rust.
❌ This is an extremely durable material, but it obviously comes with a higher price tag.
❌ Expect to pay slightly more for a steel freestanding pole than you would for a chrome pole.
❌ Stainless steel can become scratched and may require polishing.
Lupit Pole or X Pole sell the highest quality Stainless Steel Dance Poles.
---
Silicone-Coated Dance Poles
Silicone-coated dance poles are unlike all of the other materials discussed so far. The pole itself is made of metal but it is coated with medical grade silicone. You will be able to use this pole fully clothed and still be able to grip because it's not a slippery metal surface. These poles were designed to work like a Chinese Pole, which is often performed with long pants and sleeves.
✔️ A unique surface to use for pole dancing.
✔️ With a silicone-coated pole, you will be able to grip even if you're fully-clothed.
✔️ Available in a choice of black or pink.
✔️ Suitable if you have metal allergies.
✔️ You can also get silicone sleeves to fit over your existing dance pole.
❌ Not suitable if you have an allergy to silicone.
❌ More expensive than other freestanding poles on the market.
❌ Cannot perform spins on 'static' mode, due to its stickiness. 
Only X Pole sell the best quality Silicone Poles.
---
Powder-Coated Dance Poles
Powder-coated dance poles are the newest type of finish you'll find in the industry. They were designed to be ultra-sticky for pole dancers who really struggle with gripping all different types of metal poles. Despite being powder-coated, they actually have a very smooth texture.
✔️ A new and novel surface to use on a dance pole
✔️ Extremely easy to grip using your hands and skin
✔️ Available in a choice of colors: black or pink
❌ Not suitable if you have a metal allergy
❌ More expensive than other types of pole
❌ Only available in 45mm
Currently, X Pole is the only brand to make a powder-coated dance pole.
Only X Pole sell the best quality powder-coated poles.
---
Which One Is "The Best"?
It's difficult to say which one is better than the other because it's all down to personal taste, your dance style, your budget and what type of climate you live in.
I personally use a Chrome pole because I live in Northern Europe right now and we have a temperate climate here. It's the most common pole you'll find in gyms, studios and clubs so I know I'll be happy using the poles when I turn up somewhere. Those who learn on brass, for example, find it difficult to revert to a chrome pole, but vice versa is not a problem! However, I love using a brass pole for better grip. When I come across a brass pole, I get super excited!
Silicone and powder-coated poles are more suited to extreme flip and tricks, or Chinese pole tricks as opposed to the regular pole dancing tricks. They're definitely fun and a novelty, especially as silicone poles work with clothes 🙂 However, unless this is your dance style, or you have some spare cash lying around, then a metal coated pole is definitely more suitable for everyday use!
What's your favorite dance pole material or finish?
Make sure you read our Complete guide to Freestanding Dance Poles and our Portable Dance Pole Buyer's Guide too, as they have much more information to help you choose a dance pole that's right for you!
If you're worried about safety then we've got you covered too! There's a whole Pole Dancing at Home Safety Guide here!
Happy Poling!
---
Pin This Guide
Pin this to your Pinterest boards and share it on social media with your other pole fitness-loving friends! Don't forget to join our Pinterest Group Board!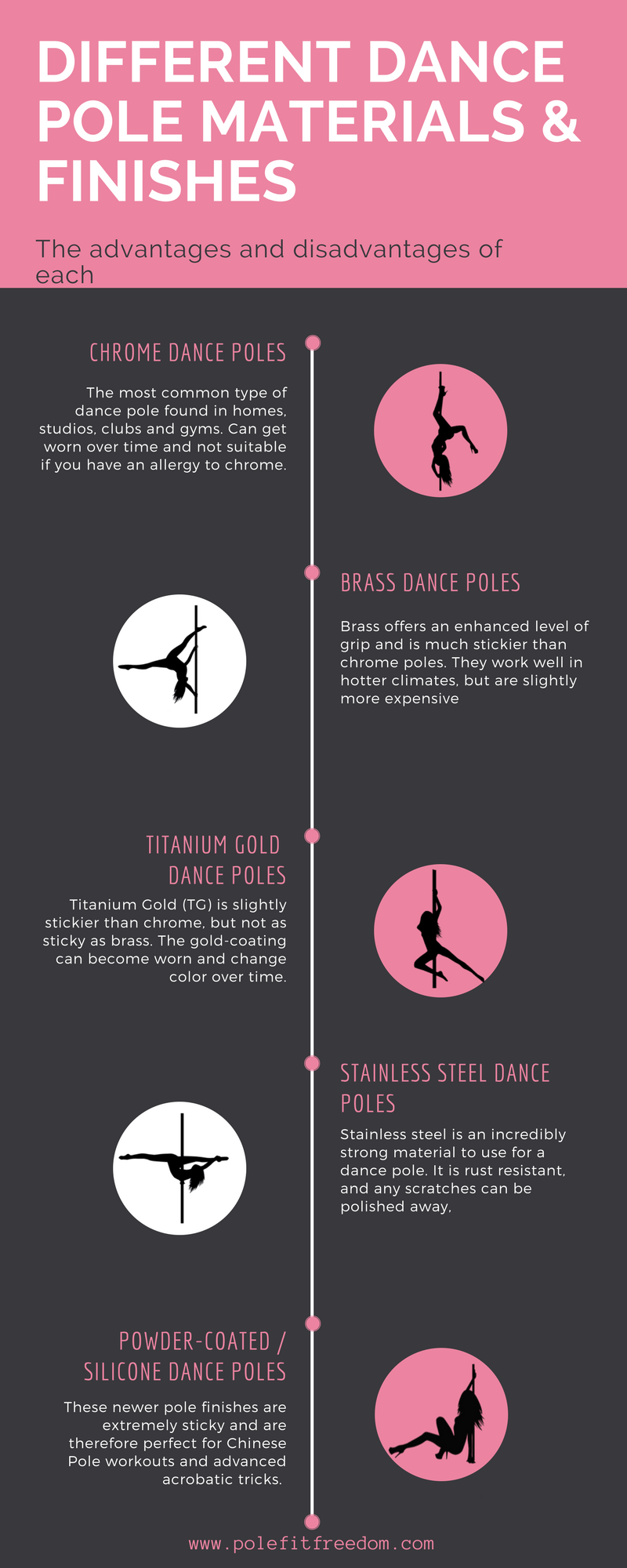 This post contains affiliate links. That means that, at no extra cost to you, we may receive a small commission if you buy a product using one of the links on this page. Read our full disclosure here.