This article may contain affiliate links. This means that at no extra cost to you, I may earn a commission if you use one of these links to make a purchase.
Read the full disclosure
.
Also, did we mention that they look stunning?! Pole dancing boots look flattering on everyone, of all shapes and sizes. Most pole dancing boots have a high heel that will make you look taller and make your legs look longer and sexier.
Any pole dancer can wear boots, no matter what level you're at. You can still perform your signature moves, spins, tricks, climbs, and inversions when wearing boots. They don't restrict your movement or affect your ability in any way.
Pro Tip for Pole Dancing in Boots: Wear the boots in a little bit first, to break them in so they're less likely to hurt your feet!
In fact, many dancers say they feel more confident wearing boots than barefoot or in regular heels. This is because pole dancing boots are edgy and alternative in appearance, adding something new and different to an outfit!
The Best Pole Dancing Boots for Sale in 2019!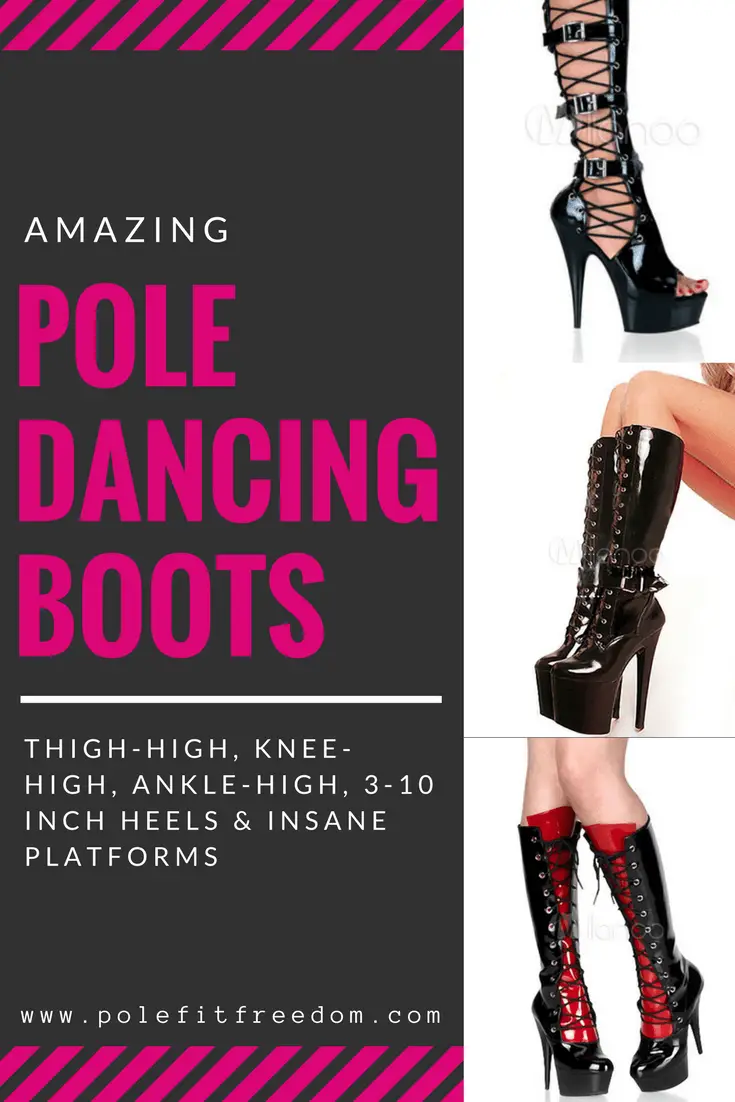 For more information on any of these boots, tap on the image to see more details. Each link opens in a new tab so you can return to this page if you need to.
Pole Dancing Boot Sleeves
New for 2019! These pole dancing boot sleeves by BoomKats Polewear allow you to turn all your pole shoes into sexy boots in a snap! Just put them over your pole shoes and you get instant pole boots with added grip! Boot Sleeves gives you multiple combinations to wear your existing pole shoes. Also, you get a perfect size! Check them out:
---
Thigh High Pole Dancing Boots
Let's start with the best thigh high pole dancing boots. These are a personal favorite because they help with thigh and knee grip on the pole. Thigh high boots make your legs look long and sexy and accentuate the natural shape of your legs.
Pleaser Flamingo – Thigh High Boots with Side Detail
These amazing Pleaser Boots are an incredible 24-inches of thigh-highness! These fit comfortably over your knee and they're tucked at the back so they maintain the natural shape of your leg. The platform is 4″ and the heel itself is 8″ – Wow! The tie detail on the side of these boots can be adjusted to fit you perfectly.
In all honesty, these boots are at the top of the list because they're the best fit and most comfortable, due to the adjustable sides. None of the material sags or gapes – so they really are perfect for pole dancing.
---
Pleaser Adore Boots – Buckle Detail
The Pleaser Adore Boots are next on our list. These have a 2.75″ platform with a 6″ heel, so they're slightly lower than the Flamingo boots. However, they are taller and will sit higher on your thigh, the buckles are adjustable for a more comfortable fit and the lace detail is beautiful. The Pleaser Adore Boots look amazing, but they're not as easy to grip with as some of the other pole dancing boots available. If you're looking for a stunning pair of boots but aren't bothered by your leg grip then these are a for you!
---
New Over-Knee Pole Dancing Boots
These boots have a much smaller platform at the front. They also have a zip along the side, a patent finish and are available in three different colors – black, red, and white. These are very sturdy boots, and there's a ridge of the top of the foot which fits s 45mm pole perfectly! These are also a bargain, but shipping does take a long time (30+ days).
Click for full description and price
---
Peep-Toe Fishnet Boots with Rivets


These beautifully designed boots have a lower heel height than Pleasers, although they still provide enough height to look sexier. The buckle and peep-toe details are beautiful, especially the toe buckle 🙂 If you're a performing a trick or routine that requires a lot of grip behind your knee or back of your calf, then re-think these boots as the fishnet detail makes that part of the boot difficult to grip with.
---
Thigh-High Belted Boots with Hip Belt

These super high boots virtually cover your entire leg! They have a belt which sits on your hips and stops the boots from falling down as they are fairly loose around your thighs. There is a small platform with a medium-sized heel.
---
Pleaser Electra Thigh High Boots with Block Heel
Stunning black thigh-high boots with ribbon lace-up on the exterior side which enables you to adjust the top for best fit and inner zip closure for a hassle-free put on. The sole features retro 5.5 inch (14 cm) block high heels and a 1.5 inch (4 cm) front platform which increases stability and overall comfort for a long time, effortless wear.
---
Ferocious Side Lace Thigh High Boots
These can be adjusted using the side laces, they have a 6″ pointed stiletto heel. These are great for wider feet.
---
Fantasy Thigh High Stretch Boots
These are also great for a wider fit, they have a zip along the inner calf and a 6″ heel.
---
Pleaser Xtreme Black Thigh High Platform Boots
Check out the size of the platform on these! These are beautiful Pleaser Boots.
---
Susie Thigh High Boots
At just $64 these are excellent value, considering the amount of material there is on the boots! The Susie Thigh Boots comes in black or red and have no front platform.
---
Knee-High Boots for Pole Dancing
Knee-high boots allow you to dance in a stylish outfit but keeping your skin exposed behind your knee. If you prefer to rely on your own skin for grip instead of boots, then knee-high boots will be perfect for your pole dancing routines.
Two-Tone Patent Lace-Up Boots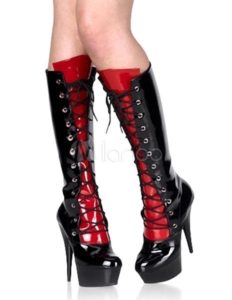 These beautiful boots have a bright red 'tongue' piece that gives these a unique look. The heel is not extremely high and they're comfortable enough for dancing in. They are also available in pink, blue, purple and black.
---
Lace-Up Platform Knee-High Boots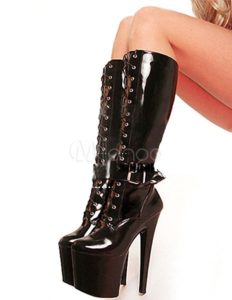 These knee-high boots also have a platform and a higher heel height! They're available in black or red and have lace and buckle details. The buckle is slightly bulkier on these boots when compared to buckles on other pole dancing boots in this list. That means that the buckle will often knock against the pole, which can get annoying sometimes!
---
Black Buckled Platform Sandals
These black buckled sandals have a stunning criss-cross pattern and a peep-toe. The heel is medium heigh and the platform is just 2″ high. The buckles on the side are adjustable and the patent material along the front of your shin will make gripping the pole much easier.
---
Ellie Shoes – Mistress Knee High Boot
These stylish knee-high boots are available in metallic gold, holographic silver and matte black.
---
Devious Scream – Black Knee Boots
Knee-high boots in a glossy black patent with front tone-to-tone lace-up, longer shoe tongue and full-size side zipper for an easy closure. The back is cut-out and decorated with horizontal straps which fasten on the side with metallic buckles for a rock-style look. The design is completed by a pair of extra high 6-inch (15 cm) metal spike-like heels which successfully completes any dominatrix outfit.
---
Pleaser Delight – Peep-Toe Black Faux Leather Knee High Platform Boots
Black faux leather peep-toe knee high boots with high cut-out and full-length back zip closure. 6 inch (15 cm) stiletto high heels with 1.75-inch (4.5cm) platform.
---
Pleaser Kiss Shoes
Super hot knee-high boots crafted in a glossy black patent, front lace-up closure with tone-to-tone laces, side zip closure and 6-inch (15 cm) high stiletto heels. The top is decorated with horizontal straps with metallic buckle fastening on sides, while the front platform adds balance and stability for an effortless wear.
---
Pleaser Demonia Lace-Up Boots

These super heavyweight boots are great if you're a rock chick or have an alternative, edgy or gothic style. They are adorned with lots of metal details, however, which can get in the way of the pole… but they look amazing!
---
CRUZ Cage Strap Knee High Boots
Wow – these are ultimately perfect for pole dancing as they have the patent material, and the buckles are located so that they won't get in the way when climbing. Plus, they have a decent sized platform that make them more comfortable.
---
Ankle Boots for Pole Dancing
To have even more of your legs on show, there are loads of ankle boots that are great for pole dancing! Some of the best and most interesting designs are in this section – enjoy 🙂
Pleaser Flamingo Holographic Ankle Boots
If you're looking for some ankle boots that have a unique design, then these are the ones for you! They have a peep-toe design, a holographic finish, a 4-inch platform and a 7-inch heel!
---
Pleaser Delight Boots
These have a 1.5-inch platform and a 6-inch heel, a peep-toe design and cut-away section on the heel.
---
Pleaser Adore Purple Sequin Peep Toe Platform Ankle Boots
Glamorous ruched shaft ankle-high boots in purple sequin with a peep-toe design for added sass, full zip closure positioned on the inner side for an easy fit and purple chrome platform. The heel is lifted 7-inch (17.75 cm) from the ground by the extra thin high heels in matching purple chrome. These are also available in silver glitter and gold glitter!
---
Pleaser Shoes Xtreme – Ankle High Platform Boots

Sexy black ankle boots with round toe and front platform, adjustable lacing and full inner zip. The look is completed by 8-inch (20 cm) stiletto high heels.
---
Pleaser Fearless Platform Boot
For the rock chick in you! If your style is rebellious, or you have an edgy performance, then these are a must-have. The platform is a massive 4-inches and the heels are covered with spikes and studs of various lengths. These are some heavy duty pole dancing boots – right there.
---
Flat Pole Dancing Boots Without High Heels
If you're not a lover of platform shoes with a huge heel, then flat boots are perfect for you. You should check out yoga shoes or Nike Studio Wrap Shoes if you haven't done so already, but if you have your heart set on boots then there are lots of options for you!
Cosplay Canvas Boots
These canvas boots are so cute, be aware, however, that these will not help you grip in any way, so only use these on a silicone pole or
with a routine that doesn't require any grip from your feet or lower legs.
---
Flat Riding Boots
These riding boots are suitable for pole dancing if you prefer to wear flats instead of platforms or heels, however, the zip is on the inside meaning it could get in the way when performing climbs.
---
Where to Buy Pole Dancing Boots
As you can probably tell, Pleaser is the most well-known and best brand of pole dancing boots, as well as other styles of pole dancing shoes.
You can buy pole dancing boots from:
Amazon – well, of course, Amazon sells everything, right?! They have a very wide range of Pleaser shoes and boots available and if you have Amazon Prime then most of them can be delivered within a day! Try Amazon Prime for a 30-Day Free Trial
Discount Stripper – Discount Stripper.com (East Coast Fashion) specialize in sexy shoes, boots, clothes, clubwear, lingerie and more.
Milanoo – Milanoo sell a load of specialist items, from footwear to cosplay to stage outfits, there are loads of crazy fashion deals to be had!
Pure Upscale  – A retailer of pole dancewear and exotic dancewear.
eBay – There are also loads of eBay stores that specialize in selling pole dancing boots and sexy footwear.
---
Pin This List
So, those are the best picks for Pole Dancing Boots for sale right now, we hope you enjoyed this list! Please share this with your pole dancing friends or anyone with a passion for fancy footwear 🙂
Happy Poling!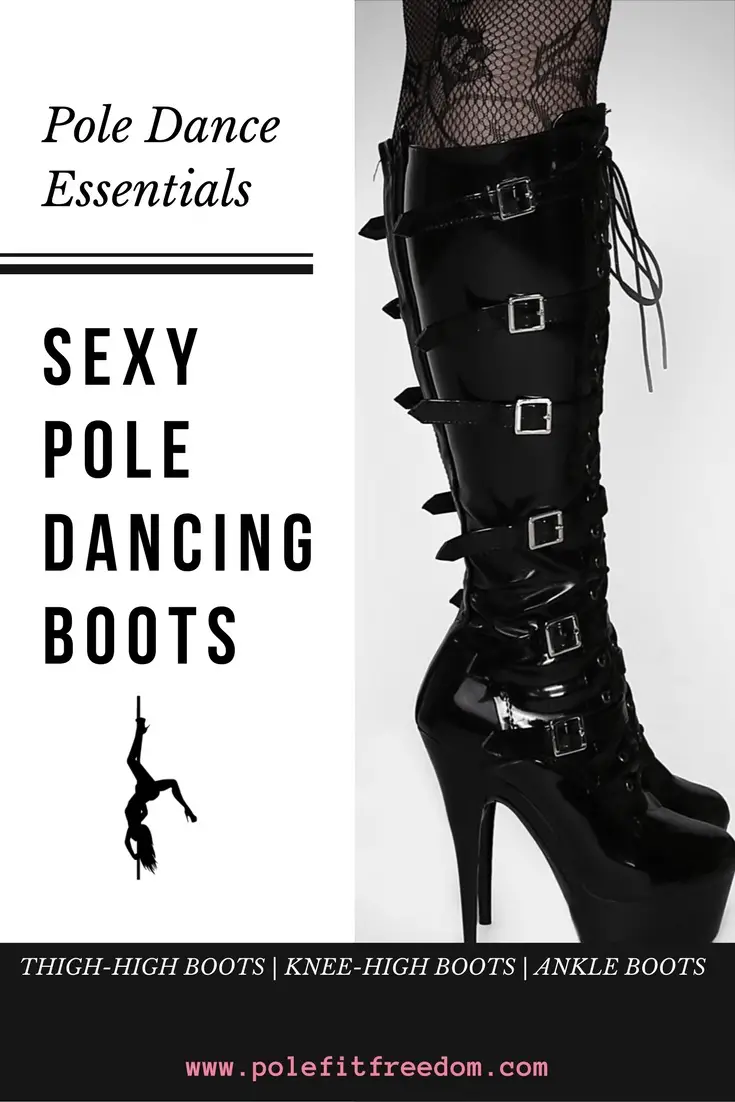 This post contains affiliate links. That means that, at no extra cost to you, we may receive a small commission if you buy a product using one of the links on this page. Read our full disclosure here.