Last Updated on February 21, 2023
This article may contain affiliate links. This means that at no extra cost to you, I may earn a commission if you use one of these links to make a purchase.
Read the full disclosure
.
Going to a pole dance class is different to just going to the gym. Pole fashion has really upped its game in recent years with an abundance of new brands taking pole fashion to the next level.
But, what if you're not ready to spend $50 on a pair of leg warmers and just want some basic workout gear that's comfortable and stylish? What if you're new to pole dancing and just want something comfortable, yet stylish to wear to your next pole dancing class? Well, you're in the right place!
When you're getting started with pole dancing, it's important to find comfortable clothing to wear while practising before you start getting concerned about performance outfits (there's no harm in looking for inspiration, though!)
Want to become an amazing pole dancer?
Open Dance Academy has over 450 online lessons, by some world famous pole dancing champions! Join now to get:
***GET 10% OFF OPEN DANCE ACADEMY***
Use the code polefitfreedom to get 10% off Pole Dancing Lessons with Open Dance Academy. This is an exclusive offer for readers of this blog!
Looking For Pole Fashion Ideas?
So, if you're looking for some pole dancing fashion basics without breaking the bank, scroll down for a look of some of the latest pole fashion online deals.
---
1. OnlyPrint Women's Pole Dancing Tank Top
This unique tank top comes in Black, Dark Grey, Light Grey and White and features a colorful design of a silhouetted pole dancer. It's 100% organic cotton and less than $15!
---
2. 'Life Is Better Upside Down' Women's Flowy Tank Top by Spreadshirt
If you love slogan tees, this is perfect for you! These high-quality tank tops are printed to order, so quality is guaranteed.
---
3. Relaxed Workout Top
This top has a distinctive twisted design on the front, showing some skin making it perfect for gripping the pole! The cross-over design is extremely flattering and comfortable to wear.
---
4. 'Life Is Better Upside Down' Hoodie
This is an original design by Pole Fit Freedom, not available anywhere else! Also available in t-shirts and vest tops.
---
5. Racerback Sports Bra for High Impact Sports
For when you're done with the warm-up, it's time for skin-on-pole contact! This sports bar is great for pole class as it will allow for maximum body grip for your gravity-defying moves. It's also made of a breathable material and for $15 you can't go wrong with this.
Related: 20+ Sports Bras With Unique & Beautiful Backs
---
6. COCOLEGGINGS Printed Stretch Workout Shorts
If you're rocking this cosmic/unicorn/mermaid trend, why not bring a bit of sparkle to your next pole class? These spandex pole shorts are less than $20.
---
7. High Waisted Pole Workout Shorts
These high-waisted pole workout shorts are made from super-breathable fabric that dries fast, doesn't show sweat patches and isn't see-through. Also, they're super flattering!
These are a staple of any pole dancers wardrobe and hey, having a spare pair never hurt anyone 😉
---
8. Textured Butt-Lifting Yoga & Pole Shorts
These are the famous butt-lifting ultra-flattering TikTok shorts from 2021! These enhance your figure and are great for photoshoots, Instagram, etc. Honestly, they look good on everyone – you can't lose!
---
9. Eurotard Women's 2625 Legwarmer
Leg warmers are a great fashion accessory for pole dancers! They may not be great for performing moves that require leg grip, however, they're a perfect fashion statement for wearing during warm-ups, cooldowns and for your Instagram photos!
---
10. Gaiam Yoga Socks
These cute non-slip toe yoga socks are great for warmups if your floor gets slippery. They're also super comfortable for wearing around the house or working out at home.
---
Save this page to Pinterest ?
Pin this image to save this article for later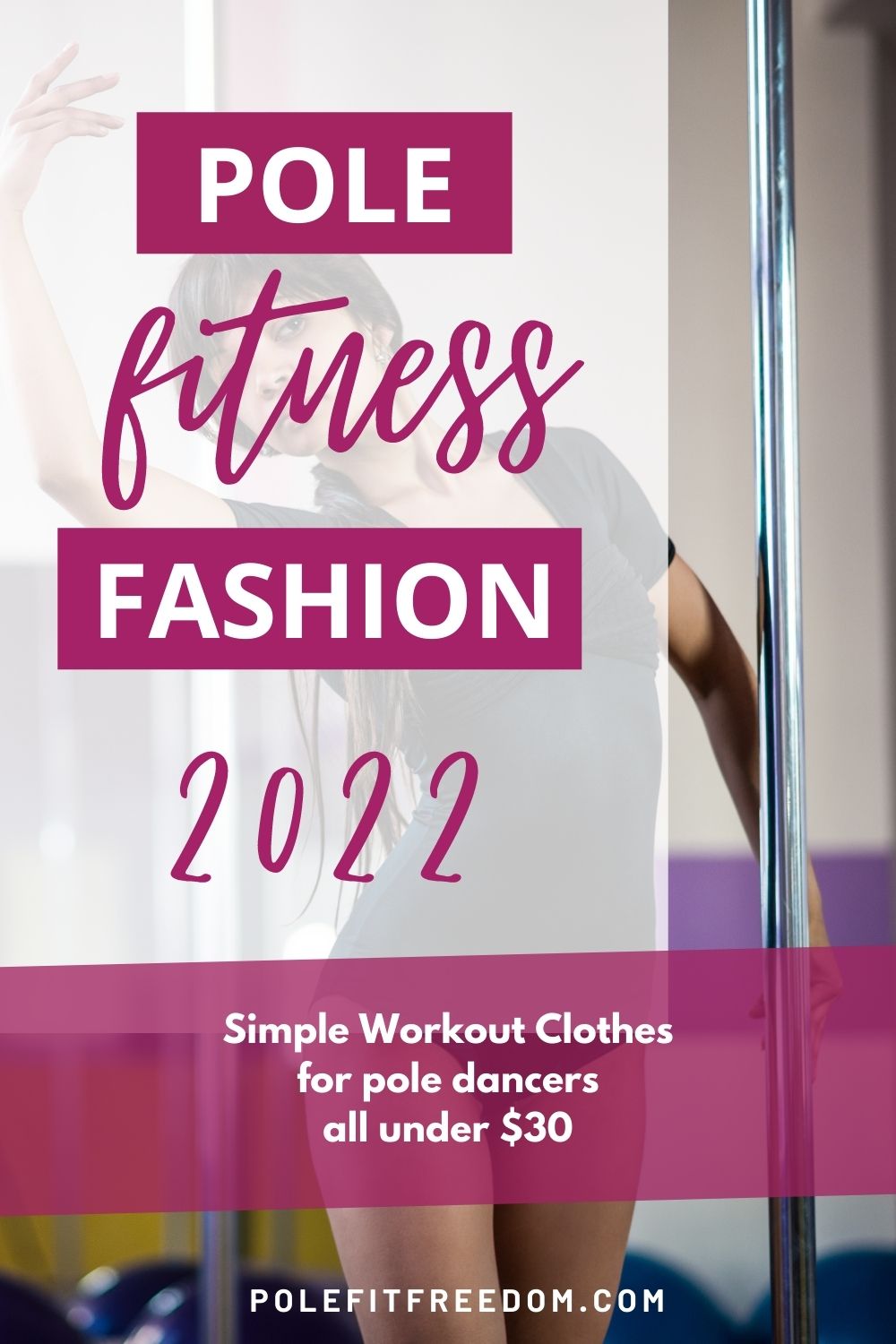 Happy poling!
This post contains affiliate links. That means that, at no extra cost to you, we may receive a small commission if you buy a product using one of the links on this page. Read our full disclosure here.