Last Updated on December 1, 2022
This article may contain affiliate links. This means that at no extra cost to you, I may earn a commission if you use one of these links to make a purchase.
Read the full disclosure
.
Are you constantly looking for new and different songs for your pole dance routines? Are you also fed up with the same old songs being played in pole studios and clubs around the country? It's time to go back to the '90s with this great collections of '90s songs for pole dance routines!
We've put together this list of slow, sexy and sensual songs for pole dance routines to give you some inspiration. These songs will give you some creative inspiration to add some sexy floor work to your next pole dance routine.
Whatever you're planning for your next routine, we've got you covered! Don't forget to check out our other seasonal & genre-specific playlists of songs for pole dancing routines!
Want to become an amazing pole dancer?
Open Dance Academy has over 450 online lessons, by some world famous pole dancing champions! Join now to get:
***GET 10% OFF OPEN DANCE ACADEMY***
Use the code polefitfreedom to get 10% off Pole Dancing Lessons with Open Dance Academy. This is an exclusive offer for readers of this blog!
So, here is our collection of favorite '90s songs for pole dance routines…
1. En Vogue – Don't Let Go
Don't let go of that pole, whatever you do!
---
2. Madonna – Frozen
Before there was that Frozen, there was this Frozen. A haunting, slightly gothic 90's pop classic! It's quite a long song so you should definitely build the energy in your routine to this one.
---
3. No Doubt – Don't Speak
This is the pinnacle of the 90s!
---
4. Placebo – Nancy Boy
---
5. The Cardigans – My Favorite Game
---
6. Beck – Loser
7. Skunk Anansie – Weak
No playlist of 90's songs would be complete without some angry girl rock music in the form of Skunk Anansie! In fact, they have so many great hits that they're on this list twice…
---
8. Skunk Anansie – Hedonism (Just Because you Feel Good)
---
9. TLC – Waterfalls
---
10. Santana ft. Rob Thomas – Smooth
---
11. Usher – You Make Me Wanna…
---
12. Ms. Lauryn Hill – Doo Wop (That Thing)
---
13. Destiny's Child – Bootylicious
---
14. Mariah Carey – Always be my Baby
---
15. Shania Twain – Man, I Feel Like a Woman!
---
Pin this Playlist
Use this image to save this playlist to your Pinterest boards for future reference!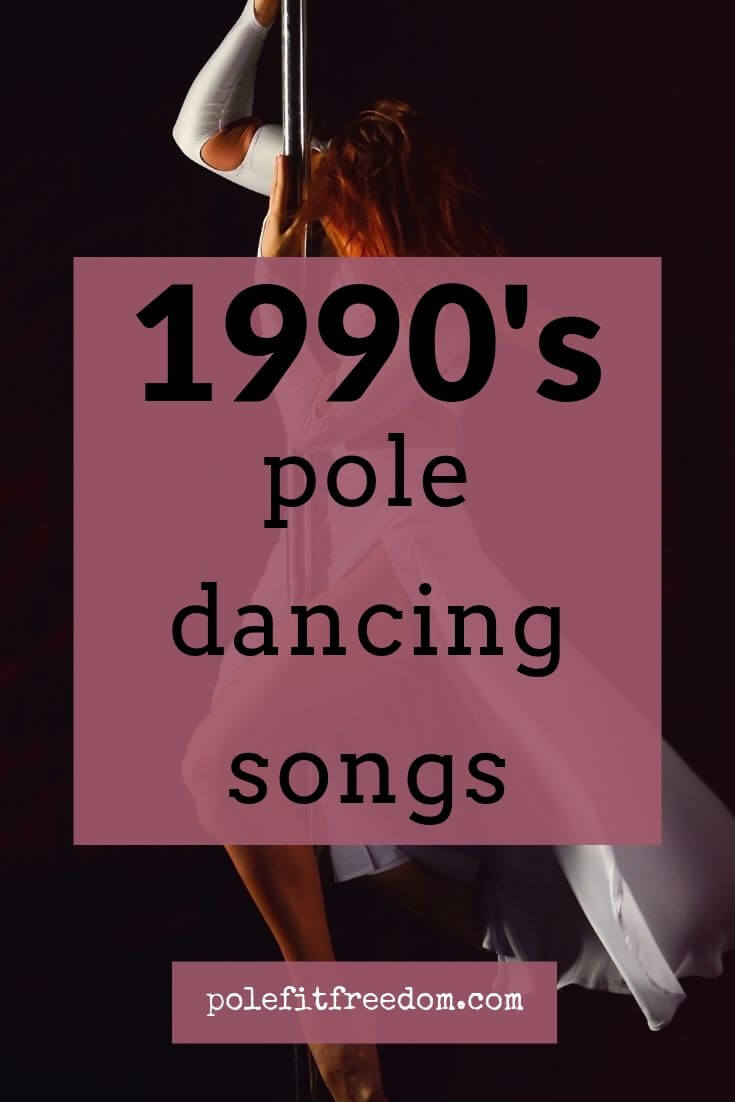 Happy poling!
This post contains affiliate links. That means that, at no extra cost to you, we may receive a small commission if you buy a product using one of the links on this page. Read our full disclosure here.