Last Updated on November 10, 2022
This article may contain affiliate links. This means that at no extra cost to you, I may earn a commission if you use one of these links to make a purchase.
Read the full disclosure
.
It's a well-known fact that most of us millennials are often referred to as "generation rent" and that the housing market is not our friend.
The majority of pole dancers from my friendship group live in rented apartments, which leads me to the most frequently asked question I hear when someone wants to buy their first pole:
Will my dance pole cause any damage?
Nobody wants to lose their security deposit or bond, right? It's no surprise that we hear this question so often!
I myself am a renter, and I've always had my security deposit returned in full when I've moved out.
So, in order to help out other pole dancers who rent their homes, we've put together this guide from our own extensive experience, along with a wealth of knowledge from other polers in our community.
If you find this guide useful, don't forget to share with your friends on social media!
Should I take the pole down when the landlord comes round?
This is a very common dilemma. Some polers feel that they have to take their pole down when their parents, grandparents or co-workers come round too.
Sure, they may judge you or misunderstand the fact that pole dancing is a sport and has many health benefits, but in theory, your landlord has the power to keep your money and kick you out of your home.
Sounds scary, right?!
In practice, being evicted because of a removable dance pole is highly unlikely. Having all or part of your security deposit retained is however much more likely to happen. As you probably already know, many landlords are money-grabbing and greedy so you're certainly not alone with your concerns.
Check your lease agreement
Does your contract specifically state that you cannot, for example, hang pictures from the wall?
Does it outline what the charges would be for any potential damage to the plasterboard or drywall?
If you do have a very specific and formal lease agreement, then it's up to you whether you're willing to pay for any potential damage. You may consider finding an insurance policy suitable for your needs. We've only used insurance for our pole dancing studio, so, unfortunately, we can't advise on home policies.
If your agreement is less formal, then you could ask your landlord or property manager whether it would be OK to install a portable dance pole. You could explain that it'll be installed properly and won't cause any damage. You never know, it might not even be a problem.
If you're anxious about asking them outright, try asking whether a pull-up bar in between a door frame would be OK. Testing the water, so to speak!
What if the landlord categorically says no?
Well, that's a shame that they're so closed-minded and strict with their properties.
You could do what many others do though, and put up the pole anyway regardless of what the rules are!
Us pole dancers are such rebels 🙂
By law, a landlord has to give you plenty of notice if they need to enter your home for maintenance reasons. This should give you plenty of time to take the pole down, and they'll be none the wiser!
Here's a fun story…
In 2011 we moved into the nicest apartment we'd ever rented, it was more like a house! It had really high ceilings and we had to order extensions for our X Poles as they were just too short for the ceilings in this place.
When the extension pieces finally arrived, I was so excited and put my poles back up right away, obviously!
Anyway, the next day we had a major problem with the washing machine and had to call the landlord, who we'd only met once before.
We expected him to say something like "I'll send someone in the next few days," but he didn't.
Instead, he said, "I'm just around the corner, I can come around now to have a look!"
S**t.
There was no time for us to take two poles down in 5 minutes.
In almost no time at all, we buzzed the landlord in and he was looking at the pipes behind the washing machine.
10 minutes later
He came into our living room, with the pole in full view (you can't exactly hide those things) and said he'd fixed the problem and was heading off.
"Nice to see you both again," he said as he left.
Then, he turned around and said "Nice pole! I've got another tenant in another one of my houses with one of these in the bedroom! Give me a call if you get any problems!"
Phew, what a relief that our landlord was cool with our poles!
We later became quite good friends with him (the landlord) and I recalled how nervous I was about him keeping our deposit when he saw the poles. He had to laugh, because…
When I first contacted him, it was via WhatsApp. My profile picture on WhatsApp at the time was me on a pole.
Not just that, it was me on the pole we'd just put up in the living room in our new place. Yeah. I was that stupid!
So, he already knew that we were pole dancers and had a pole up in our apartment because he's seen my WhatsApp profile picture.
*Ultra facepalm*
Oh well, at least he was cool about it. It could have been reeaal awkward if he wasn't!
If you have to take your pole down before the inevitable visit from the landlord, it is very quick to do and if you separate all the pole pieces and put it back in its case – they'll be none the wiser!
'Popcorn' ceiling and carpets
If you have a textured, or 'popcorn' ceiling then your pole will most likely leave an imprint. The same goes for carpets.
Here's a picture of our carpet which had an X Pole XPert installed in the same place for 3 years:
You can see that we lessened the problem by putting a square of carpet scrap underneath the base of the pole. The carpet beneath it was still a bit flat. We used a good vacuum cleaner with the brush attachment and almost completely restored the carpet.
Carpet damage shouldn't be a major deal. Carpets suffer a lot of wear and tear and most items of furniture will leave an imprint on the carpet.
When it comes to textured ceilings, even if you spread the pressure of the pole using a square ceiling tile or piece of wood, there's still going to be an imprint – just a different shaped one!
With 'popcorn' ceilings, small bits of the 'popcorn' may get chipped off simply by the pole being there.
Fortunately, you can use a cheap and simple 'Patch and Repair' product for popcorn ceilings, like this one from Amazon for less than $10. Your landlord will never know that you had a pole up!
If you're wondering about portable dance poles and renting an apartment or house with flat/non-textured ceilings, then you have nothing to worry about! A portable dance pole is unlikely to damage a flat ceiling, but you may scrape the paint from the wall or ceiling when putting the pole up/taking it down.
So, there you have it! That's our guide on using dance poles and renting. Have we missed anything out? Please leave us a comment with anything you'd like to add 🙂
---
We love Pinterest, do you love it too?
Pin this image to save this guide: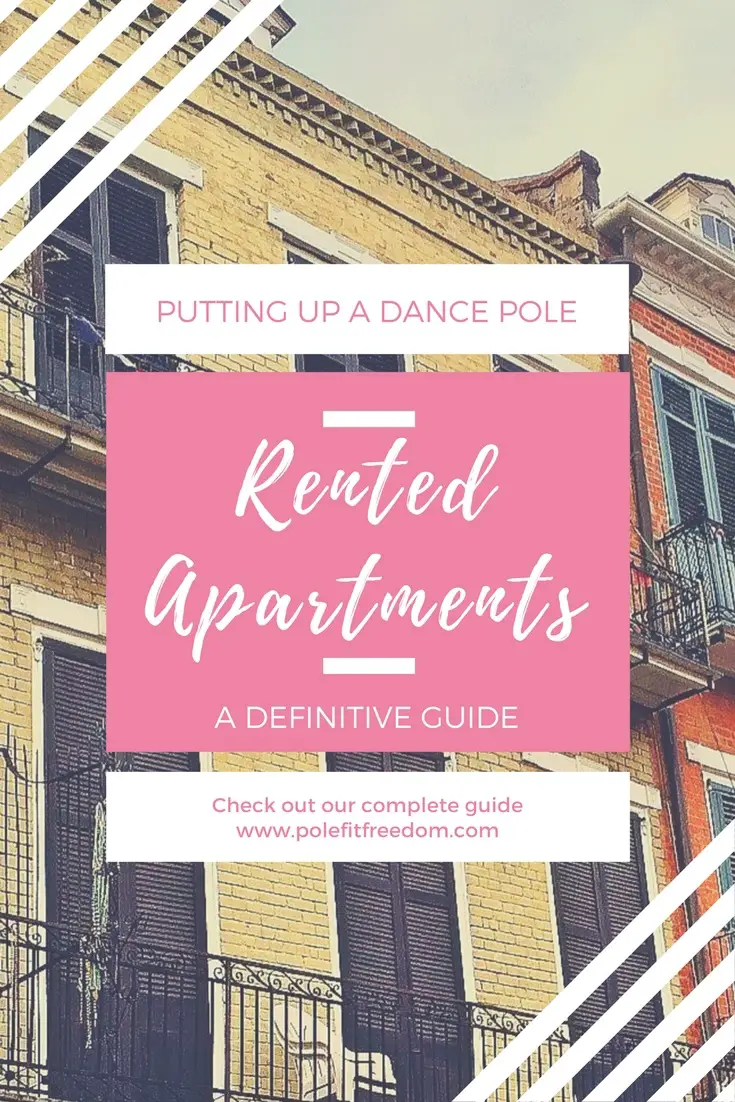 Happy poling!
This post contains affiliate links. That means that, at no extra cost to you, we may receive a small commission if you buy a product using one of the links on this page. Read our full disclosure here.