This article may contain affiliate links. This means that at no extra cost to you, I may earn a commission if you use one of these links to make a purchase.
Read the full disclosure
.
Are you a pole dancer looking for ideas for healthy post-workout meals? As a pole dancer, you need a healthy diet in order to gain strength and keep your body nourished, especially after an intense workout or practice session. This article explains which nutrients are the most important after a workout and give you some meal inspiration for healthy post-workout snacks.
During a pole dancing workout, your muscles are doing a lot of work, using up glycogen stores quickly. This is part of the reason why you ache after a good workout – your muscles need time to repair.
You can speed up this process quite easily, by resting properly and eating the right nutrients in your diet.
First of all, what are those important nutrients, and what foods are the best to eat after a pole dancing workout?
Protein
Protein is the most important thing to eat after a pole dancing workout. When you workout on the pole, you're engaging a lot of muscle groups which breaks down proteins in your muscles.
This is partially why you ache. Protein helps you recover from the stress you've put your muscles.
You should eat approx 0.2g of protein per pound of body weight as soon as possible after a pole workout to recover faster.
That means, if you weigh 140lbs, then you should eat a meal with 28g of protein post-workout.
Protein comes from food such as meat, eggs, cheese, pulses, beans and lentils.
Vegetables
Along with your protein, you also need carbs. Carbs have a bad rep when it comes to fitness and weight loss, so you should definitely favor veggies over breads and pastas.
Eat a mixture of veggies with your post-workout meals. Try a mixture of root veg and greens so you get plenty of vitamins too.
A good diet completely eliminates the needs for pole dancers to take vitamin supplements!
Water
As you know, our bodies are mostly made up of water! We lose a lot of water through sweating when we workout, so replenishing that water is key to stay hydrated.
It's not just important to drink plenty of water during your workout, you should continue to do so afterwards as well.
Staying hydrated will avoid fatigue, headaches and improve your general well-being.
Potassium
Your body's potassium stores are likely to be low after an intense workout, so eating foods rich in potassium soon afterwards will help your recovery.
Bananas and potatoes are excellent sources of potassium, which is great because they go with almost everything. Make sure you keep the skins on the potatoes though, don't peel them, all the best nutrients are just underneath the skin!
Now that you know which nutrients and food groups are important after a workout, here are some mouth-watering ideas for your next post-workout meal!
Related: 5 Ways to Recover from Sore Muscles
Post-Workout Meal Ideas for Pole Dancers
Most of the meals in this list are suitable for vegetarians, but you can use chicken or fish in these meals if you prefer.
Grilled Tofu with Steamed Veg
Plenty of protein in this classic post-workout meal!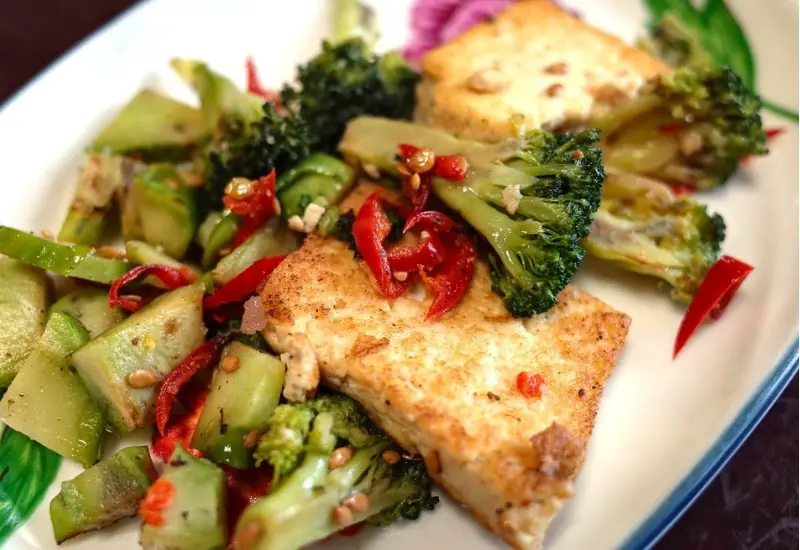 Protein: 21g approx (dependant on portion size)
Vegan Enchiladas
---
Egg White Frittata with Peppers and Mushroom
Cheese is optional for this tasty variation of a Spanish omelette.
---
Quinoa, Goats Cheese and Chick Pea Salad
Use cous-cous as an alternative.
---
Asian Noodles with Veg and Tofu
---
Vegan 4-Bean Chilli
Use meat if that's your style!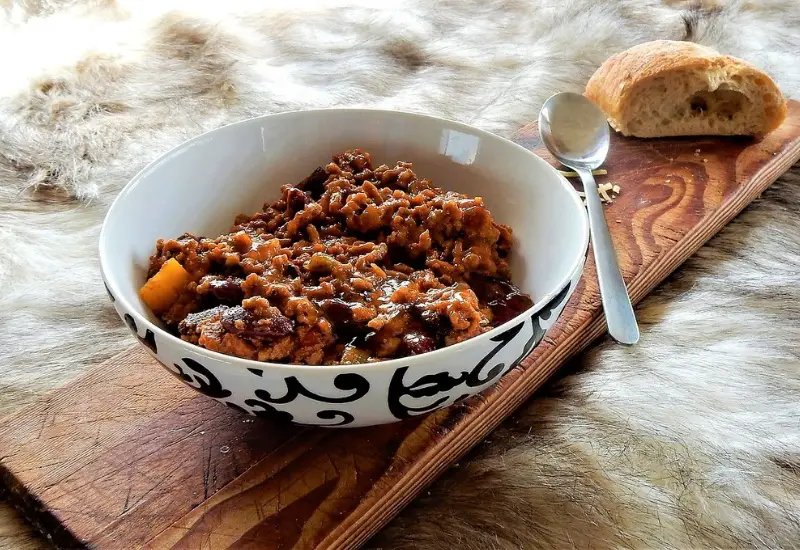 ---
Cheesy Lentil Burgers (no bread)
Again, use lean meat if that's how you roll!
---
Banana and Almond Crunch Bowl
Perfect post-workout snack
---
Stuffed Peppers
Stuff with meat, quinoa, salad or anything else!
---
Halloumi Fries and Green Salad
If you haven't discovered halloumi yet, you're missing out…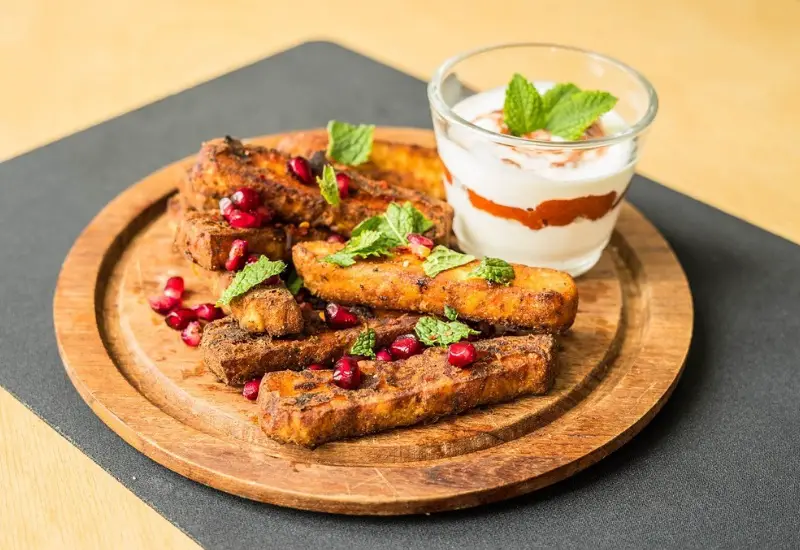 ---
Baked Yams Topped with Salad (or Tuna)
Top these yams (sweet potatoes) with whatever you like.
---
What are you favorite post-workout meals or healthy snacks? Leave a comment below, and don't forget to save this article for future reference when you're next at the grocery store!
Pin This
Happy poling!
This post contains affiliate links. That means that, at no extra cost to you, we may receive a small commission if you buy a product using one of the links on this page. Read our full disclosure here.