Last Updated on February 8, 2023
This article may contain affiliate links. This means that at no extra cost to you, I may earn a commission if you use one of these links to make a purchase.
Read the full disclosure
.
Are you constantly looking for new and different songs for your pole dance routines? Are you also fed up with the same old songs being played in pole studios and clubs around the country?
Your cooldown is a vital part of your pole fitness routine, it's your time to stretch, relax and reflect on the positive actions you've just done for yourself. You will definitely need some appropriate music as the backdrop during this time.
Here is a selection of songs to help you cool down post-workout, most of these songs would be perfect for pole dancing routines. We've put together this multi-genre list of relaxing and chilled songs that are perfect for your cooldown routine! Don't forget to check out more playlists, specifically for pole dancing routines here!
Playlist: 12 Chilled Songs for Your Post-Workout Cool Down
Want to become an amazing pole dancer?
Open Dance Academy has over 450 online lessons, by some world famous pole dancing champions! Join now to get:
***GET 10% OFF OPEN DANCE ACADEMY***
Use the code polefitfreedom to get 10% off Pole Dancing Lessons with Open Dance Academy. This is an exclusive offer for readers of this blog!
1. Massive Attack – Angel
What a hauntingly beautiful song with incredible crescendos, also featured on our list of dark and intense songs for pole dancing routines.
---
2. Portishead – Roads
Another beautiful song with haunting vocals. Portishead never fails to deliver a chillout song
---
3. A Great Big World and Christina Aguilera – Say Something
In celebration of today (29th March) being World Piano Day, this beautiful ballad is perfect for being reflective post-workout.
---
4. Massive Attack – Teardrop
The second tune by Massive Attack on this list, well, it'd be rude not to…
---
5. Radiohead – Street Spirit (Fade Out)
This beautifully melodic song by Radiohead is a perfect way to cooldown after your workout.
---
6. Death in Vegas – Dirge
This dark and haunting anthem will take your mind away, so close your eyes and sink deeper into that stretch…
---
7. Sam Smith – Stay With Me
Just love Sam Smith's voice here!
---
8. Adele – Hometown Glory
Same goes for Adele's stunning voice, she wrote this song when she was 16, did you know!?
---
9. Chungking – Following
Beautiful vocals to relax to.
---
10. Tricky – Hell is Round the Corner
Here's some trip-hop! Enjoy the thought-provoking lyrics in this one.
---
11. Leftfield – Final Hit
From the soundtrack to 'Trainspotting', this song has an infectious baseline.
---
12. Pentatonyx – Dancing On My Own
An acoustic/chilled cover of Robyn's 'Dancing on My Own'
---
Pin This Playlist
Use this image to pin this cooldown playlist to your Pinterest Boards and save it for later! Don't forget to check out Amazon Music Unlimited with a 30-day Free Trial to listen to all these songs, plus 100,000s more!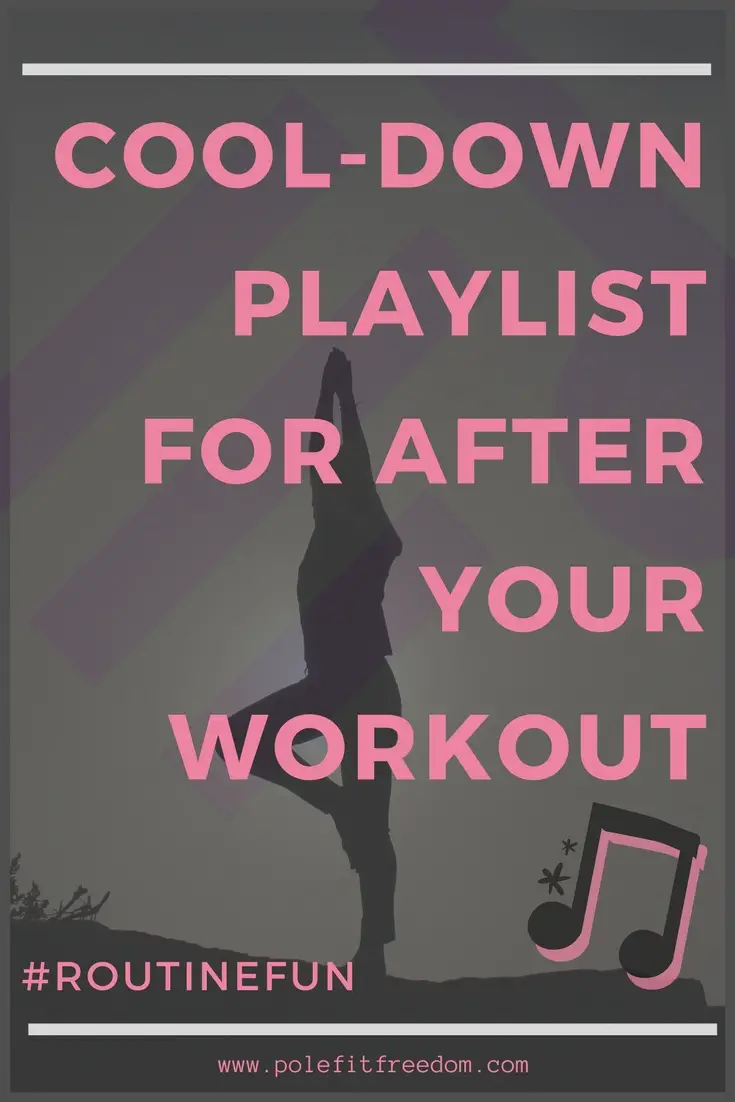 Happy poling!
This post contains affiliate links. That means that, at no extra cost to you, we may receive a small commission if you buy a product using one of the links on this page. Read our full disclosure here.