Last Updated on May 21, 2023
This article may contain affiliate links. This means that at no extra cost to you, I may earn a commission if you use one of these links to make a purchase.
Read the full disclosure
.
If you have a special pole dancer in your life with a special occasion coming up soon, a pole-themed gift is a great idea! So if you're searching for ideas for the best gifts for pole dancers this year, you're in the right place because we've done all the hard work for you!
That's right, we've searched the web for the hottest gift ideas for pole dancers, and organized them all into this handy list for your reading pleasure!
So, whether you're looking for a spectacular show-stopping gift to spoil the pole dancer in your life, or looking for little novelty trinkets to buy for your pole dancing friends, there's something on this list for you.
On that note, if you're hunting for pole dancing themed gifts, then we're here to help you with gift ideas to suit a variety of different budgets and styles.
$25 or Under
These gifts are all around $25 or less.
Yoga Blocks / Yoga Straps Set
A set of yoga blocks and a yoga strap is a seriously thoughtful gift for a pole dancer. This yoga equipment helps with flexibility, which every pole dancer wants to improve.
These sets come in a variety of different colors, so you have plenty of choices.
---
Aerial Coloring Book
Adult coloring books are all the rage! They're such a relaxing way to unwind, as well as providing many therapeutic benefits. This one is for aerialists and pole dancers, so it's a perfect gift!
---
Grip Strength Trainer
As well as flexibility, almost all pole dancers want to improve their grip strength, and these handheld grip trainers are perfect for exactly that.
These would make a great stocking filler for the pole dancer in your life!!
---
Fit Grip Socks
Everyone loves getting socks for Christmas, right?!
Socks like these would look extra stylish for a pole workout session.
---
Legwarmers
Wearing legwarmers will help to stay warm during the cold winter months!
---
Cute T-Shirt
There are tonnes of cute pole dancing tees on Amazon, eBay and Cafepress. Here is just one of our favorites!
---
Pole Dancing Travel Cup
This is beautiful, and a great gift idea for the pole dancer in your life 🙂
---
Pole Dancing Light
This gift will let pole dancers add something special to their practices and performances. This groovy multi-colored light can be attached to existing dance poles to make workouts even more fun!
---
SneakyDeez Pole Dance Wrist Wraps
These wrist wraps help to support your wrist during high impact workouts, such as pole dancing.
---
Dry Hands Grip Aid
---
Yoga Mat
A yoga mat is incredibly useful for a pole dancer to use when performing stretches, warming up or cooling down.
---
Pole Shorts
A pole dancer can never have too many shorts, right? Find a nice pair of shorts that fits their style, or go with something basic but stylish, like these:
---
Galaxy Leggings
Give a gift that soars with unexpected style in these Galaxy Leggings! Swirling stars and planets decorate these silky-soft leggings, giving your look a blast of edgy charm. These leggings go well with both dressier and more casual tops, making this a versatile staple that will come in handy season after season. Plus, they're great for yoga, warm-ups before pole and for photoshoots.
---
Arnica Gel
…for when the inevitable bruise of the week happens, arnica gel is a pole dancer's saviour! Arnica Gel is a natural pain reliever, the gel is not sticky or greasy and can ease a variety of different pole-related aches and bruises. If you apply Arnica Gel as soon as possible after a bruise occurs, it will reduce the swelling and help you heal faster!
---
Pole Dancing: For Fitness & Fun
By: Danni Peck
This series of 4 books will walk you through the different pole levels.
Click/tap on the images above to browse these books on Amazon.
Did you know you can read these books for FREE if you have a Kindle (or use the Kindle App on your phone or tablet) and a subscription to Kindle Unlimited? Join Amazon Kindle Unlimited 30-Day Free Trial
!
---
Life Is Better Upside Down Water Bottle
This beautifully designed water bottle is perfect for pole dancers to take with them to classes or just use on a daily basis!
---
$25 – $50
The next set of gift ideas for pole dancers are between $25-$50, for when you want to treat someone that little bit extra!
Pole Dancing Gym Bag
This useful gym bag is water resistant and has a great design. There's a compartment at the bottom for a pair of Pleaser shoes and loads of space inside.
---
The Pole Tricks Handbook
This is the only step-by-step ebook on the market for real pole dancing moves. The guide is extremely detailed in getting your hands placed correctly for performing moves mostly for intermediate-advanced dancers.
It is a digital book that can be printed or read on Kindle.
See More Books About Pole Dancing
---
Patterned Pole Dance Leg Warmers
These beautiful patterned leg warmers have a silicone band around the thigh so they don't slip and slide around during your pole workouts. There's loads of other patterns and colors available so checkout BoomKat's Polewear for more!
---
QueenWear Knee Pads
There are some seriously stylish options for pole dancers who wear knee pads for floorwork or to protect their knees. Knee pads are required for floorwork and can help to avoid nasty bruises too.
---
Powerball Wrist Trainer
This is so much more hi-tech than just a gyroscope! It has a display screen and speedometer too! These are great for strengthening hands, fingers, wrists, forearms, upper-arms and shoulders.
It's an excellent way to improve your grip strength for pole dancing.
---
$50 – $100
Now we're onto gifts for pole dancers costing up to $100. These gifts are very special for extra-special occasions!
Sterling Silver Pole Dancing Necklace
This is a beautiful solid sterling silver necklace, featuring a pole dancer on a pendant. It can be engraved as an optional extra. The pendant is the size of a penny and hangs from a 16″ or 18″ silver chain.
---
The Art Of Pole DVD by Jamilla Deville
This DVD set contains five DVDs, each one getting more difficult. There is even a beautiful routine at the end of each DVD featuring all of the moves covered.
These really are excellent instructional videos by a world-famous pole dancer, Jamilla Deville, and there are some warm-up and cooldown routines too. This even includes a series of imaginative routines performed beautifully by Jamilla wearing some beautiful costumes for inspiration.
---
Pleaser Pole Shoes
Pleaser shoes are the ultimate wanted item for any pole dancer, and pole dancers can never have too many pairs 😉
There are so many styles, shapes and colors to choose from on Amazon alone, so I've put together a little sample selection, but you can click here to see our complete list of favorite Pleaser Shoes for sale at the moment.
---
Over $100
So if you really want to push the boat out, you can go for one of these pricier gift ideas!
Lupit Pole Crash Mat
Lupit Pole is a very well known brand when it comes to Pole Dancing equipment and products. Their dance poles are very high quality and their crash mat is no exception!
The Lupit Pole Crash Mat is made from high-quality materials. The foam inside is a high-grade EPE (Expanded Polyethylene Foam) so it is strong, very hard-wearing and has high impact/shock resistance. The outside of the crash mat is made using high-quality elastic leather.
It is available in 3 different thicknesses and 4 different colors.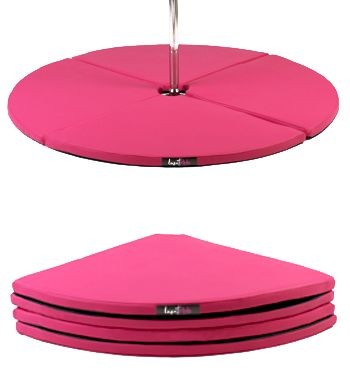 Find out more about the Lupit Pole Dancing Crash Mats here
---
Lupit Pole Classic
Lupit Pole make a range of different portable dance poles for use at home, in clubs or in dance studios. The first, and most popular is the Lupit Pole Classic.
This is a fully removable, portable dance pole that's held in place between the floor and the ceiling. Like most portable dance poles available, there's no drilling required!
Everything you need to install the pole comes inside the box and it can be easily installed within 10-15 minutes.
The main features of this sturdy dance pole are:
Quick and easy to install and remove
Can be switched between static and spin
Extendable from 2100mm to 2800mm (7″ – 9.2″) with extra extensions available for taller ceilings
Quality rubber surface
Unique upper disc flex system
Patented safety block nut
Available in 42mm or 45mm width
Available in a stainless steel or chrome finish
Click here to visit Lupit Pole's Official Online Store 
---
X Pole XPERT PRO
This is the brand new XPERT Pro pole. It is a portable dance pole that's held in place by pressure/tension. The latest feature is that this pole can be switched between spin and static using your wrist, rather than the hex key needed for the previous versions.
This really is an excellent dance pole, perfect for pole dancers of all levels. X Pole are the industry leaders in pole and aerial fitness equipment.

Happy poling!