Last Updated on November 10, 2022
This article may contain affiliate links. This means that at no extra cost to you, I may earn a commission if you use one of these links to make a purchase.
Read the full disclosure
.
Pole dancing has many different styles, which require different fashion choices – footwear included. You can practice pole dancing wearing a variety of different shoes, such as high heels (stripper shoes/pleasers), ballet pumps or barefoot. Yoga shoes are fairly new to the market and have gained popularity in the last few years, they just so happen to be perfect for pole fitness workouts, as well as yoga, gymnastics and dance.
What are Yoga Shoes?
Yoga Shoes are fabric shoes with grippy soles that have a velcro strap that goes over the top of your foot while keeping your toes exposed. You're still able to fully flex and bend your feet, point your toes and maintain full mobility of your feet and ankles without feeling restricted in any way.
They're a great option for pole dancing, especially during practice sessions where you want some form of protection for your feet without wearing heavy shoes.
Why Yoga Shoes Are Perfect for Pole Fitness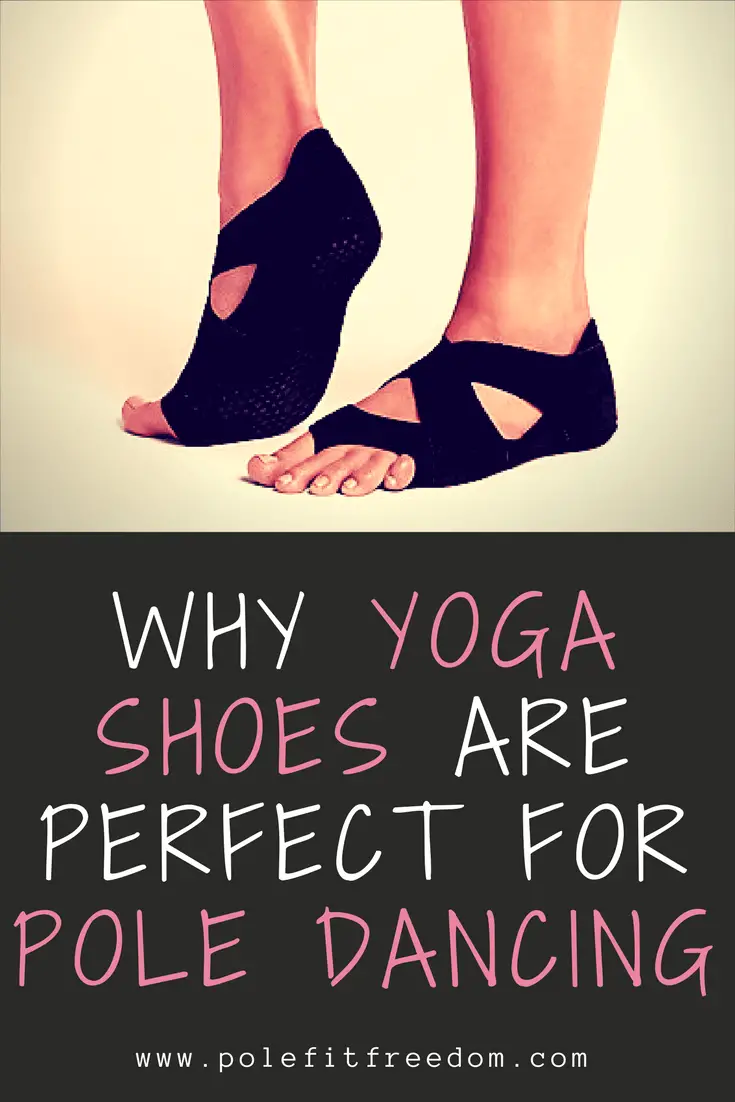 Here are some reasons why yoga shoes are perfect for pole dancing…
They Protect Your Feet
Certain pole moves are tough on your delicate feet, especially moves that involve climbing or gripping with your lower legs. If you're a barefoot dancer, you may notice that the top of your feet will bruise easily, and wearing yoga shoes helps to prevent that.
If you don't want to wear full ankle protectors, like the ones from Mighty Grip, then yoga shoes offer a lightweight alternative.
They Help Keep Your Feet Clean
The floor in gyms, pole dance studios or nightclubs isn't going to be the cleanest. Your feet with pick up dirt very quickly if you decide to workout barefoot. Just think about the number of people with their dirty shoes and feet running around on a gym's floor all day!
After a pole dance workout, washing my feet is one of the first things I do. By wearing yoga shoes, they protect your feet from the floor filth! They're also machine washable.
Read about the time I accidentally ate floor dirt when I was teaching a class.
They Don't Compromise Your Ability to Grip
Yoga Shoes stay on your feet with two small straps that Velcro over the top of your foot. Some yoga shoes will have an ankle strap too. That means that all the areas of skin you need to grip the pole are exposed and won't be compromised by the fabric.
They're Great for Slippery Floors
If your pole studio or workout space has slippery floors, then yoga shoes have grippy soles to prevent you from slipping when warming up or doing floor work.
They're Super Comfortable
Once these are on your feet, you'll never want to take them off! If you're like me, you prefer to have something on your feet when working out, even if it's indoors.
By wearing yoga shoes, it feels as if you have something sturdy on your feet while still having full mobility and flexibility.
They're Very Stylish
Yoga Shoes can complete an outfit for Pole dancing. They look great with a pair of shorts and even with leg-warmers (although fabric leg warmers will compromise your ability to grip with your legs.
Yoga Shoes are a great addition to any pole dancer's wardrobe.
Where to Buy the Best Yoga Shoes
You can buy yoga shoes online, in various different stores depending on your budget.
On a Tight Budget?
You can get some amazing yoga shoes for under $15! If you're on a budget, try these from ToeSox or these brightly colored yoga socks on Amazon (although, they are less substantial than the shoes)!
Want to Splash out on Yoga Shoes?
The Danshuz Neoprene Cross Wrap Shoes are some of the best yoga shoes available, they're the most sturdy and provide the most support, they also have a better design than some of the budget options.
Find the lowest price on Yoga Shoes
See also: 15 essentials for a pole dancers gym bag
---
What are your favorite shoes for pole dancing? Let us know by leaving a comment below!
Happy poling!
Pin this Post
This post contains affiliate links. That means that, at no extra cost to you, we may receive a small commission if you buy a product using one of the links on this page. Read our full disclosure here.