Last Updated on May 21, 2023
This article may contain affiliate links. This means that at no extra cost to you, I may earn a commission if you use one of these links to make a purchase.
Read the full disclosure
.
What do you keep inside your gym bag? Going to a pole dancing class is not like going to the regular gym.
You're working out using dance poles; this requires the correct clothing, grip and technique. You'll be performing tricks which have an increased risk of bruising and friction burns, so it's good to be prepared.
Many pole dancers have their 'kit' which they bring to their classes or workout sessions.
This kit mostly contains items specific to pole dancing, with a few general exceptions to help make your workout sessions easier!
Grip Aid
The first essential for a Pole Dancer's gym bag is Grip Aid. Of course. It's a good idea to use your own grip aid in case your studio doesn't stock any or doesn't stock the one you prefer.
Fortunately, we've used all of the major grip aid products extensively, and we're in the process of reviewing them all!
See what we've reviewed so far:
A little goes a long way with most of these grip aid products, so it's always worth carrying some with you.
---
Antiperspirant / Deodorant
Grip Aids are good for your hands, but what about the other sweaty areas of your body?
Applying antiperspirant before class will help prevent General sweetness and bad odors.
If you're allergic to ingredients in regular antiperspirants, try this powdered deodorant from Lush – it doesn't leave a residue and it smells gorgeous!
---
Portable Phone Charger
If you like taking photos and videos to document your progress, it's useful to carry a portable phone charger, like this Anker charger from Amazon.
It's so frustrating when your phone starts yelling at you with low battery warnings!
The Anker charger can also charge two devices at once, several times before it itself needs a re-charge.
A portable charger is also a great investment if you're a phone junkie!
---
Bluetooth Speaker for Music
If you love listening to your own music when you're practising, working out or creating a new routine, then a blue tooth speaker is a great idea.
You can pair it with your phone and the sound quality on this speaker, in particular, is amazing.
---
Band-aids / Plasters
It's common for pole dancers to have cuts, scrapes and bruises.
But, the last thing you want is for a scab to fall off and bleed all over yourself/the floor/the pole during a lesson.
If your studio doesn't keep plasters (and it should!) then carry your own.
Don't bother with boring flesh colored band-aids, get these colorful unicorn ones instead!
---
Pole Shorts
Duh! Pole Dancers need shorts!
I always carry a couple of pairs of black shorts in my bag so I'm always ready for an impromptu pole practice session 🙂
There's nothing worse than getting to class and realising you've left your shorts behind!
---
Sports Bra
Regular bras are not ideal for pole dancing. The wires and straps are restricting your movement, so, a sports bra is often a better option for pole dancers.
Shop Sports Bras Here
---
Fit Grip Socks
Socks like these would look extra stylish for a pole workout session.
Related: How to turn any pair of shoes into sexy pole dancing boots!
---
Gymnast's Water Bottle
This beautifully designed water bottle is perfect for pole dancers to take with them to classes or just use on a daily basis!
---
Microfiber Towel
Another essential for a pole dancer's gym bag is a microfiber towel.
These are an awesome invention, and you need one! They fold up much smaller than regular towels, they dry really fast and are anti-bacterial.
They're great for keeping yourself dry during a workout session, or you can also use them to wipe the pole when you notice it becoming slippery.
A microfiber towel takes up no room in your bag; it's a great thing to carry with you.
---
Legwarmers
Wearing legwarmers will help to stay warm during the cold winter months! They also look great for photos and to wear during warm-ups and spins that don't require a lot of lower-leg grip.
---
Hand Sanitizer
Your hands can feel disgusting after a pole workout. Nothing is a substitute for warm, soapy water – but hand sanitizer will kill any bacteria and germs you've picked up during your session.
Just think about how many dead skill cells are on that pole – gross! And that's before you consider the ongoing panorama.
---
Leggings
If you live in a cold country, consider wearing leggings during your warm up.
This will help ease the pain of bare skin on freezing metal!
Forget plain, boring leggings! These bold galaxy leggings are way more fun to wear to a fitness class and they look great in photos too.
---
Yoga Shoes
So, as a pole dancer, if an item has the word 'yoga' in front of it, you can bet it'll be great for pole too!
Yoga shoes sure look strange, but the super comfortable. I wear these during warm-ups and pole circuits as it's nice to have something on your feet (that aren't stripper shoes!) Find out why Yoga Shoes are perfect for pole dancers in our latest post.
---
Stripper Shoes!
OK, so you may not wear stripper shoes/pleasers to every class, but, they're great for photos and videos so, it's nice to keep your favourite pair in your bag so you're always prepared for every pole related eventuality 🙂
If you're not used to wearing pleasers, these are a good place to start!
Check out our list of the most beautiful Pleaser Pole Shoes here, and our list of the most awesome boots for pole dancing too!
---
Arnica Gel
…for when the inevitable bruise of the week happens, arnica gel is your saviour! Arnica Gel is a natural pain reliever, the gel is not sticky or greasy and can ease a variety of different pole-related aches and bruises.
If you apply Arnica Gel as soon as possible after a bruise occurs, it will reduce the swelling and help you heal faster!
Recommended read: How to treat pole dancing bruises and injuries
---
Pole Dancing Wrist Wrap
Wrist wraps are exactly what they say they are! They wrap around your wrist to provide protection, as your wrists are under a lot of stress when pole dancing. SneakyDeez makes completely unique wrist wraps, each one of their products is limited edition and handmade. Check them out here!
---
Knee Pads For Dancers
Especially for floorwork days, knee pads can protect your poor knees from some nasty bruises and burns.
Mighty Grip makes their own tacky knee pads especially for pole dancing, but any knee pads will do. The image below is the Danshuz Adult Knee Pads for Dancers, but I've just bought these ASICS Ace Low Profile Knee Pads too!
Shop Knee Pads for Pole Dancers
Grippy Knee Pads
There are also some seriously stylish options for pole dancers who wear knee pads for floorwork or to protect their knees when gripping the pole. Check out Vertical Wise for a selection of the most stylish knee pads available!
---
Hair Ties
Last, but not least – simple hair ties! Always handy to keep these with you to tie your hair up when you're working out.
---
Pole Dancing Gym Bag
You'll need a beautiful gym bag to actually keep all this stuff in! This useful gym bag is water resistant and has a great design!
---
So those are some essential items for a Pole Dancer's Gym Bag. Hopefully, it's given you some ideas of what to keep in your workout bag, or some gift ideas for the special pole dancer in your life!
Hope you enjoyed reading, don't forget to read some of the other great posts from Pole Fit Freedom:
Happy Poling!
---
Pin this List
Save this post to your Pinterest Boards with this image: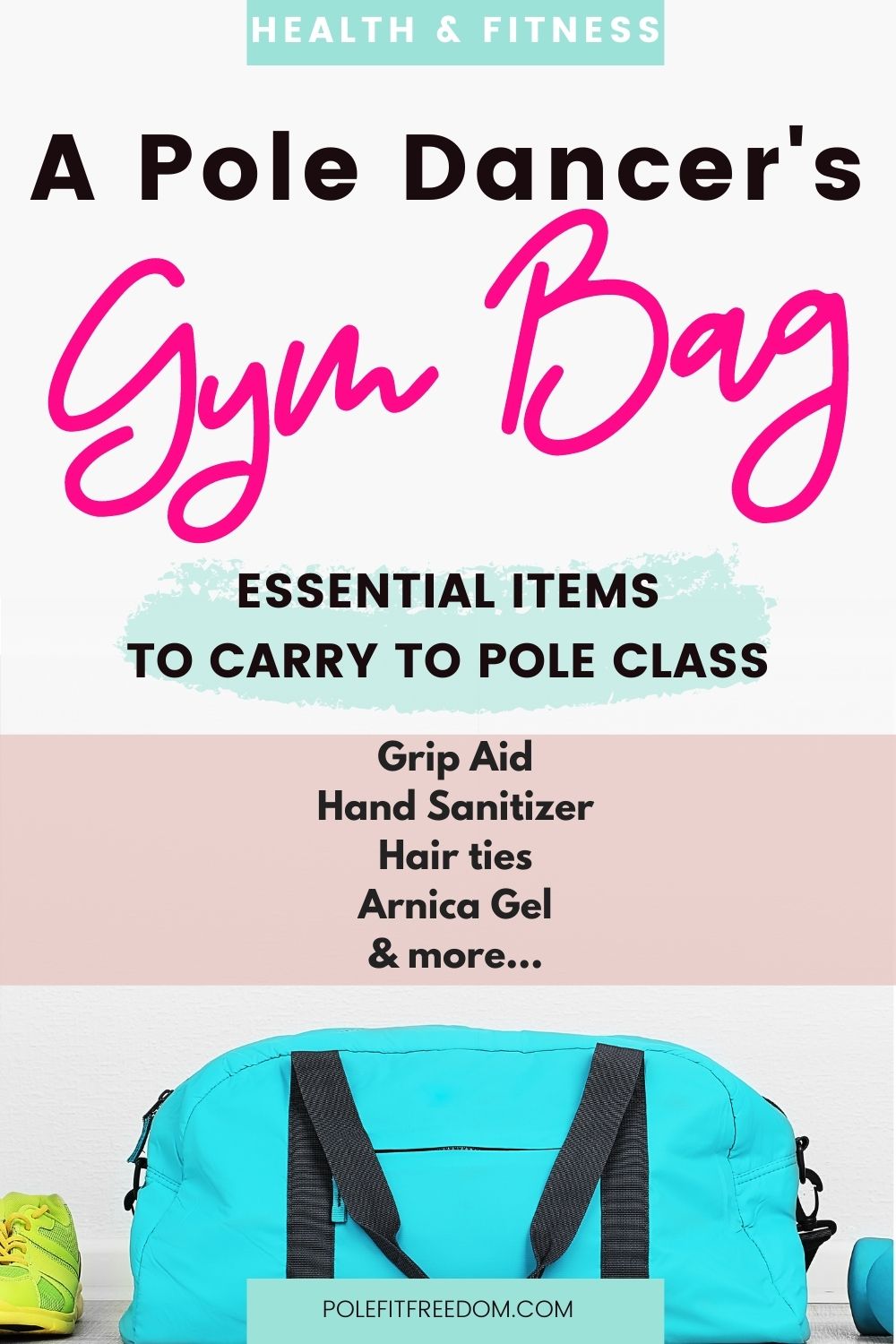 This post may contain affiliate links. That means that, at no extra cost to you, we may receive a small commission if you buy a product. Read our full disclosure here.