Last Updated on February 8, 2023
This article may contain affiliate links. This means that at no extra cost to you, I may earn a commission if you use one of these links to make a purchase.
Read the full disclosure
.
Here's a quick update from me and it's my daily routine! A day in the life of a pole dance instructor!
So, this is a typical work day for me. I also have a job which I have to attend an office one day per week, other than that I'm mostly just teaching pole classes and running my consultancy business!
Welcome to Confessions of  Pole Dance Instructor! This is a series of blog posts where Pole Dance Instructors (like myself) share our stories.
If you're thinking of learning how to pole dance for fitness or fun, then find out how you can Learn Pole Dancing at home here.
Here is what this pole dancer gets up to on a daily basis.
6.00am Wake up
Yes, I wake up at 6am. I've always been an early riser, it helps me get more work done during the day if I actually get up when my body naturally wakes up, which is usually around 6am.
6.15am Yoga at Home
Before I do anything in the morning, I do a quick yoga routine that takes about 20 minutes.
6.45am Morning Run
Most days I go for a quick run, nothing to brag about, literally 15-20 minutes just around a couple of blocks. However, twice per week these days I would replace this short run with a short HIIT session instead!
7.15am Shower
After all that sweaty running, I definitely need this shower!
7.45am Breakfast
I'm actually eat a really unhealthy breakfast. Wholemeal toast and pancakes with syrup, or porridge with honey and some fruit.
It's not the best, adding that extra sugar but it tastes so good!
8.00am Teach Private Lesson
8am is a great slot for a private lesson, so it gets booked up quickly by eager students!
I actually teach this slot to friends and locals only, so its usually one of my neighbors who snaps this one up, as I teach this slot from home in my living room!
On days when I don't teach, I would have a massage or meditate instead.
Want to become an amazing pole dancer?
Open Dance Academy has over 450 online lessons, by some world famous pole dancing champions! Join now to get:
***GET 10% OFF OPEN DANCE ACADEMY***
Use the code polefitfreedom to get 10% off Pole Dancing Lessons with Open Dance Academy. This is an exclusive offer for readers of this blog!
9.30am Daily Admin
This mostly involves getting work done on this blog, replying to emails, answering questions, etc.
We get a surprising amount of requests and emails from readers, you're always welcome to get in touch!
11.30am Mid-Morning Snack
Time for some potato chips and guacamole. Yummy. Sometimes also a cookie.
12.00pm Daily Practice
I try to get in a daily pole dancing practice, either alone or with my workout buddy and follow instructor, Tammy.
As an instructor it's important to me that I'm continuously improving and staying on top of my game. I also use this time to come up with new transitions, tricks and ideas to use during classes.
1.30pm Lunch with Friends
For me and my friends, who are all so busy, lunch is one of the only times we have to properly catch up with each other! Lunch itself consists of salad or a wrap with some fruit and yogurt. Sometimes, we'll split a dessert between us but as fitness enthusiasts, we don't make a habit of it!
2.30pm Writing
Since starting this website, my afternoons are filled with writing, which I absolutely love. It's a new hobby for me and it helps me earn some extra income.
4.30pm Afternoon Snack
I'm really digging Middle Eastern food at the moment, so today it was Tahini Dip with Pickled Vegetables and Falafel. Tasty.
6.30pm Teaching Pole Classes
The pole studio I currently base myself at has 2 hours of classes every night. I teach 3 evenings per week, usually a Monday, Tuesday and Friday, but this can vary.
I also have a studio at home, but this is mostly for private use.
Monday's and Tuesday's lessons are mixed ability, and Fridays are mostly Intermediate-advanced students.
8.30pm Tidy Pole Studio
I give all of the poles a quick wipe, sweep the floor and freshen up the changing area as well as clean the mirrors.
9pm Evening Snack
I've never been good at properly eating dinner, so I try to grab some veggie noodles on the way home.
9.30pm Reading and/or Social Media
During this downtime, I'll either read my Kindle, listen to comedy podcasts or catch up on my personal social media! I usually go through my student's Instagram's and like their pics and stories!
10.30pm Bedtime
I have to go to sleep relatively early because I wake up early and have a busy schedule!
So that's my daily routine! Are you a pole dancer who'd like to share a guest post? Get in touch here!
More Confessions
Here are some previous posts from this blog series.
If you're a Pole Dance Instructor (or a stripper!) and you're interested in submitting your story or experience, you can do so here.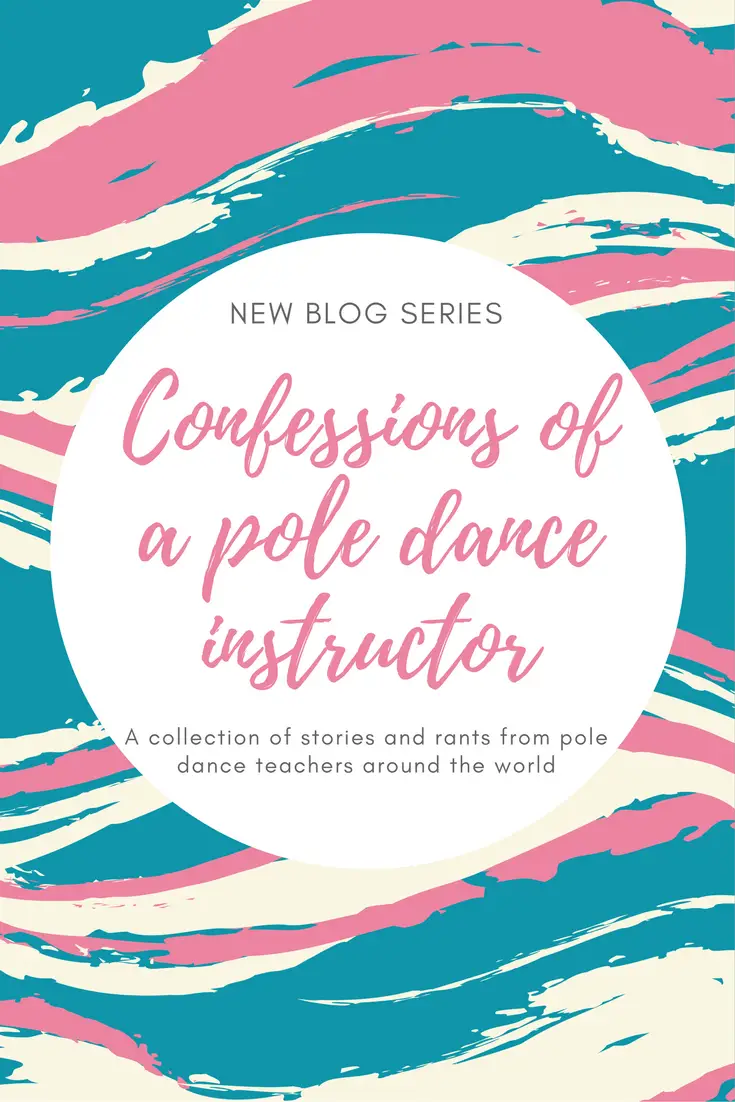 Happy poling!


This post contains affiliate links. That means that, at no extra cost to you, we may receive a small commission if you buy a product using one of the links on this page. Read our full disclosure here.