Last Updated on February 7, 2023
This article may contain affiliate links. This means that at no extra cost to you, I may earn a commission if you use one of these links to make a purchase.
Read the full disclosure
.
Are you constantly looking for new and different songs for your pole dance routines? Are you also fed up with the same old songs being played in pole studios and clubs around the country?
We've put together this list of beautiful classic, retro & vintage songs for pole dance routines to give you some inspiration.
These songs will add a touch of glamour to your workouts, as we travel back through time to the golden age of glamour and class. We have more playlists of songs for pole dancing routines here!
But, for now, here are some class & vintage songs to give you ideas for your next pole dance routine.
A Touch Of Class: Classic, Retro & Vintage Songs For Pole Dancing Routines
Searching for music for your pole dance routines can be frustrating if you can't find the right song. You might find something that you love, but its lyrics don't accurately represent what you're trying to convey through your routine.
Hopefully, you will like these suggestions. If you have any ideas to add to this list, please leave a comment below.
By the way, the fact that this list contains only female vocalists is coincidental and was not intentional – it just turned out to be that way 🙂
Want to Learn Pole Dancing?
Open Dance Academy has over 450 online lessons, by some world famous pole dancing champions! Join now to get:
Access to more than 450 high-quality video lessons with the lifetime access option ($350)
Excellent value for money when compared to the price of local pole dancing classes
Suitable for beginner, intermediate, advanced & expert pole dancers
***GET 10% OFF OPEN DANCE ACADEMY***
Use the code polefitfreedom to get 10% off Pole Dancing Lessons with Open Dance Academy. This is an exclusive offer for readers of this blog!
1. Lesley Gore – You Don't Own Me
---
2. Peggy Lee – Fever
---
3. Peggy Lee – Why Don't You Do Right?
---
4. Shirley Bassey – Big Spender
---
5. Shirley Bassey – Diamonds Are Forever
See Also: 12 Dark, Intense & Melodic Songs For Pole Dancing Routines
---
6. Dusty Springfield – I Just Don't Know What To Do
---
7. Janis Joplin – Piece Of My Heart
See Also: 15 Perfect Rock & Heavy Metal Songs For Pole Dancing
---
8. Nina Simone – I Put A Spell On You
---
9. Etta James – It's a Man's Man's World
---
10. Nancy Sinatra – Bang Bang
---
Pin This List On Pinterest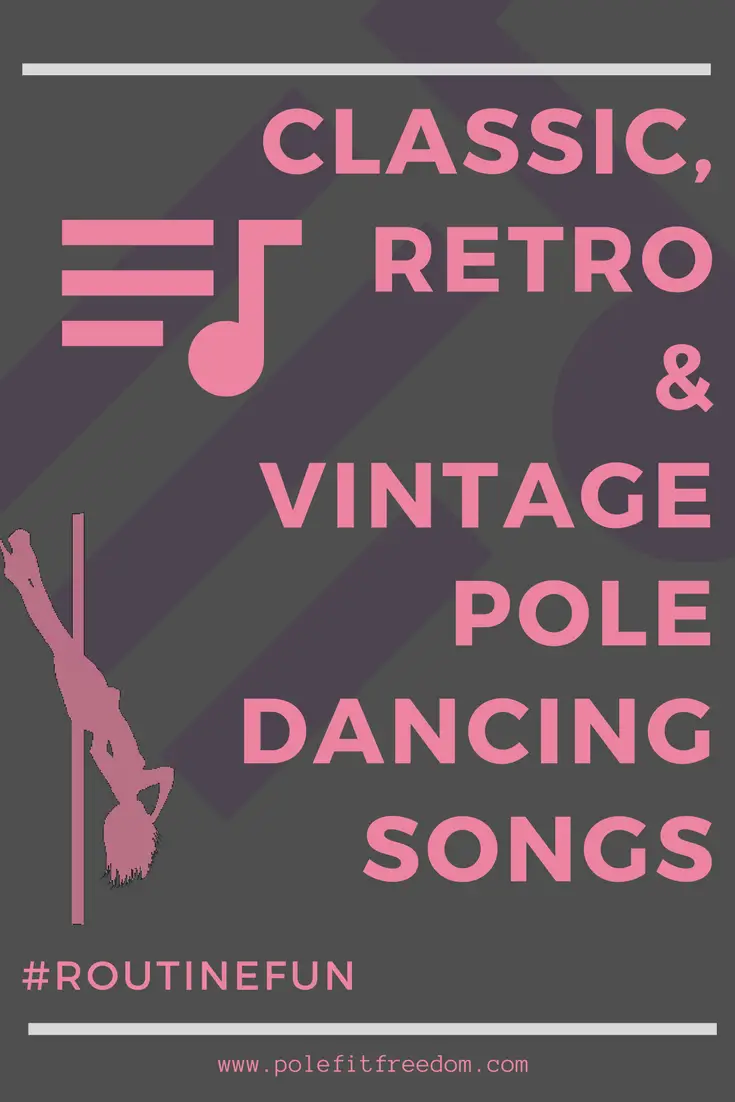 What Are Your Favourite Vintage Songs For Pole Dancing?
Leave a comment below with your favorite retro and vintage tunes, and don't forget to check out more playlists of songs for pole dancing routines here!
Happy Poling!
Don't forget to check out Amazon Music Unlimited with a 30-day Free Trial to listen to all these songs, plus 100,000s more!