Are you hoping to start a fitness blog of your very own? We've put together this comprehensive, but easy-to-understand guide for you – the aspiring fitness blogger – to get started on your blogging journey.
There are affiliate links on this page – this means that we earn a commission if you make a purchase using our links.
If you have no idea where to begin, or if you're researching your options, then this guide is for you!
Why Should You Start Your Own Fitness Blog?
Owning a blog or a website has many benefits and can open up new opportunities for you in the future.
✔ Blogging is a great way to track your fitness progress.
Many bloggers treat their blog like a modern journal, documenting and sharing their fitness progress with their friends and family, or even just for themselves. Other bloggers treat their blog more like a business to offer practical advice and tips to share with the world.
✔ Blogging can showcase your skills as a writer and photographer.
Owning a blog is an excellent way to keep a portfolio of your skills as a digital communicator or visual editor.
✔ You have the opportunity to earn an income from your blog.
There's advertising, affiliate marketing, sponsorship opportunities and a whole host of other ways to earn an income from owning a blog.
✔ You will learn tonnes of things about digital marketing, social media and website design
The best way to learn is to do, right? By throwing yourself in and getting on with it, you'll learn so much about websites, content management systems, search engine optimisation just by having your own blog.
So, don't delay! Find out how to start your own fitness blog today!
How To Start A Fitness Blog (Without Being A Website Designer Or Technical Expert!)
The process of setting up and maintaining a website is now easier than ever, it's so easy even I could do it!! 🙂 It may seem overwhelming at first like there is a lot to learn and get your head around. But, there's no need to be overwhelmed.
Just keep your passion in mind, write about what you love and it will start working for you. Being a blogger does not mean you will be an overnight success, there are a lot of people who will try to sell you a blueprint on how to earn a 6-figure income from your blog. Do not believe them. The most successful fitness bloggers are those who follow their passion and remain true to themselves.
Here are 7 simple steps for setting up your fitness blog.
1. Choose A Niche And Get To Know Your Audience
What's a niche? I hear you ask! Well, 'niche' is a word I personally hate, but if you want a blog then you're going to need a niche.
The worst mistake people make is saying "I want to target everyone…" Or "My blog is suitable for everyone of all ages…"
No.
You need to pick a target audience and narrow it down to a particular interest.
Fitness is not a niche. Pole dancing is a bit more of a niche, but pole dancing for weight loss is even more of a niche – get it?!
Be as specific as possible.
You should aim to understand your audience as much as possible. Learn about their online habits and their behaviour online, discover their interests and find out what they're talking about in online forums or on social media.
Knowing your audience is key to attracting a readership for your blog.
2. Pick A Name And Register The Domain Name (.com) Address
Once you know who your readers will be and know what you'll be writing about, it's time to pick a name.
Getting a dot-com domain name straight away is highly recommended. Many bloggers start on WordPress.com or blogger.com and eventually have to make the switch, only to find their perfect .com address is not available. It's also a massive pain in the ass to switch providers.
Your website name should be 7-14 letters, avoiding any dots or hyphens. If in doubt, keep it simple.
Domain names cost as little as $15 per year from GoDaddy, or many hosts will offer a free domain with a hosting package.
Check to see whether your domain ideas are available:
Read on to learn about web hosting.
3. Find A Good Web Host
Once you have a domain name, the next thing you will need is a good web host. A host is essentially somewhere for your website to live; all of its files and photos need to be stored on a web server.
For this, we recommend Bluehost.
Their packages start at $2.95 per month and they have excellent customer service.
Use this link to have a look at Bluehost's hosting packages.
If you have any trouble setting up your new domain name and hosting, contact Bluehost's Customer Support. They're open 24/7 and will be able to help you like they've helped me countless times!
4. Install WordPress
WordPress is a Content Management System (CMS) – it helps you manage your website easily from behind the scenes. There are many free alternatives available, however, WordPress is particularly popular with bloggers and small business owners due to its widespread support and customizations available.
Bluehost offers 1-Click Install for WordPress, so there's very little technical knowledge needed. It really is very simple!
You enter the name of your website and its tagline, your email address and you'll also set up a username and password for WordPress. This is very important, keep it very safe as you will need it to access the back area of your website.
5. Install A Beautiful Theme And Some Useful Plugins
From here, you'll need to install a theme to make your website look pretty and, most importantly, the way you want it to look.
There are thousands of free themes available. On your WordPress dashboard, navigate to Appearance > Themes and you'll be able to browse the library on available themes.
When your blog progresses, you may want to move on to use a more customisable, paid-for theme, such as Divi 3.0 by ElegantThemes.
A list of very useful (and free!) plugins for your new fitness blog:
Yoast SEO (for optimising your posts)
Wordfence (for security and protecting your site from hackers)
Google Analytics (for monitoring your website traffic)
Shareaholic (for sharing icons and related content beneath posts)
Akismet (Anti-spam)
Contact Form 7 (A simple contact form for your blog)
These are all free and can be installed using your WordPress dashboard with just a few clicks.
6. Start Creating Content
Now, here's the fun part. Start writing about what you love.
Write as much as possible, you can never have too much content. Write about what you love with your readers in mind, give them information that they will find useful and share your experiences in a meaningful way.
With modern communications, it's about so much more than just words. Remember to include loads of pictures with your blog posts, and videos too, if you can.
Here's a list of a few free tools to get you started (these will all open in a new tab):
You should definitely create an 'About' page and a 'Contact' page!
7. Promote Yourself On Social Media
Congratulations! You have successfully launched your fitness blog! Now, to get people to read it. You know, the reason why you started a blog in the first place!
It's very easy to become initially discouraged, as, in the early stages of your blog, you will have very few readers. But that's OK, everyone has to start somewhere.
Search engines can take several weeks/months to truly discover a new site and start sending traffic its way, fortunately, you can use social media to help gain you traffic in the meantime!
Setup your profiles on the usual social media platforms (Twitter, Facebook, Instagram, Pinterest) and start being active on each one. You should ideally post at least once per day, be consistent, engage with others users in your niche, post pictures and videos, and most importantly be friendly and be welcoming to your subscribers/followers.
Again, don't expect to be an overnight success but consistency is key to successfully growing these channels.
Pinterest can do a lot to help you gain traffic, so get into the habit of creating vertical Pinterest-style images to accompany your blog posts, so you can pin them on Pinterest, linking back to your article. It really is a great source of traffic.
That's it!
Well done! You're now well on the road to success as a new fitness blogger. Want to take your knowledge to the next level?
Optional Steps To Level-Up!
Here are a few extra steps to really step up your blogging game!
Learn SEO, Content marketing and social media management
For bloggers, Search Engine Optimization (SEO) is what is going to help you "win" the game. If your goal is gain a lot of traffic, then search engines will bring that to you.
Social media channels can be very challenging to grow, by learning the strategic use of social media, you can do this much faster than tweeting and waiting for people to follow you!
You could also learn about creating various types of content, infographics, videos, advertisements, etc to broaden your blogging horizons and create something unique, that sets you apart from the competition.
Learn how to make money from your new blog
There are tonnes of resources online for bloggers who want to earn money. Whether you want a side-hustle, or turn blogging into your career as a digital influencer, there are loads of options available to you!
Without going into too much detail, here are a few options for you to look into:
Affiliate marketing (You get a % commission for each sale you send to a store. This is tracked using tracking links with a unique code that shows that you sent the customer)
Advertising (Google Adsense, Mediavine, Media.Net are just a few online advertising networks. You paste a few lines of code into your site and targeted adverts will be shown to your readers. You get paid-per-click.
Brand sponsorships (Partnering with a brand to review or mention their product in return for a fee, usually negotiated beforehand)
Other ways that bloggers make money
All of the above, with an e-mail list to boost clicks to their affiliates
Freelance writing
Selling photos to stock photography websites
Selling e-courses or webinars
Providing consultancy or advice online
Working as a virtual assistant (VA for short. Scheduling social media updates for brands, performing tasks for other bloggers, etc)
Selling physical products (merchandise, bags, t-shirts, etc)
Selling digital products (e-books, photography, etc)
As you can see, there are loads of ways you can make money from your blog!
Follow other blogs
If you want to succeed, you should be looking at what other successful people are doing an analyse why they're doing so well.
Here are a few fitness blogs to be inspired by:
Frequently Asked Questions (FAQ)
"I'm terrible at spelling and writing!"
I'm sure that's not the case! But, there's always room for improvement. You could signup for an online writing course on Skillshare or Udemy, and use the browser add-on Grammarly to check yourself!
"But I can't write code for websites!"
That's cool, neither can I. You really do not need any coding skill to use WordPress with a pre-made theme. If you ever require help, contact your host or find a web developer on Fiverr who can help you.
"I get writer's block!"
Don't we all! Find some inspiration by thinking about common problems in your niche, and write guides on how to overcome those problems; read forums, social media and Reddit and take note of what other users are talking about, what they're asking questions on, etc and you should find plenty of ideas of what to write about!
If you have any other questions about starting a fitness blog, please get in touch and we'll get back to you!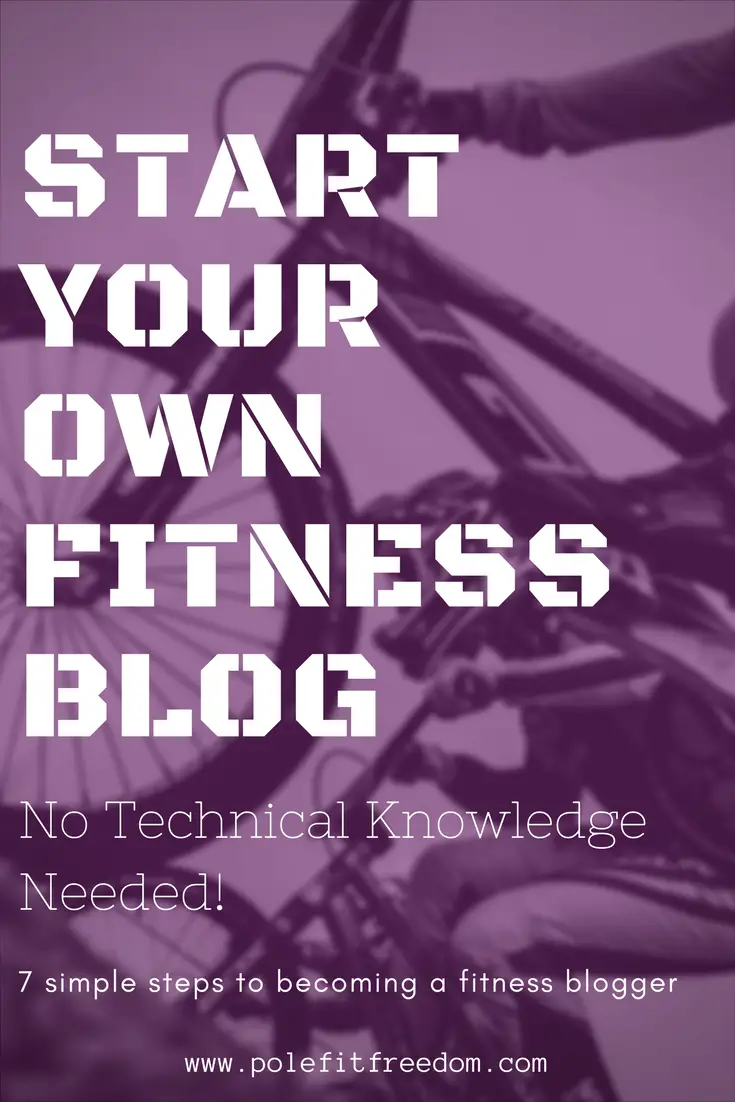 Happy blogging!
This post contains affiliate links. That means that, at no extra cost to you, we may receive a small commission if you buy a product using one of the links on this page. Read our full disclosure here.