Last Updated on December 16, 2022
This article may contain affiliate links. This means that at no extra cost to you, I may earn a commission if you use one of these links to make a purchase.
Read the full disclosure
.
We love reviewing products so that you can make the most of the various products out there for pole dancers! In this post, we're going to review Mighty Grip Gloves, which are a very popular product for Pole Dancers.
Mighty Grip Gloves are available in two versions: with tack and without tack, for spinning and static/stationary poles respectively.
If you find gripping the pole difficult, then this review will help you decide whether Mighty Grip Gloves are right for you, or if you should try a different product.
We've used various pole dancing grip aid products for over 10 years now and have come to understand the advantages and disadvantages of many different products.
This is a review of Mighty Grip Pole Dancing Gloves, we will be reviewing both versions of the gloves, in both the tack and non-tack versions.
Mighty Grip is very well known within the pole dancing community, they make several pole dancing grip products, including ankle protectors, grip powder and thigh protectors. Let's focus on the gloves for now…
Review of Mighty Grip Gloves for Pole Dancers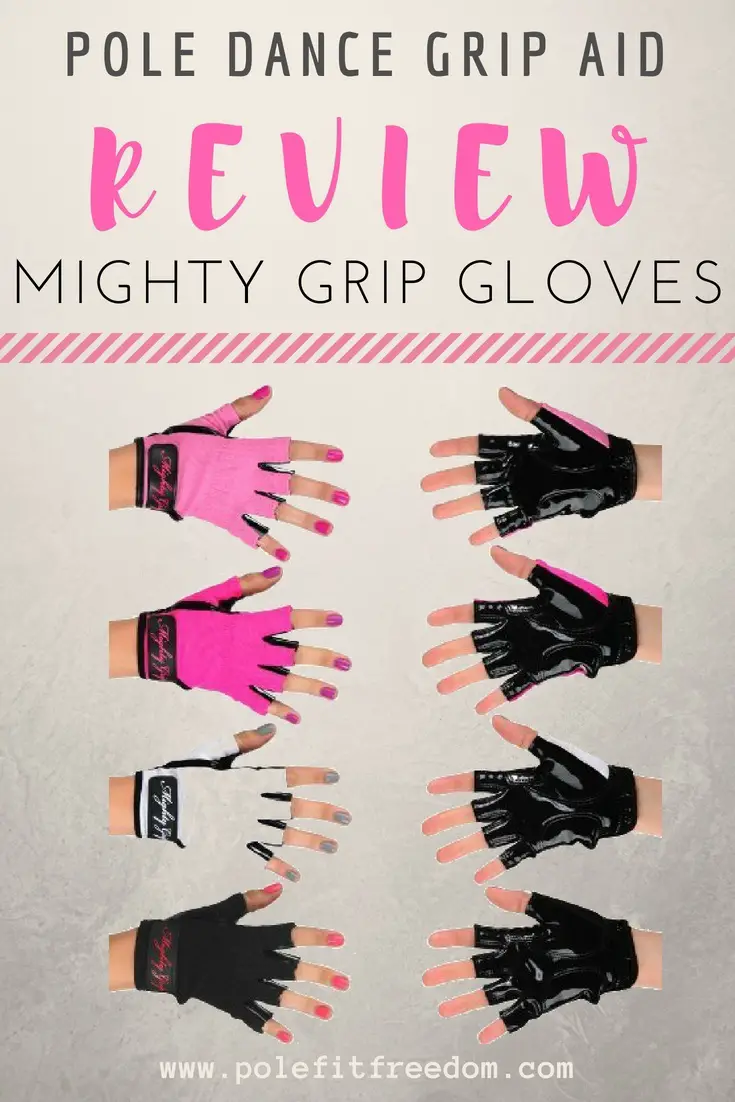 Features: Mighty Grip Gloves
Designed to provide solid hand grip to perform tricks and spins on the pole
Available in a range of sizes: X-Small, Small, Medium and Large, so you can have the most perfect-fitting gloves
Fingerless, available with or without tack strips for extra grip
Tack strips: for performing on a spinning pole
Without tack strips: for performing on a stationary/static pole
Choice of colors: black, white or pink
Will not leave any sticky residue on your skin, your clothes or the pole
Adds a layer of protection between your skin and the pole
Prevents the risk or injuries caused by slipping
---
Tack strips vs No tack strips
Mighty Grip Gloves with tack strips are great for using on a spinning pole, such as the X Pole XPERT. Wearing these gloves with tack strips will ensure that your hands stay firmly in place and will not budge, allowing you to gracefully spin yourself around the pole with added protection.
Mighty Grip Gloves without tack strips are more suitable for use with a static/stationary pole. This is because they allow you to spin smoothly on a stationary pole without getting stuck in place!
Find the Correct Size
The Mighty Grip Pole Dancing Gloves are available in 4 sizes, they should have a snug fit. You will need a tape measure to find out which size to buy.
You should wrap a tape measure around the palm of your hand and use this size chart:
| | | |
| --- | --- | --- |
|   | Inches | Cm |
| X-Small | 6″ | 15cm |
| Small | 7″ | 17.5cm |
| Medium | 7.5″ | 18.3cm |
| Large | 8″ | 20cm |
Mighty Grip advise that you should consider buying one size larger than your usual size if you choose the gloves with the tack strip. But, I tried both versions in a size small, and they both fitted perfectly well.
---
How do Mighty Grip Gloves help you grip the pole?
The material provides extra friction between your skin and the pole, helping you to grip. They also help you to feel more comfortable, especially if you have the extra challenge of sensitive hands..
If you have sweaty palms, they also help to prevent sweatiness getting in the way of your gripping abilities. You can also use a bit of the Mighty Grip Powder too to prevent your hands slipping inside the gloves.
---
Pros of Mighty Grip Gloves
Proven to work well for very sweaty skin
The different sizes mean you can find a pair that's the perfect fit
Works very well for non-sweaty hands too
Great for beginners who are hoping to gain confidence
Also great for learning new tricks that need extra support
Relatively inexpensive for a grip product
Cons of Mighty Grip Gloves
The gloves can become worn out quickly, splitting at the sides if they're worn a lot
If you have very sweaty hands, your hands may slip inside the gloves, this can be avoided if you also use Mighty Grip Powder
It can harm your progress in the long-term if you rely on grip products too much.
---
Conclusion: Should your buy Mighty Grip Gloves?
So, are these gloves the perfect grip solution or just another gimmick? Most importantly, should you buy them?
Yes, we recommend Mighty Grip Gloves, both with or without the tack strips (depending on your needs), but, they should only be used when you're first starting to practice a move so that you don't become reliant on them.
Make sure you have the right size. If you're unsure or on the border of two different sizes, then order 2 pairs and send back the unwanted ones. If you end up with the wrong size gloves, then they're absolutely useless!
Overall, these are a good purchase for a beginner pole dancer as they help build your confidence. Always work on moves with and without the gloves, use the gloves as a learning tool rather than a necessity for every performance.
---
Product Rating
4/5
The only reason these gloves have 4 stars out of 5 is that they become worn quicker than you would expect. If the material was made stronger then they may not be as comfortable and flexible to wear.
Where to buy Mighty Grip Gloves
Like with most pole dance grip aid products, you can often find these on offer on Amazon.com or similar.
As the price varies, it's best to check on Amazon what the current price is:
Click here to reveal the lowest price of the gloves WITH Tack Strips
Click here to reveal the lowest price of the gloves WITHOUT Tack Strips
Read our other reviews of Pole Dancing Grip Aid Products here
Happy Poling!
This post contains affiliate links. That means that, at no extra cost to you, we may receive a small commission if you buy a product using one of the links on this page. Read our full disclosure here.