Last Updated on January 30, 2023
This article may contain affiliate links. This means that at no extra cost to you, I may earn a commission if you use one of these links to make a purchase.
Read the full disclosure
.
Not many of us are lucky enough to live in large houses or apartments. But, that certainly doesn't mean that you can't pole dance at home, within reason, of course! Pole dancing in a small space is completely possible, with a few compromises in place, it's very easy to use a dance pole in a small room.
This article will help pole dancers who have the dilemma of wanting to invest in their fitness by buying their own dance pole to use at home but are seriously restricted by the amount of space available. If you're a Pole dancer who lives in a small apartment, this article is for you!
A confined space or a small room may not sound like the ideal place to put a dance pole and I won't lie – it certainly isn't ideal. But, with some workarounds and a few compromises, you can definitely make the most of pole dancing in a small space.
You will learn:
What to consider before using a dance pole in a small space
The best portable dance poles to use when space is limited
How to make the best of pole dancing in a small space
Want to become an amazing pole dancer?
Open Dance Academy has over 450 online lessons, by some world famous pole dancing champions! Join now to get:
***GET 10% OFF OPEN DANCE ACADEMY***
Use the code polefitfreedom to get 10% off Pole Dancing Lessons with Open Dance Academy. This is an exclusive offer for readers of this blog!
Tips for Pole Dancing in a Small Space
It's definitely possible to pole dance in a small space, even if you do have to compromise. To begin, you'll need to evaluate your space and decide what type of dance pole you want to use.
With a lack of usable floor space, a portable/removable dance pole is better than a freestanding pole with a large base.
One of the first times I ever saw a dance pole in someone's house, it was in a very small space but its owner was still able to use it to practice all the time.
Evaluate your Space
First of all, you'll need to evaluate your space and decide what type of dance pole you want to use.
As you'll be pole dancing in a small space, the lack of useable floor-area will mean that freestanding dance poles are out of the question, I'm afraid. They take up a lot of room with their large bases, so for small rooms, you're much better off with a removable floor-ceiling pole, such as an X Pole Sport or X Pole XPERT.
Try to aim to have clear floor space within a 2.5 feet radius of the pole.
A 4-5 foot radius is ideal, but 2-2.5 foot is the very minimum you will need to perform tricks where you'll be very close to the pole.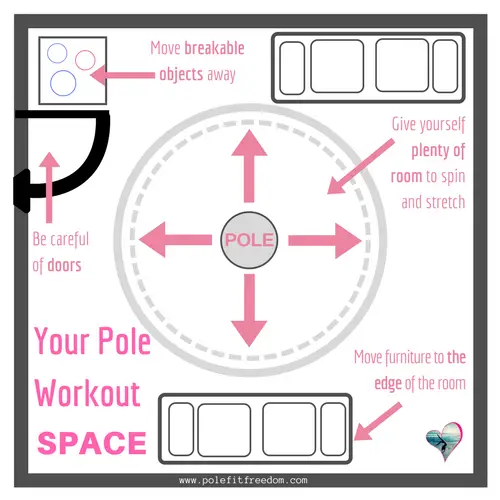 If it's possible, you could temporarily re-arrange your furniture in your room before each workout, people do it if their space is limited and they're serious about pole!
Watch out for pictures and things hanging on the wall, it's easy to knock things when you're pole dancing in a small space! The same goes for light fittings hanging from the ceiling, as they're certainly going to get kicked at some point!
See also: Can you install a pole on carpet?
Low Ceilings
Next, measure your ceiling height. If you have a low ceiling (below 9 feet) then you can easily use commercially available poles, but you won't need all of the extension pieces that come with the pole. But, if your ceiling height is below 7 and a half feet, then the poles will be too tall for your room.
You will need to locate a ceiling joist, which is the most stable place for your pole. In a small space, you'll want to choose somewhere with enough usable floor area to comfortable walk around the pole, which will probably be as close the center of the room as you can manage.
Vaulted Ceilings
If you have a vaulted (diagonal) ceiling, or your pole dancing space is in the roof space of your home, then you're still able to use a dance pole, but it requires a permanent mount. This means you will have to drill into the ceiling. As far as I'm aware, only X Poles have mounts which are suitable for vaulted ceilings.
You can buy mounts for vaulted ceilings directly from X Pole, here. – This page has many different mounts for X Poles, the one you need is called "vaulted mount" and check which X Pole you have first 🙂
If you do have a vaulted ceiling that comes down quite low, then you will be able to perform certain extended pole tricks, depending on which direction you're facing while on the pole!
Compromising on Pole Tricks
You may have to practice a pencil instead of an extended butterfly, but you can use it to work on your fitness, strength, flexibility, floorwork, and certain moves that are close to the pole.
Have a look at this wonderful Harry Potter themed pole dance, she is dancing in a very small apartment:
(Video by Erika Rodgers who is dancing on an X Pole XPERT)
You see, it is totally possible to pull off some kickass moves within a restricted space! Here are some tips for you if you're currently facing the dilemma of pole dancing in a small space!
Find a Dance Pole Suitable for You
There are tonnes of articles on this site with information on buying a dance pole. So that we're not repeating ourselves, click on these links to read the articles you may find useful.
We've also reviewed many portable dance poles to help you find the best one for you:
Hopefully, there's enough information there for you to make a decision!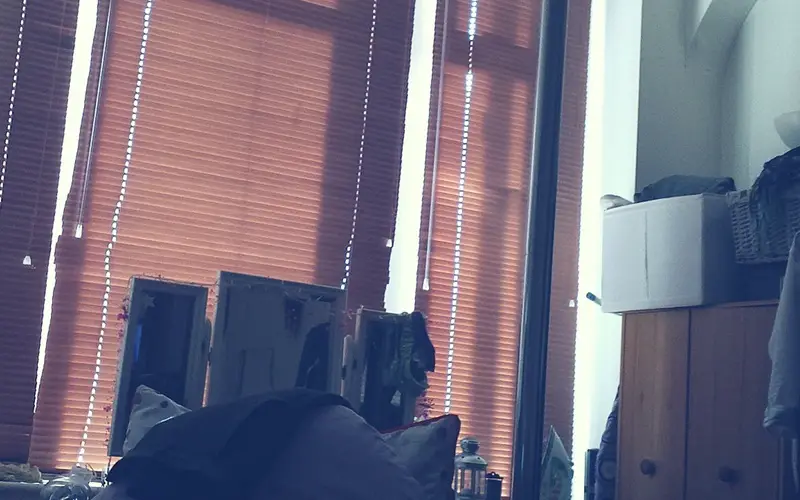 Pick Your Moves Carefully
You obviously won't be able to pull everything off that you would normally practice in your pole fitness class. For example, a Janerio, Flag or Carousel Spin would be difficult to perform without adequate space!
Here are some tricks which are possible to perform within a limited space:
Back-hook spin
Front-hook spin
Vertical Splits
Down Splits
Crucifix
Pole seat
Chair spin
Basic Butterfly
Invert Crucifix
Iguana
Climbs
Handstand/headstand
Pencil / Handspring
These are just a few examples of tricks, there are hundreds more! Also, there are lots of fitness-based, strength-building and pole conditioning moves you can perform within a limited space:
Pull-ups
Knee Raises
Hang tough
Side-crunches
Stretches
As you get more confident using the pole in a small space, you'll know what's possible an what isn't, so you'll be able to measure your compromises or even create your own variations of other moves.
You could try a trick such as Jade Splits, but with bent legs instead of straight legs.
Stay Safe!
Whenever you're pole dancing at home, especially in a small space then you need to keep safety and Injury prevention at the front of your mind!
We've written loads of articles on this topic, so have a look at these links which All open in a new tab so you can return to this page when you're done!
---
So, those are our tips for pole dancing in small spaces! We hope you found them useful.
Do you pole in your small apartment? Leave us a comment below to share your favorite tips and join in the conversation 🙂
Pin this Post
Use this image to pin this article to your Pinterest Boards: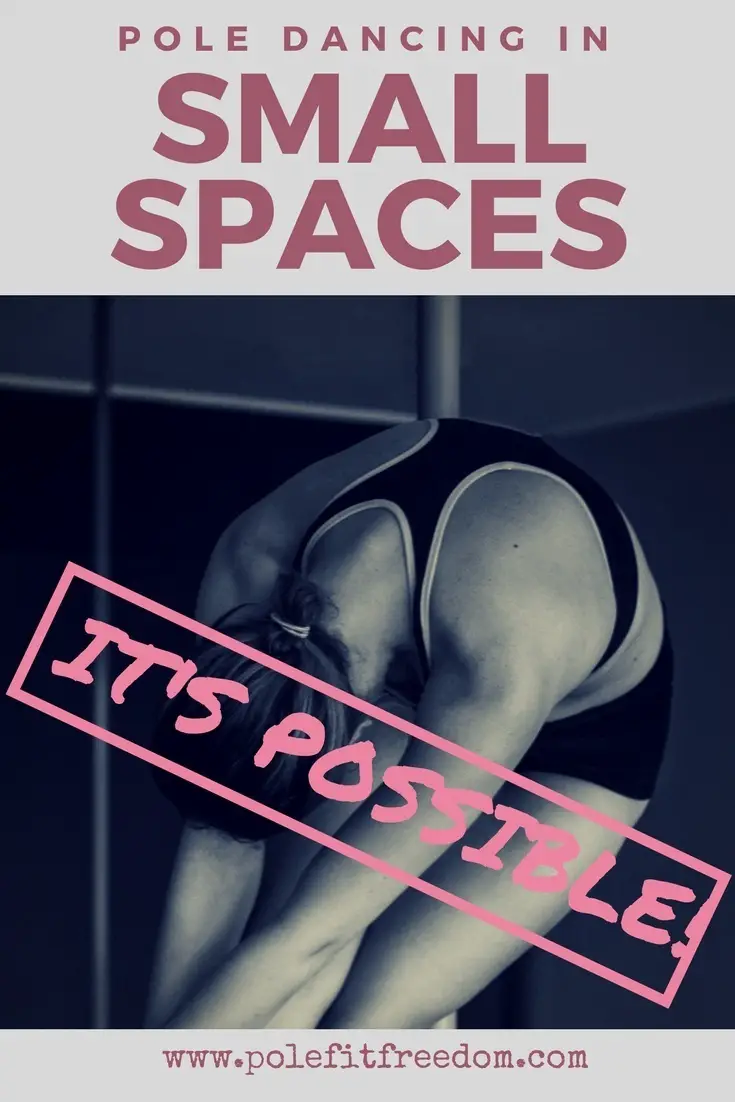 Happy poling!
This post contains affiliate links. That means that, at no extra cost to you, we may receive a small commission if you buy a product using one of the links on this page. Read our full disclosure here.