Last Updated on May 21, 2023
This article may contain affiliate links. This means that at no extra cost to you, I may earn a commission if you use one of these links to make a purchase.
Read the full disclosure
.
Do you run a pole dance studio, or have a pole/aerial studio in your gym or fitness business and looking for creative ideas? This article contains some ideas and inspiration for your pole fitness studios, such as decor, decorations, activities and equipment.
There are hundreds of pole dance studios all over the world, as a studio owner or instructor, it's important that you understand your customers (students) who attend your studio.
Your brand and style should be aligned with their interests and you should be thinking about different ways of keeping your students engaged, especially those fickle ones who stop attending after a while!
If people feel like they're part of a community and can benefit from the social aspects of pole dancing for fitness, then they're more likely to continue and less likely to quit.
Learn how to start a pole dancing business here.
So, this article has tonnes of different ideas, some of them may not be right for you – which is why it's so important that you understand your target customer. Hopefully you will get some useful ideas from this list!
Want to become an amazing pole dancer?
Open Dance Academy has over 450 online lessons, by some world famous pole dancing champions! Join now to get:
***GET 10% OFF OPEN DANCE ACADEMY***
Use the code polefitfreedom to get 10% off Pole Dancing Lessons with Open Dance Academy. This is an exclusive offer for readers of this blog!
Creative Decor Ideas for your Pole Dance Studio to Engage your Customers and Grow your Pole Dance Business
Here are some creative and fun ideas for your new or existing pole dance studio if you're looking to make changes to your current environment!

Decorate your Pole Dance Studio
Decorating your pole dance studio is a great way to make your business more inviting. You should try to find decorative items that fit a theme aligned with your brand.
Here are some decoration ideas for your pole dance studio!
Motivational Posters & Decals
There are literally tonnes of motivational posters, window stickers and wall decals available that would look great in your pole dance studio.
As we said earlier, you just need to decide upon a theme that's aligned with your brand and the interests of your target audience.
You may decide to have motivational quotes and images in wooden frames on the wall, you may want to display some vinyl stickers along the edges of your mirrors or windows, or perhaps even paint a motivational mural on the wall.
The possibilities are endless!
There's this silhouette of a dancer on a pole, from Amazon (click here to check its current price)
There's also this removable pole dancing wall sticker, from Beddinginn (find out the current price here)
If wall decals aren't your thing, there's also these motivational workout posters on Amazon that could be framed on the wall of your pole dance studio.
You could also decorate your studio with photos of your own students! Ask your regulars to send their best photos and display them on the wall like this Instagram-style photo frames:
Spruce up your Changing Rooms
Your pole fitness students will spend a fair amount of time in the changing rooms, so try to make it a nice and relaxing environment for them.
You should have soft, flattering lighting, mirrors, a safe place for people to keep their belongings in during class such as lockers.
You could also add some seating, room dividers or decorations to make it cosier.
Seasonal Decorations
When it comes to Christmas, Valentine's Day or July 4th, why not decorate your pole studio with seasonal decorations? You could also ask your students to help to create a festive environment inside your studio 🙂
---
Engage with your Customers
This section of the article is about engaging with your customers in unique and fun ways.
Have Themed Classes
Having themed classes is a great way to keep your pole students engaged. The themes could revolve around a movie, a style of music, or a costume idea.
Here are some ideas for themes for your pole dancing classes:
Superheroes
Cosplay (any costume)
Glamor Week
Game of Thrones
The Great Gatsby
Disney Villains
Or, you could do specific monthly (or otherwise) tricks workshops, such as:
Floorwork workshop
Sexy moves workshop
Striptease workshop
Spinning pole workshop
Static pole workshop
Handstand workshop
Flexibility workshop
Set Weekly or Monthly Challenges
As an added bonus, you could set weekly or monthly fitness or pole dance related challenges to your students, some ideas for this:
30-Day Splits challenge
Handstand challenges
Deadlift challenges
Ab-buster challenges…
Just search on Pinterest or Instagram for more ideas for these fitness challenges. This is a fun and engaging way for your students to reward their progress.
Choreograph a Group Routine
As a class, get everyone to agree on a song (easier said than done) and devise a routine to it. Get input from all of your students and ask them to decide which tricks and transitions are included in the routine.
You could either make a video of the routine or perform it in front of an audience if your students are confident enough!
Host a Showcase Event
Encourage your learners to participate in a showcase event for your pole dance studio. They could perform tricks, demonstrations or entire routines to inspire members of the public (who are also your prospective customers !)
You could host a showcase event at your pole dance studio or hire an external venue and use freestanding poles.
Organize Days Out
Another idea is to have activity days out with your pole dancing students, group activities such as paintballing, adventure treks, rock climbing, etc.
With these places, you usually get a discount if you book as a group so if you're a serial organiser then you'll love planning activities like this such as this with your lovely pole students 🙂
Encourage Competition Entries
Did you know that there are dozens of pole dancing competitions around the world?
As a pole dance instructor, you should be encouraging your more ambitious students to enter competitions where possible. You could also attend the competition together as a class for a day out.
Throw Parties
You could also throw parties to celebrate the successes of your students, or have an annual Christmas party, whatever you prefer!
The social benefits of being part of a pole dancing community are brilliant and as a studio owner, you can help make the community even more vibrant!
There are some really fun pole dancing party games to try too!
Organize a Pole Dance Retreat!
Did you know that there are pole dancing retreats all around the world?! Imagine if you and your students could experience one of these?
We've written a long list of popular pole dance retreats coming up – check it out!
---
Grow your Business
If you're trying to expand your business, here are some ideas for you
Sell Merchandise
There are tonnes of different types of merchandise you could sell with your branding or logo on, some ideas:
T-Shirts
Hooded Tops
Shorts
Fabric bags
Re-usable water bottles
Pole fitness certificates (achievement certificates – just for fun)
Yoga mats
You can buy discount clothing and other merchandise on AliExpress that's perfect for printing your own logos.
Sell Drinks & Healthy Snacks
Many pole dance studios will sell drinks and healthy snacks to their students with members getting a discount. Many fitness enthusiasts will buy things such as vitamin water, protein bars, and vitamin/mineral supplements, if selling these is an option for you then it could be quite profitable.
Rent out the Studio Space when no classes are Taking Place
If your pole classes only take place during certain times of day, perhaps you could utilise the space outside of your classes. There may be other fitness instructors in your local area who need a space to teach their classes. Activities such as yoga, aerobics, or circuits would be ideal, as they could even incorporate the poles into their classes too!
Branch out into Entertainment
If you have a team of skilled instructors, you could consider offering entertainment services or even team building group activities!
Many women would love to have a pole dancing themed Bachelorette Party, they are a great thing to offer alongside your current lessons and will generally earn more income for your business than regular classes.
Also, offices and businesses love fitness themed team building activities and corporate away days! Have you ever thought about having your pole dance studio offer this?
Use Additional Equipment
If your pole dance studio doesn't have yoga mats, yoga blocks, hula hoops, etc to mix things up in your classes then you could consider investing in some to create some variety in your lessons!
If you're feeling more adventurous, you could invest in some Pole Silks, Lyra Hoops or Aerial Yoga Equipment!
So those are our ideas for improving your pole dance studio! If you run a pole fitness business, what do you do to set yourself apart from competitors? Let us know by leaving a comment below.
Pin this Post
If you enjoyed this post, please share it with your friends. Here are some images for your Pinterest Boards!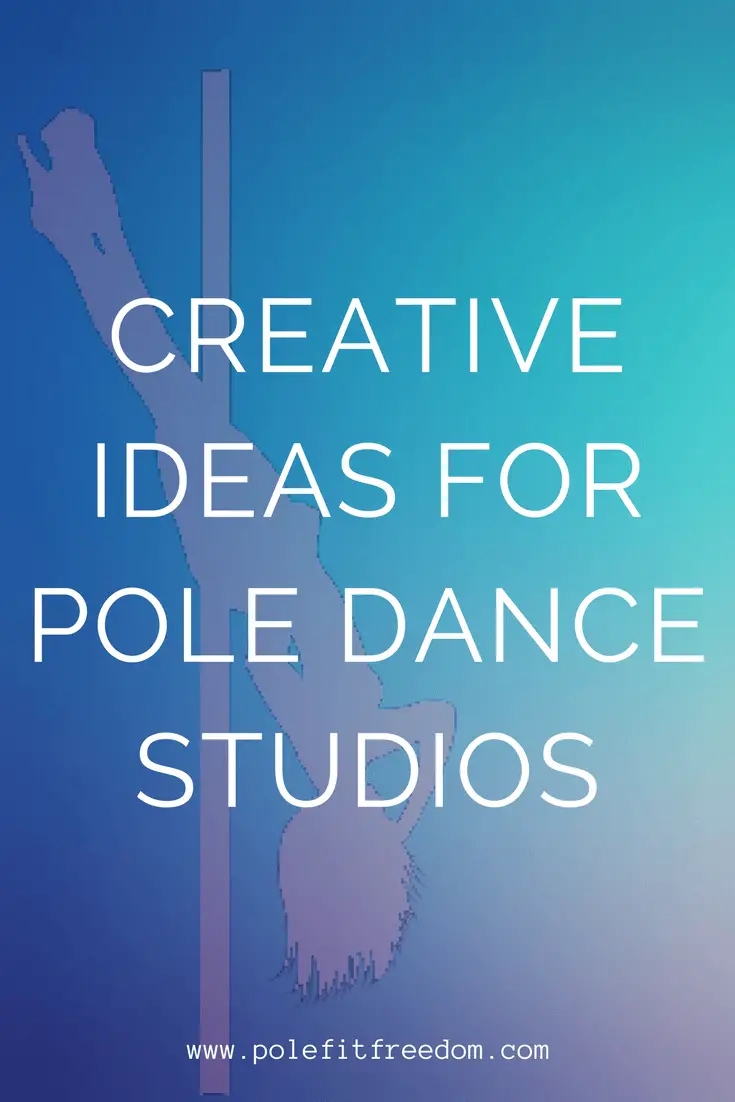 Happy poling!