Last Updated on December 16, 2022
This article may contain affiliate links. This means that at no extra cost to you, I may earn a commission if you use one of these links to make a purchase.
Read the full disclosure
.
We love reviewing products at Pole Fit Freedom so that you can make the most of the various products out there for pole dancers! In this post, we're going to review iTac2 Extra Strength Pole Dance Grip Aid.
We've used various pole dancing grip aids for over 10 years now and have come to understand the advantages and disadvantages of many different products.
Different skin types need different types of grip products and finding the one that's most effective for you can be a challenge.
This is a review of iTac2 Extra Strength Pole Grip, which is a fairly common grip aid, used in pole studios around the world and for amateur and professional pole dancers alike.
But, how do you know if it's going to work for you?
Let's find out…
iTac2 Extra Strength Pole Grip Aid Review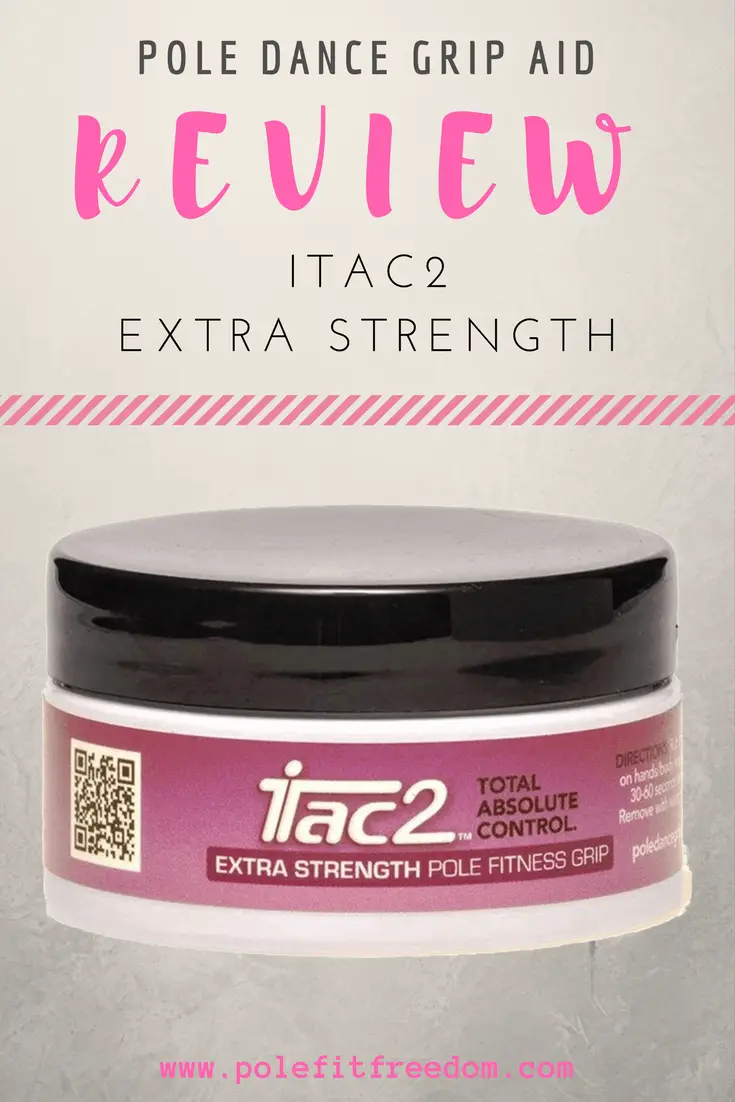 Features of iTac2 Extra Strength Pole Grip
iTac2 creates an invisible gripping layer over the hands or areas of the body that require more grip.
Allows user to perform spins while maintaining good grip
Water and sweat resistant
Made using natural beeswax (so not a vegan product)
Available in three different sizes: 20g, 45g and 200g
Available: Regular or Extra Strength
Low-allergy formula
Provides Long-lasting grip
No white residue
How To Use iTac2 Extra Strength Pole Grip
Use iTac2 Extra Strength a few minutes before you begin your pole workout or practice session. Or, use it just before attempting a new move.
iTac2 Extra Strength is designed to be used on your hands and body, NOT on the pole. It is designed to provide extra grip to your skin, it does not work if you apply it directly to the pole, like some other products.
Apply a very small amount of the product on to your finger and rub into your hands or anywhere else that you need some extra grip. It does not prevent sweating, the areas you apply it to will feel slightly sticky.
It then takes 1-2 minutes to dry or "activate" before it provides effective grip aid.
Don't rub your hands together continuously when it's drying, or it won't actually dry. iTac2 is made from beeswax and it needs to dry naturally in the air or it leaves your hands feeling waxy.
How Does It Work?
When you first open this product, you'll notice that it's pretty much solid. This is really different to most other pole fitness grip aid products available.
It's made from beeswax that reacts with air when it's on your stick to provide extra grip. It needs that extra minute or so to dry in order for it to be effective.
Pros of iTac2 Extra Strength Pole Grip
iTac2 Extra Strength Pole Fitness Grip is extremely sticky. It's one of the most sticky grip aids available, so it's perfect for those who have trouble with gripping
It's perfect for spinning routines on the spinning pole as it's just so sticky!
Because it's not a liquid or a powder, so it gives you complete control over where you need grip; if your right knee needs some added grip, no problem! If your inner left elbow needs grip but the rest of your arm doesn't, then you can be extremely accurate with where you use this product
Doesn't leave any white residue on your outfit or skin, so it provides an invisible layer of grip wherever you put it
One small tub will last for a long time as you don't need much of this for it be effective
Gives extra grip for climbs, spins and holds
Works brilliantly if you have dry skin (especially on your hands)
Cons Of iTac2 Extra Strength Pole Grip
It can be quite tricky to wash off your skin! This has been raised a few times with iTac2 and mentioned in several other reviews of the product. They recommend using this to clean it from your skin!
We and many other reviewers found that once you start sweating after using this product, the iTac2 made our skin and hands feel even more slippery and we had to use 'Dry Hands' Grip Aid as well as iTac2 at the same time.
The product has no antiperspirant properties and does not stop you from sweating.
iTac2 Extra Strength Grip Aid is not vegan-friendly, so if you live a vegan lifestyle then this product is not suitable for you as it's made from beeswax
Leaves a sticky residue on the pole and you will need to clean your pole a lot more often if you choose to use this grip aid.
See a list of which Pole Dancing Grip Aids are Vegan-friendly here
So, Is It Worth Buying?
The iTac2 Extra Strength Pole Grip can and does work for many pole dancers from our own experience and while testing and researching the products ourselves.
If you're particularly sweaty when you workout, then you will need to use another product alongside iTac2 Extra Strength Grip Aid as it does not prevent you from sweating at all. In fact, if you sweat, then it seems to mix with the product which makes gripping more difficult.
However, iTac2 Extra Strength is extremely sticky and provides excellent grip aid, which is why we recommend using it alongside other grip products.
It works fantastically with Mighty Grip Powder or Dry Hands Pole Dancing Grip Aid, and if you use a combination of these then it will help with the sweat problem too.
We've found that the wax is actually pretty good when using fabric-based aerial yoga or other aerial fitness equipment that uses cloth. So, you may find iTac2 Extra Strength useful for these workouts as well.
Related: Dry Hands Pole Dancing Grip Aid Review
As with any pole dancing grip product, find the right product for you is going to be trial and error. If you have bought iTac2 Extra Strength Pole Fitness Grip and find that it's not right for you, why not give it to another pole dancer, as it may be perfect for them!
---
Product Rating
3/5 when used alone
5/5 when used in combination with other grip aid products
---
Where To Buy iTac2 Extra Strength Pole Fitness Grip
You can buy iTac2 Extra Strength Pole Fitness Grip directly from iTac2 on their website, they ship to USA, UK, Europe, Australia and Japan.
Amazon also has a range of offers of iTac2 Extra Strength Products
Read our other reviews of Pole Dancing Grip Aid Products here
Happy Poling!
---
Frequently Asked Questions About iTac2 Pole Grip
Still have questions? We got you!