Last Updated on February 15, 2023
This article may contain affiliate links. This means that at no extra cost to you, I may earn a commission if you use one of these links to make a purchase.
Read the full disclosure
.
We love reviewing products at Pole Fit Freedom so that you can make the most of the various products out there.
If you're thinking of buying Carpe Antiperspirant Lotion to beat your sweaty hands when pole dancing, this review will help you may your mind up.
These days, there are so many options available for pole dancing grip aids, it can be a bit of a minefield and somewhat overwhelming when you're trying to find a grip solution that works for you. Fortunately, we've used all of the major grip aid products extensively, and we're in the process of reviewing them all!
This week, we're reviewing Carpe Lotion, which is marketed as a strong antiperspirant solution for people with sweaty hands, The medical term for this is hyperhidrosis, so Carpe Lotion is not just for pole dancers, aerialists and other athletes – it's useful for anyone who suffers from sweaty hands in their daily lives.
If your sweaty hands are giving you problems when pole dancing, then you'll want to know if Carpe Lotion is going to work for you. This review is based on my own personal experience with this product and what others have said.
Don't forget to check out our other reviews of pole dancing grip products (opens in a new tab).
Let's find out if Carpe Lotion is right for you…
Pole Dance Grip Aids: Carpe Antiperspirant Lotion Review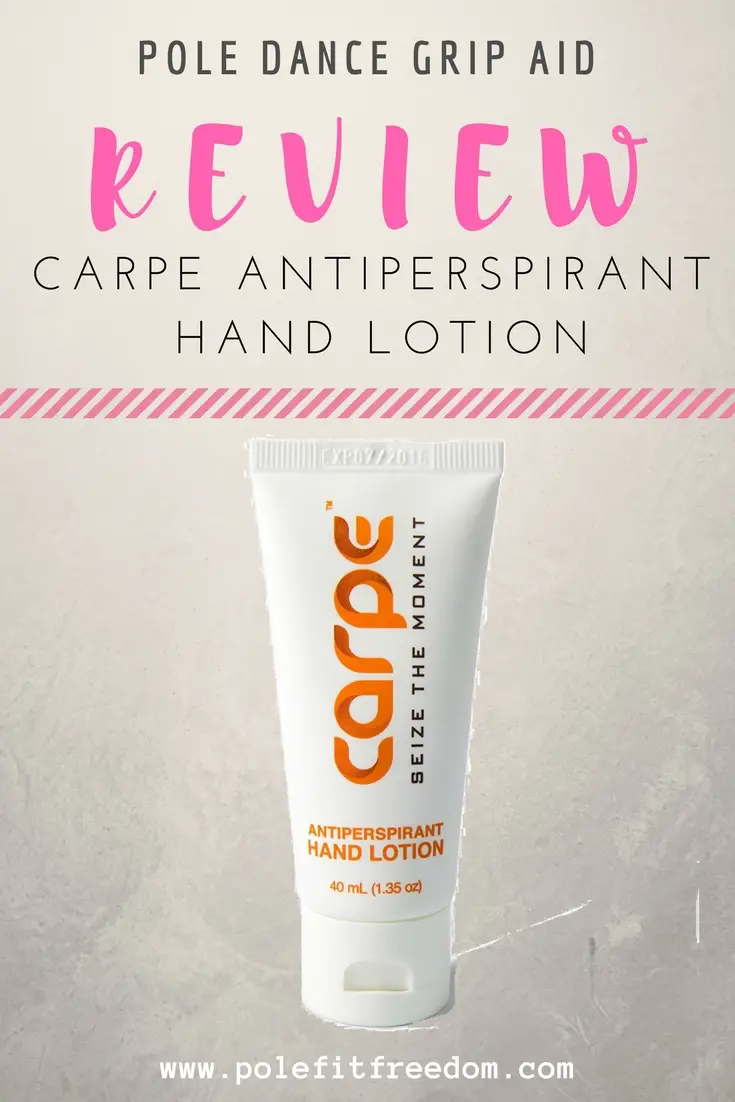 Who is Carpe Antiperspirant Lotion for?
Carpe Lotion is not specifically marketed towards pole dancers, it's a general product that's used as a treatment for hyperhidrosis or excessively sweaty hands.
It was created by two hyperhidrosis suffers as a solution for sweaty hands in any situation, including activities that need a strong grip, such as pole dancing.
The creators of Carpe Lotion spent years developing over 60 different formulas before producing a perfect solution for sweaty palms.
It's an over-the-counter treatment, available without prescriptions, dermatologist-approved and endorsed by the Hyperhidrosis Society.
It is perfect for pole dancers who struggle to grip with sweaty hands.
Carpe lotion is an antiperspirant for your hands, not a 'tacky' grip enhancer (e.g. Stickum Spray)
---
Size of Carpe Antiperspirant Lotion
It comes in quite a small tube, just 1.35fl. oz (40ml), so it's very light to throw in your bag. As it only requires a small amount to use when pole dancing, it will last you a long time.
However, if you use Carpe Lotion every day to combat sweaty palms then one tube will last for about 4-6 weeks.
---
How to use Carpe Antiperspirant Lotion as a Pole Dancing Grip Aid
If you're using Carpe Lotion as a pole dancing grip aid, then apply it at least 30 minutes before your workout to get the best results. Wash your hands first and make sure they're properly dry, without any dampness.
Apply a tiny amount, about a pea-sized drop should do. Rub your palms together until it's all absorbed!
Pro Tip:

Apply Carpe Lotion every day before bed if you have excessively sweaty hands, as this will make it work for longer.

Also:

Apply a tiny bit extra immedietly before you start working out for a little bit of extra tackiness to help you grip the pole.
---
First Impressions
I was initially very surprised that the size of the tube was so small, it looks like it would be a big tube of hand cream but it's about a third of the size of what I expected. It also surprised me that it feels like a moisturizer at first, when you're rubbing it in, but it leaves absolutely no residue at all. There's not even a hint of chalky white residue left on your hands after rubbing this in!
Within about 15-20 minutes, you can feel it working. My hands felt much drier than usual. I actually applied a bit too much and it felt a bit sticky, which was great for pole but would feel uncomfortable for anything else.
This stuff really works. It completely dried up any hint of sweat very soon after I'd applied it. It's got a stronger antiperspirant effect than Dry Hands and it leaves no residue!
---
Does Carpe Lotion Improve Pole Grip?
You bet it does! This is one of the best antiperspirant hand lotions on the market. It's a highly acclaimed product for treating sweaty hands, so the pole dancing industry naturally started marketing this product.
Sweaty hands have been such an ongoing pet hate of pole dancers all over the world, so even though this wasn't made with pole dancing in mind, it just so happens to be a great product for pole dancer!
For performing tricks and spins on a static pole I found this excellent. It was the perfect amount of grip needed to hold on and spin to the floor without sliding or getting too stuck.
However, for performing spins on the spinning pole, it felt as if I needed some extra 'tackiness' to my hands.
For performing spins on a static pole, I personally would have preferred to use something with extra stickiness to help me feel more confident with my grip. If this is you, you could always apply an extra grip product on top of Carpe Lotion, such as Mighty Grip or Stickum Spray.
Even though it doesn't leave any residue, it's a good idea to wash your hands and the pole after you've used any grip aid product. For the pole, use a pole cleaner or glass cleaner. Learn how to properly clean your dance pole here
Related: Which Pole Dancing Grip Aids are Vegan-Friendly?
---
What about using Carpe Lotion with Very Dry Hands?
Having very dry hands is equally frustrating for pole dancers. Skin that's too dry also means it's very difficult to grip with. While Carpe Lotion will work if you have very dry hands, but you'll need to use a lot more of the product than usual.
It's designed for combatting sweat, so if dry skin is your problems then you'll be better off with a grip enhancer such as such as Mighty Grip or Stickum Spray.
---
Advantages of Carpe Lotion
A well-known, popular product made by an established brand
Provides a very strong antiperspirant effect.
Will last for a long time, so it's great value for money.
Easy to get hold of, can easily buy from Amazon, so there's no need to find a specialist retailer or store
Can be easily used all over the body, but works best on hands and feet as the bottle is quite small
Does not need re-applying mid-workout, one application is usually enough
Great for performing tricks on the static pole
Leaves absolutely no residue on your skin or the pole!
---
Disadvantages of Carpe Lotion
Not ideal for people who don't have very sweaty hands
It may make it harder to grip if you use this product on skin that's already dry
---
Value for Money
One tube usually costs less than $20 (Check the current price here on Amazon)
If you pole once or twice per week then a single tube of Carpe Lotion will last you about 6 months, maybe slightly less if you re-apply the product during your workouts or practice sessions. Store it in a cool, dry place for it to last longer, but it doesn't seem to 'go bad' if it's left unused.
If you use it everyday, then it will last 4-6 weeks.
---
Ingredients and Allergy Information
Carpe Lotion is made with mostly natural ingredients, such as Eucalyptus Extract and is not likely to cause an allergic reaction. It also contains Aluminium Sesquichlorohydrate which is highly unlikely to cause a bad reaction. The manufacturer has confirmed that their product is vegan-friendly.
---
Overall Opinion
If you're considering buying a strong antiperspirant to combat your sweat hands once and for all, then this is 100% the product for you. It really works!
---
Product Rating
5/5
Frequently Asked Questions
Still have questions? We got you!