Last Updated on December 16, 2022
This article may contain affiliate links. This means that at no extra cost to you, I may earn a commission if you use one of these links to make a purchase.
Read the full disclosure
.
Dew Point Pole is a highly advanced pole dancing grip product. 
We love reviewing products so that you can make the most of the various products out there for pole dancers! In this post, we're going to review a product called Dew Point Pole Grip. Pole dancers use this product to improve their body grip on the pole.
Dew Point Pole is available in three different formulas, each one increasing in strength:
Light formula
Medium formula
Ultra formula
We've used various pole dancing grip aids for over 10 years now and have come to understand the advantages and disadvantages of many different products. It's important to know how different skin types react to different types of grip products and finding the one that's most effective for you can be a challenge.
This is a review of Dew Point Pole grip for pole dancers and aerialists. How will you know if it's going to work for you? This review will help you decide whether Dew Point Pole Grip is right for you!
Let's find out…
What is Dew Point Pole used for?
Dew Point Pole is a spray that's specifically designed for pole dancers to use on their body. Unlike other pole dance grip aids, Dew Point Pole is not for use on your hands. It's actually designed for use anywhere else on your body (apart from your hands!) It also naturally helps to moisturize your skin while increasing your grip on the pole at the same time.
As mentioned earlier, it is available in three different formulas: light, medium and ultra
The formulas are named based upon the amount of moisture they give, Light giving the least amount and Ultra the most. It also reacts to the environment you are in.
Light formula is for you if…
You live in a very humid climate or if your skin is not very dry (oily).
Medium formula is for you if:
You live in a humid climate and your skin is very dry.
You have average / normal skin and your climate fluctuates, sometimes it is more humid or dry than others.
You're unsure which formula to get, this gives you a good starting point.
Ultra formula is for you if:
You live in a dry climate and your skin is dry.
You live in an average climate but your skin is very dry
It is also suitable for use with many different sports that require you to grip with your body for example: climbing, yoga, gymnastics or aerial sports.
---
Features of Dew Point Pole
Allows the user to perform spins while maintaining a good grip
Easy to apply in a pump-spray bottle
Water and sweat resistant
Made using Vegetable Glycerine Phenoxylethanol Calphryl Glycol
Available in three different strengths to suit your needs
Low-allergy formula
Reacts with your body's natural chemistry and heat to retain a steady grip
Provides a long-lasting grip, without the need of frequent re-application
No residue
Developed by and for pole fitness professionals who demand flexibility and functionality.
---
How to use Dew Point Pole when Pole Dancing 
Dew Point Pole is very quick and easy to use. It has a pump-spray bottle, which allows you to spray it almost anywhere on your body!
The best time to apply Dew Point Pole is immediately after you've warmed-up. The warmth of your body after you've already warmed up will prevent you from applying too much grip aid, which often happens if it's applied to cold skin.
Spray the small bottle and rub in to your skin, pay attention to areas such as behind your knees, your inner thighs and sides of your stomach. These are the areas that need extra body grip when pole dancing!
It contains ingredients to achieve extra grip but also moisturizes your skin, leaving it feeling beautifully soft and smooth.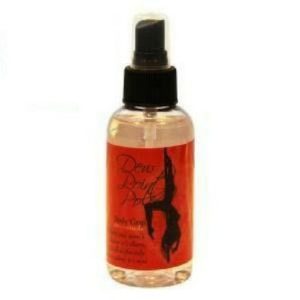 Dew Point Pole Ultra
For best results, apply to your skin after warming up, immediately before you use the pole
Apply a small amount to your hands and rub your hands together
You will immediately feel your hands becoming slightly sticky
Rinse off immediately after use, and always clean the pole afterward to remove any residue that's transferred onto the pole
Dew Point Pole is for applying to your body, not for applying directly to the pole. 
---
Does Dew Point Pole Improve Pole Grip?
If you really struggle with gripping the pole then one of the Dew Point Pole formulas will work for you, due to the nature of having a grip product in three different strengths gives you options to find the right product for you.
For performing tricks and spins on a spinning pole I found the 'Ultra' formula excellent. It was the perfect amount of grip needed to hold on with my body and spin down to the floor without slipping or sticking too much.
Related: Which Pole Dancing Grip Aids are Vegan-Friendly? 
---
What About Using Dew Point Pole Grip with Very Sweaty Hands?
Dew Point Pole Grip will also work with sweaty skin, but it won't dry up the sweat in the same way that Carpe Lotion or Dry Hands will. If you have sweaty hands, then it will give you some extra grip, but you may need to use it in combination with another product if you find that sweat is still a problem with using the pole.
Some pole dancers find that antiperspirant products make their hands too dry, meaning they need to apply grip aid on top of the antiperspirant! Dew Point Pole (Medium or Ultra) is perfect for that because it's so cheap, a tiny bottle lasts for such a long time!
---
Pros of Dew Point Pole
Proven to provide a high level of grip for pole dancers
Moisturizes your skin while pole dancing, which no other grip aid does
Long-lasting – you only need a tiny amount for a great level of grip, as it doesn't need frequent reapplication, one small bottle will last for a long time.
Can be easily used all over the body, doesn't need to be applied to the pole
Does not need re-applying mid-workout, one application is usually enough
Great for performing spins on the spinning pole
The tiny spray bottle takes up no space at all in your gym bag
Cons of Dew Point Pole
It's often out of stock and difficult to get hold of, depending on where you live
Can be a bit more expensive than other pole dance grip aids, due to its scarce supplies!
Has no true antiperspirant properties, need to use alongside Carpe Lotion or Dry Hands for excess sweat
---
Conclusion on Dew Point Pole Grip
If you're considering buying your first grip, Dew Point Pole is a great first choice. It's very good value for money and will last for at least several months.
If you don't get on with this grip, you're sure to find someone at your local pole studio who does, so it certainly won't be wasted.
---
Product Rating
5/5
Where To Buy Dew Point Pole
Directly from the manufacturer here.
Read our other reviews of Pole Dancing Grip Aid Products here
Happy Poling!
---
Frequently Asked Questions About Dew Point Pole Grip
Still have questions? We got you!