This article may contain affiliate links. This means that at no extra cost to you, I may earn a commission if you use one of these links to make a purchase.
Read the full disclosure
.
We love reviewing products so that you can make the most of the various products out there for pole dancers! In this post, we're going to review a product which is oddly named Gorilla Snot. Pole dancers use this product to help grip the pole.
We've used various pole dancing grip aids for over 10 years now and have come to understand the advantages and disadvantages of many different products.
It's important to know how different skin types need different types of grip products and finding the one that's most effective for you can be a challenge.
This is a review of Gorilla Snot for pole dancers, which is relatively inexpensive compared to other grip aid products.
But, how will you know if it's going to work for you? This review will help you decide whether Gorilla Snot is right for you!
Let's find out…
Review of Gorilla Snot Grip Aid for Pole Dancers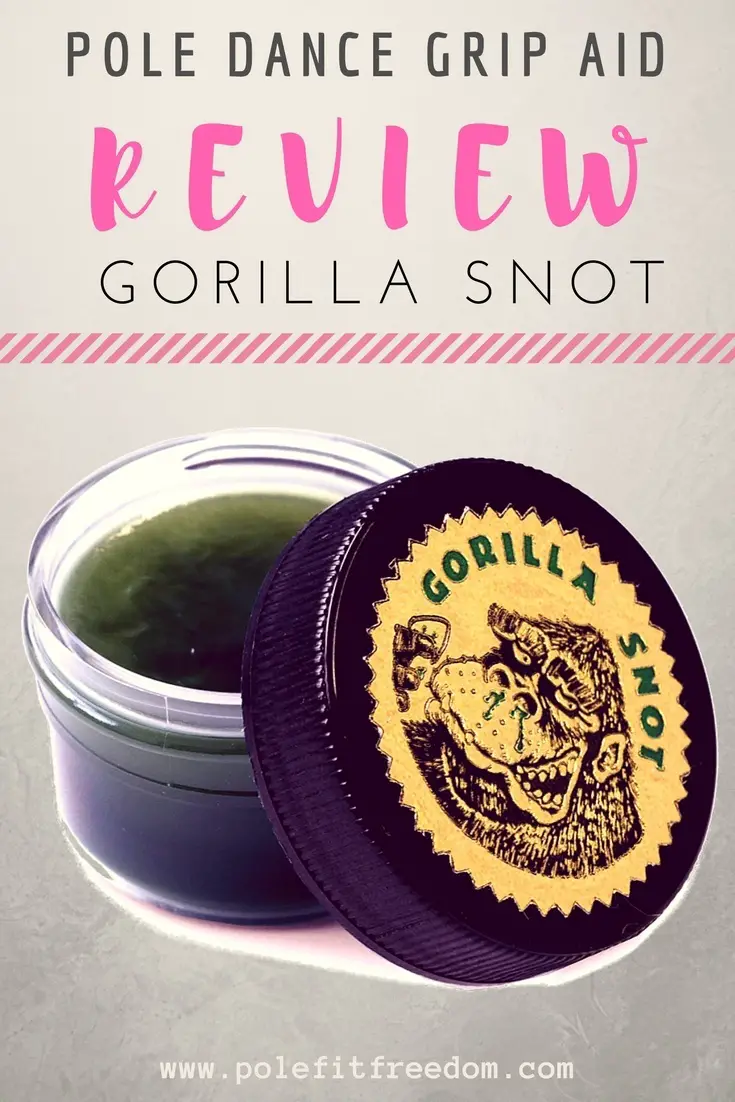 What is Gorilla Snot used for?
Gorilla Snot was not actually created to be a pole dancing or sports grip aid. It's actually for musicians, such as guitarists or drummers to keep a good grip on their instrument or drumsticks! But, that being said, it also works excellently as a sports grip, meaning that pole dancers have seized the opportunity to make the most of this inexpensive product.
It is suitable for use with many different sports, such as tennis, golf, baseball, field athletics, weightlifting, gymnastics, or anything that requires a strong grip.
Features of Gorilla Snot
Allows the user to perform spins while maintaining a good grip
Water and sweat resistant
Made using natural tree resin
Available in two colors (Gorilla Snot and Pick Honey)
Low-allergy formula
Reacts with your body's natural chemistry and heat to retain a steady grip
Provides Long-lasting grip
No residue
Developed by and for professionals who demand flexibility and functionality.
---
How to use Gorilla Snot as a Pole Dancing Grip Aid
Gorilla Snot is simple and quick to use, just apply a small amount of the sticky green goo to your hands, then pat or gently rub your hands together.
The best time to apply Gorilla Snot is immediately after you've warmed-up. The warmth of your body activates the powder and provides a layer of tacky grip on your skin.
It contains tree rosin to achieve the 'tacky' feeling on your hands, which gives you a better grip on the pole.
For best results, apply to your skin after warming up, immediately before you use the pole
Apply a small amount to your hands and rub your hands together
You will immediately feel your hands becoming slightly sticky
Rinse off immediately after use, and always clean the pole afterwards to remove any residue that's transferred onto the pole
Gorilla Snot is for applying to your hands and body, not for applying directly to the pole.
---
Does Gorilla Snot Improve Pole Grip?
If you really struggle with gripping the pole, or you have very dry hands (the opposite problem to sweaty hands) then Gorilla Snot will work very well for you.
For performing tricks and spins on a spinning pole I found this excellent. It was the perfect amount of grip needed to hold on and spin down to the floor without slipping or sticking too much.
It didn't leave any visible residue on the pole like chalk does either.
However, for performing spins on the static pole, it's actually too sticky for me, and I can't actually spin to the floor smoothly because my hand is stuck to the pole!
For performing spins on a static pole, I personally would have preferred to use a less sticky grip. Saying that however, most of what I do these days on a static pole doesn't require me to be able to spin!
Related: Which Pole Dancing Grip Aids are Vegan-Friendly? (Opens in a new tab)
---
What About Using Gorilla Snot with Very Sweaty Hands?
Gorilla Snot will also work with sweaty skin, but it won't dry up the sweat in the same way that Carpe Lotion or Dry Hands will. If you have sweaty hands, then Gorilla Snot will give you some extra grip, but you may need to use it in combination with another product if you find that sweat is still a problem with using the pole.
Some pole dancers find that antiperspirant products make their hands too dry, meaning they need to apply grip aid on top of the antiperspirant! Gorilla Snot is perfect for that because it's so cheap, a tiny tub lasts for such a long time and you can get it on Amazon!
---
Pros of Gorilla Snot as a Pole Dance Grip Aid
Proven to provide a high level of grip for dancers with dry or very dry skin
Long-lasting – the 27g tub will last for over a year! You only need a tiny amount for a great level of grip
Easy to get hold of, can easily buy from Amazon and it's very inexpensive
Can be easily used all over the body, doesn't need to be applied to the pole
Does not need re-applying mid-workout, one application is usually enough
Great for performing spins on the spinning pole
The tiny tub takes up no space at all in your gym bag
Cons of Gorilla as a Pole Dance Grip Aid
Can leave your hands feeling very sticky
It may cause blisters if you use too much of this product on skin that's already dry
Has no antiperspirant properties, need to use alongside Carpe Lotion or Dry Hands
---
Conclusion on Gorilla Snot and Pick Honey for Improving Pole Dancing Grip
If you're considering buying your first grip, Gorilla Snot (or its yellow equivalent, Pick Honey) is a great first choice. It's very good value for money and will last for at least several months.
If you don't get on with this grip, you're sure to find someone at your local pole studio who does, so it certainly won't be wasted.
---
Product Rating
5/5
Where To Buy Gorilla Snot
Like with most pole dance grip aid products, you can often find these on offer on Amazon.com or similar.
As the price varies, it's best to check on Amazon for the current best price of Gorilla Snot or Pick Honey.
Read our other reviews of Pole Dancing Grip Aid Products here
Happy Poling!
This post contains affiliate links. That means that, at no extra cost to you, we may receive a small commission if you buy a product using one of the links on this page. Read our full disclosure here.